Sat, 6 Dec 2008, 12:02 AM



John Force Headlines SAE Motorsports Engineering Conference Achievement Awards



Courtesy of Elon Werner


Photo Credit: SAE International





YORBA LINDA, Calif. --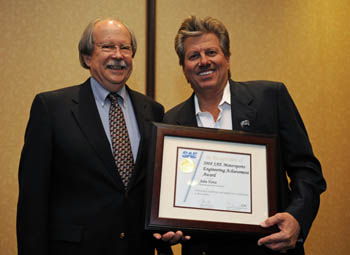 John Force and Dr. John Melvin
The eighth SAE Motorsports Engineering Conference (MSEC) presented awards recognizing strides in the sport's safety aspects. Awards were presented at the Dec. 3 banquet at the Embassy Suites Charlotte-Concord Golf Resort and Spa, where motorsports broadcast journalist Bob Varsha was the guest speaker.
Legendary NHRA drag racer John Force received the MSEC Motorsports Achievement Award for his work in helping to establish The Eric Medlen Project. Named for the late racer; the goal of the project is to design a safer race car and to create a safer competitive environment. This award is presented to an individual who has shown outstanding leadership or contribution to motorsports over an extended period of time.
"I attended the SAE convention at the invitation of Don Taylor from NHRA and I was really proud and honored to accept the special achievement award on behalf of the NHRA, Murf McKinney and, naturally, Ford Motor Co., which supplied all the technicians to do whatever we needed. But, mainly, I accepted for our team headed by John Medlen who was really the individual who made all of this possible," said Force.
"Maybe I was kind of a catalyst, but it was out of Eric Medlen's crash that this came about to build a better race car for the future and this was an opportunity for me to thank the people in the industry who every day dedicate their life to safety and making things better, not just drag racing but for all motor sports."
"It was great to see Dr. (John) Melvin (a biomechanical research scientist), who worked on the program in the beginning. Also, Chris from ISP and Trevor from Safety Solutions, who went above and beyond working with us after Eric's crash. It was just a really good time with a lot of good people who just care about making things better," remarked a grateful Force.
In addition to Force's award the Low-Cost HANS Device HANS Sport Series took the SAE Award. The SAE Award recognizes organizations that have developed a product or process that is considered to be "the outstanding contribution to state-of-the-art motorsports engineering."
SAE International is a global association of 115,000 engineers and related technical experts in the automotive, aerospace and commercial-vehicle industries. SAE International's core competencies are life-long learning and standards development. SAE International's charitable arm is the SAE Foundation, which supports many programs, including A World in Motion® and the Collegiate Design Series.




NHRA: 10 Most Recent Entries [ top ]

Apr 24- CHARLOTTE 1 - Fact Sheet
Apr 24- Kalitta Motorsports Welcomes NASCAR Stars to the SealMaster Track Walk in Charlotte
Apr 24- zMAX Dragway Celebrates 10th Anniversary
Apr 24- CHARLOTTE 1 - NGK Spark Plugs NHRA Four-Wide Nationals Brings 40,000 Horsepower Thrill Show to zMAX Dragway
Apr 23- HOUSTON - Lucas Oil Drag Racing Series Wrap Up The NHRA Lucas Oil Drag Racing Series Wrap Up
Apr 23- CHARLOTTE 1 - J.R. Todd Aiming for Two Four-Wide Racing Wins in 2018
Apr 23- Mid America Dragway Joins NHRA Member Track Network
Apr 23- HOUSTON - Special Awards
Apr 23- HOUSTON - Sunday Video
Apr 22- HOUSTON - Sunday Pro Mod Wrap Up