Fri, 28 Nov 2008, 10:16 AM



Anderson's Season-Ending Victory Wrapped up Banner NHRA Season for Pontiac



Courtesy of Pontiac/Chevy Trackside Communications



Three Pontiac Pilots Finish in Top Five in Final POWERade Pro Stock Standings



DETROIT --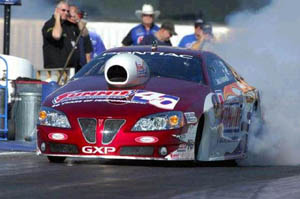 Greg Anderson
Despite all its ups and down, the 2008 NHRA POWERade Drag Racing season ended for Pontiac's Greg Anderson the same way it began - with a Pro Stock victory from the No. 1 qualifying position at Auto Club Raceway at Pomona (Calif.). Bookend wins at the NHRA Winternationals in February and at the NHRA Finals on Nov. 16 were two of a class-leading six wins for the 47-year-old Anderson as he led a Pontiac contingent of three drivers into the top five of the final 2008 Pro Stock standings.
Pontiac teams turned in impressive on-track performances in the factory hot-rod Pro Stock category including a class-leading 12 victories, 19 final-round appearances, 13 No. 1 qualifying awards and low elapsed time of the meet 11 times. Four Pontiac GXP drivers, Anderson, Mike Edwards, Jason Line and Greg Stanfield, qualified for the Countdown to 1 and three went on to finish in the top five of the POWERade standings led by three-time NHRA POWERade champ Anderson.
Unfortunately Anderson's six wins in six final-round appearances on the season weren't enough to get him over the hump as he finished second in the drivers standings to Chevy driver Jeg Coughlin Jr. by 36 points. It was the second consecutive year Anderson, finishing in the top three for the seventh consecutive year, was a bridesmaid to Coughlin. Anderson drove his Summit Racing Pontiac GXP to wins at Pomona 1, Houston, back-to-back-to-back victories at Englishtown (N.J.), Norwalk (Ohio), and Denver, and Pomona 2, and earned seven No. 1 qualifiers en route to a second-place finish in points for the third consecutive year. The Minnesota native had five wins to claim the regular season points lead over the first 18 races, but with only a single season-ending win at Pomona during the six-race Countdown to 1, Anderson is forced to wait another year in his pursuit of world championship No. 4.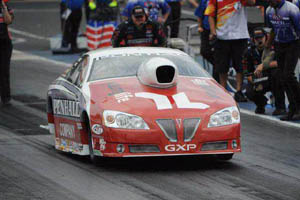 Mike Edwards
"I am so proud of this team," Anderson said. "We obviously didn't get the pot of gold at the end of the rainbow, but we got the next best thing, and that's the NHRA Finals win at Pomona. The thing we can hang our hats on is that we won six races this year, but we won them at the wrong time. Jeggie (Coughlin) is the world champion. He did a better job and he deserves to be champion. He got the job done when the pressure was on, but I couldn't be happier for my Summit Racing guys. We proved (at Pomona) that we're still a championship-caliber team. Second place is great, but next year I want that No. 1 back and we're not going to rest until we get it."
WATCH VIDEO - Greg Anderson Pomona post-race interview: http://www.youtube.com/watch?v=q-jnlgbx-JU
Penhall/Young Life Pontiac GXP driver Mike Edwards didn't realize he had a milestone victory when he reached the winner's circle at Atlanta in April, NHRA's 600th Pro Stock race in history. He joined four other GM racers with "milestone" Pro Stock race wins including the winner of race No. 500, fellow Pontiac driver Greg Anderson; race No. 400 winner, ACDelco Chevy driver Kurt Johnson; and the winner of race No. 300, Jim Yates, driver of the WileyX Pontiac GXP. They all joined the man who won the very first Pro Stock race 38 years ago, Bill "Grumpy" Jenkins. Edwards' second victory on the season wasn't as dramatic as the first but was just as satisfying as he defeated Jason Line in the final round for the second time on the season to take the Memphis crown. With two wins and a No. 1 qualifier (Sonoma) under his belt, the '96 NHRA co-Rookie of the Year finished fourth in points for his eighth career top-10 finish in the final standings.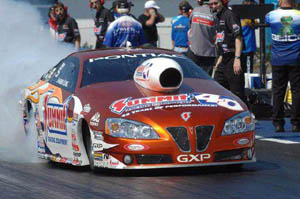 Jason Line
"We're tickled to death," Edwards said. "If you would have told me at the beginning of the year that we would have won two races, and finished fourth in the points, I wouldn't have believed it. When you start the year off and you continue to consistently improve throughout the course of the season, and then you finish strong with 11 round wins during the Countdown phase, that's how you develop a baseline for next year. I'm very happy for all my guys, Roger and Ann Stull, and all the sponsors and people who have behind this program. It just doesn't get any better. I'm truly blessed and thank the Lord for so much."
Anderson's teammate, Jason Line, drove a sister Summit Racing Pontiac GXP to two victories (Las Vegas 1, Seattle), four runners-up and two No. 1 qualifiers en route to a fifth-place finish in points, the 2006 POWERade Pro Stock champ's fifth career top-five finish in the final standings.
"We can save money on decals for next year," Line quipped on his second consecutive fifth-place finish. "(Pomona) was the best this team has done in awhile, and it was great to see Greg cap the year off with the win. That makes you feel a whole lot better going into the off-season."
Greg Stanfield was Pontiac's fourth top-10 finisher in 2008. The Louisiana native captured his first career Pro Stock victory at Dallas in September when he defeated Jeg Coughlin in the final round. Stanfield made three additional final-round appearances and finished runner-up at Las Vegas 1, Bristol (Tenn.), and Las Vegas 2 to earn an eighth-place finish in points after qualifying for his first Countdown.




NHRA: 10 Most Recent Entries [ top ]

Jan 18- Sonoma Raceway Launches Victory Lane Club for Race Fans
Jan 18- John's March at Sonoma Raceway Raises More than $23,000
Jan 17- Two New Drivers Join Bob Vandergriff Racing in 2019
Jan 16- Audrey Worm to Drive Leverich Family Top Fuel Dragster in 2019
Jan 15- Houston Raceway Park 'Making the Switch' to Pennzoil
Jan 15- Brainerd International Raceway 2019 Season will be 'Business as Usual' Despite Losing One of its Owners
Jan 10- POMONA 1 - Fact Sheet
Jan 10- POMONA 1 - Event Preview
Jan 09- Magic Dry Organic Absorbent Assumes Title Sponsorship of NHRA National Event in Phoenix
Jan 09- NHRA Announces "Unfinished Business" Competition Featuring Drag Racing Legends