Tue, 25 Nov 2008, 10:08 PM



The Announcement Is Coming...Soon



By Bob Frey


Photo copyright 2008 Auto Imagery, Inc.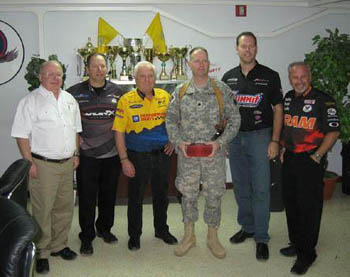 Fred Simmonds, Jim Yates,
Warren Johnson, Lt. Col. Clint Pendergast,
Jason Line and Cory McClenathan
As we all get ready to celebrate Thanksgiving, and while some of us celebrate the end to the racing season (it's always nice to get a little time off) I wanted to take a moment to congratulate some of our racers who are visiting our troops overseas this week.
Warren Johnson, Jim Yates, Jason Line
and
Cory McClenathan
are all over in
Kuwait
this week before heading to
Germany
for a stop at the Kaiserslautern Military Community there. This is the fourth year for the trip that is sponsored by the USO and supported by
GM Racing
. Our good friend, the recently retired
Fred Simmonds,
is also part of the trip and he has been an instrumental part in the trip since the first year, 2005. GM Racing and several of their race teams have combined to put together 1,500 gift bags that will be given out during the tour. It's nice to see these racers take some time from their busy schedules, not to mention their families, to do this for our troops. Thanks to everyone involved and keep up the good work. It's especially nice to see Fred on the trip since he retired from GM a few weeks ago after thirty-one years and three months with the company and he could be off fishing somewhere. I don't know if Fred actually fishes but you get the idea..By the way, in case you missed it, GM has announced several cutbacks outside of the auto racing world including eliminating their sponsorship with
Tiger Woods
. That was
a

long
-running program and was part of the cutbacks by the company and it has nothing to do with drag racing or the NHRA. I say that because there are those who think that anything that happens in our sport is a result of something that NHRA did or did not do and nothing could be further from the truth. Don't believe me, just ask Tiger.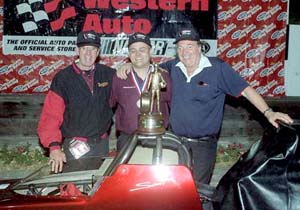 Dick LaHaie, Scott and Connie Kalitta
While our racers are visiting the troops overseas, back home it's the "Sarge" who garnered most of the attention this
year,
and rightfully so. I have said time and time again that this was the most impressive display of Top Fuel racing that I've seen in a long time, and I've been in this sport since 1966. I watched
Scott Kalitta
win his two championships in 1994 and '95 and that was impressive. And when
Larry Dixon
and his team won back-to-back titles in 2002 and 2003 I remember writing that they were one of the best teams that I had ever seen. And I had the numbers (or I should say that they had the numbers) to prove it. Even in 2004 and 2005 when the Army team won a total of nineteen races they weren't as dominating as they were this year, but then nobody has been as dominating as the Army team was this year. In 2004, for example, Tony only qualified number one twice, while he did much better in '05 when he grabbed the top spot eleven times. Still, between those two years he only won seven times from the top spot and he matched that number this year alone. Last year, when he won six races and the championship, Tony lost in the first round twelve times, while this year he didn't lose at all in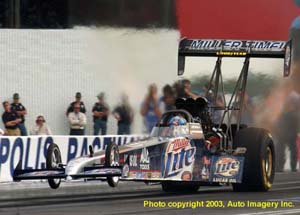 Larry Dixon
round one. And when I asked
Alan Johnson
what the difference was between the two years, he just said, "We made fewer mistakes this year and I raced smarter on Sunday. I made better decisions and that made it easier for Tony to drive the car and all of that helped out this year." Alan had nothing but good things to say about Tony as a driver. "With all the pressure that he was under this year he did a really good job," he said. "He was able to handle the media and all the pressure that goes with always being asked about the streak, the championship, the records and things like that. He just did a very good job." Alan also mentioned how tough it is to drive a car like this, one that you are expected to win with every time you go to the starting line. "The other drivers really had nothing to lose when they came up against us. Everyone was taking a shot at the tree, so even if Tony didn't get off the line first it wasn't because he was
late,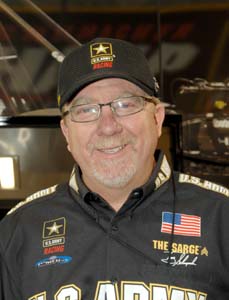 Alan Johnson
it's just that the other guy just took a shot on a lot of occasions."
Even with that scenario,
did you know
that Tony was first off the line 56% of the time this year and that's the best season that he has ever had in that department? Plus, and maybe even more important, Alan went on to mention that after he got of the line Tony just didn't seem to make any mistakes on the track this year. Things like keeping the car straight, in the groove and not making any mental mistakes on the track are all so important and Tony did that very well in 2008. Add it all up and you have a record-breaking season, one that will be tough, if not impossible, for any team to duplicate in the future. When I asked Alan if he thought that he could have a year like that he said, "Well, we always start the year thinking that we're going to win every race, but that never happens. When we won ten races in 2004 we thought we could win more the next year. It takes a good team, one that's been together for a while, to have a year like this."...Since he mentioned the team, I thought I would congratulate the members of the Army team this year for a job very well done. Among them are Adam Baranski, Shane Boyington, Brian Husen, Robert Proctor, Jim Marcellus, Jason McCulloch, Lanny Miglizzi, Nick Peters and Rodger Whitworth.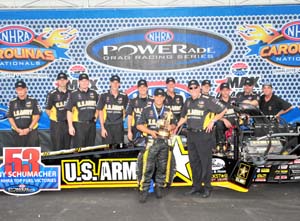 The Army Team
Now that they have put their amazing season in the record books, everyone involved now must begin to look to the future. For Alan and several of the crew members from the Army car, that means beginning 2009 with a new car, a new driver and an entirely new situation. When Alan announced earlier this year that he was leaving the Army team to start his on operation, the big question was, and still is, who would drive the cars. One driver was selected and named early and that is
Del Worsham
. Del, who has been racing with his dad, Chuck, since 1990, and who has been running under the banner of
Checker, Schuck's and Kragen
for years, became available when his sponsor merged with (or was bought by)
O'Reilly Auto Parts
, leaving him without a primary sponsor for 2009. With no deal in sight for next year,
Del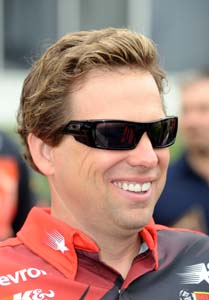 Del Worsham
became a free agent and was contacted by Alan and a deal was struck. It's a dream ride for most drivers, although I'm sure
Del
would still like to be working with and driving for his dad. But when you talk about top of the line drivers, ones who make few, if any mistakes on the track,
Del
is way up near the top of the list, and Alan had high praise for his driving ability.
Of course, when it comes to the driver of the dragster, that's a different story.
The big rumor has been that Larry Dixon would get the job, but as I mentioned in my column months ago, Larry is under contract with
Don Prudhomme
and I don't think that he's going anywhere. I'm not saying that he couldn't get out of his
contract,
I'm just saying that I don't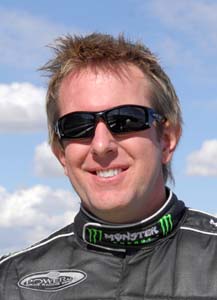 Tommy Johnson
think it's going to happen. That begs the question, if not Larry, then who? I can tell you a couple of things for sure, and these come straight from the horse's mouth and are not rumor or speculation.
Tommy Johnson
has been to the
Brad Hadman
shop and has been fitted for the dragster and he is high on the list right now. I'm not saying that he's the one, just that he has been in the discussions and he has been to the shop to see how he fits in the car...Alan has also had contact and discussions with several other drivers, too including
Doug Kalitta
.
If you want a good dragster driver you would have to talk with Doug, wouldn't you? And let's face it, Alan could choose just about anyone with a license if he wanted and most of the drivers would jump at the chance to drive for him. In fact, in this day and age, he could probably find lots of guys who would be willing to pay him to drive the car.
Lots.
But I don't see that happening. What I do see happening is that we'll have an announcement by the end of next week and then all the speculation will be over. After that, Alan and his team will begin preparations for 2009, with
Del
driving the Funny Car and
Aaron Brooks
serving as crew chief.
Jason McCulloch,
who has been part of the Army team for years, will get the call as the crew chief on the Top Fuel car working with (fill in name of driver here). The addition of Alan's two cars will help fill the gap left by several of the other TF and FC teams who may not return next year. For his part, Alan will spend a lot of time working with the Funny Car in order to make it a championship contender. Anyone want to bet that it won't be?
Alan went on to say that he expects to hit the ground running with the cars next year. "There's nothing to re-invent with the dragster so that should be good right away," he said. "We have a lot less races with the Funny Car and the
Toyota
body so I'll spend more time working with that in the beginning." And, although he didn't say it, I'm sure Alan would love to prove that he can be as successful with a Funny Car as he has been with the dragster. Since he helped design the
Toyota
body that is being used he should have, to use his words, a running start with the Funny Car, too.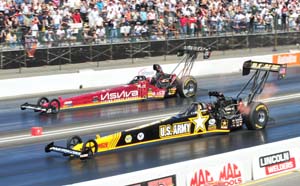 Schumacher vs. Torrence
Since I mentioned how good Tony was this year, I thought I'd give you a little food for thought.
Did you know
that in his entire career, which spans 268 races and 659 rounds, Tony has only fouled out three times? Three!! That's amazing. And none of them came this year. In fact,
did you know
that he hasn't had a red light start since the
Seattle
race in the year 2000? That's a span of 194 races and 421 rounds without a foul start. Now I think that's pretty good, don't you? Also, for his entire career, Tony has only lost thirteen rounds on holeshots. He's won eleven rounds that way and, when you look at the car he has, it's a lot easier to lose by a holeshot than it is to win with one. Face it, when you've got the best car on the grounds there aren't many guys who are going to outrun you. Now, as I always say, in the interest of fair reporting, Tony did lose four times this year on holeshots and two of those came in final rounds. And those four round losses were part of only nine losses that he had for the entire 2008 season. But he also won three on the line including the big win in the semi-finals in
Sonoma
when he beat
Steve Torrence
to keep his streak alive. Had he not won that round, the seven race win streak and the thirty-one round win streak would not have been possible. When I asked Alan if there were any rounds that he would like to
Schumacher vs. Todd
have back this year he said the finals in
Dallas
and the second round in
Pomona
. "We were a little conservative in those rounds," he said. "Of course, if you're more aggressive you may smoke the tires and lose anyway so we'll never know. But both of those rounds were winnable."....The way the Army car ran this year every round was winnable.When the car in the other lane was one of the top ten drivers or contenders for the championship (although you really couldn't call them that very often this year), Tony and his team really responded.
Did you know
that Tony was a staggering 53-8 against the other nine drivers in the top ten this year? That included a 9-0 record against
Hillary Will
and a 6-0 record against
Doug Kalitta
. Only
Rod Fuller
was able to beat Tony more than once this year and Tony still ended the year 8-3 against "Hot Rod."...Since I mentioned Hillary,
did you know
that she'll be making her second trip to the
Middle East
next month? She'll go to
Kuwait
and
Iraq
for about a week and she told me that she's really looking forward to the trip. No word yet on what she'll be doing next year although she is determined to return and drive a Top Fuel car. She has a lot of offer a sponsor, and if
Ken Black
doesn't return with the fuel car, I hope Hillary gets a deal that will keep her out there because she is really good for the sport and she would be perfect for a sponsor.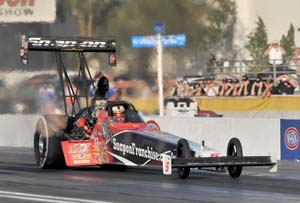 Doug Herbert
While Tony won the championship he didn't win all of the statistical categories, just the ones that counted. In the ever-popular reaction time category, which driver do you think did the best this year? Well, among the drivers who finished in the top ten,
Doug Herbert
can lay claim to being the best off the starting line this year.
Did you know
that Doug was first off the line 71.4% of the time this year?
Larry Dixon, who has a career record of being first off the line 53% of the time, really stepped it up this year with a 66% mark. That's very good.
Antron Brown
, who was always good on a
motorcycle
was even better in a Top Fuel car.
Did you know
that, for his career, Antron has been first off the line 54.5% of the time? This year, his first in a dragster, "AB" was first off the mark 58% of the time. I guess some people are just natural born drivers. Outside of the top ten,
JR Todd
, in his thirty-three rounds this year, got off the line ahead of his opponent 64% of the time....Both Larry and Antron won thirty-six rounds this year and that is more than Tony won last year when he won the championship.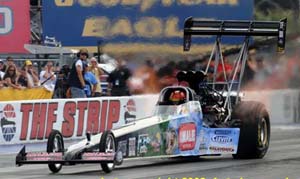 Terry McMillen
Tony and the rest of the Army team had a spectacular season and it will be interesting to see how they do next year in their new situations. The same can be said for Alan and his team regardless of who the driver is, and it will be a marquee name you can be sure of that. And the first time Tony meets Alan will be exciting for everyone, although nobody has anything to prove, especially after this year. 2009 will be very interesting beginning with how many cars there are in the dragster class. Will
Tim Boychuk
run a lot of the races or possibly a full schedule? Will
Terry McMillen
show up at more races? And which former top ten
driver
is going to return to action after a couple of years away from the TF battles? Only time will tell, but for now, let's just enjoy what we witnessed in 2008 and that was the single most dominating performance in the history of the sport. Congratulations to Don and Tony Schumacher, Alan Johnson and the rest of the Army team on wining the championship and doing it in style.




NHRA: 10 Most Recent Entries [ top ]

Apr 23- HOUSTON - Lucas Oil Drag Racing Series Wrap Up The NHRA Lucas Oil Drag Racing Series Wrap Up
Apr 23- CHARLOTTE 1 - J.R. Todd Aiming for Two Four-Wide Racing Wins in 2018
Apr 23- Mid America Dragway Joins NHRA Member Track Network
Apr 23- HOUSTON - Special Awards
Apr 23- HOUSTON - Sunday Video
Apr 22- HOUSTON - Sunday Pro Mod Wrap Up