Thu, 17 Apr 2008, 09:08 PM



Has Anyone Told You That You Two Look Alike?



By Bob Frey


Photo copyright 2008 Bob Johnson Photography





Jim Whiteley
Right now Jim Whiteley has one of the best, if not the best supercharged alcohol dragster in the country. I must say that Marty Thacker runs well and so does Ken Perry, but from what I've seen so far this year, Jim is the man when it comes to the blown cars. OK, so Shawn Cowie isn't too bad either, and Darvin Martinets looked good in Texas this past weekend, but Jim already has a win at the division race in Tucson and a runner-up this past weekend in Las Vegas at the national event and that moves him to the head of the pack in the supercharged class. Throw in the fact that he ran almost 270 miles per hour at the SummitRacing.com Nationals and he did go 5.31 in Tucson and it's easy to see why I say that he is running well and has to be considered the man to beat whenever he is at the track. He also has a very good crew led by the veteran Norm Grimes and capably assisted by Dirk Olsen, the veteran Alan Russell, Tim Nunes, Don Pulliam and Scott Turner. He also has these two young ladies in his pit area and for the life of me I just can't tell them apart.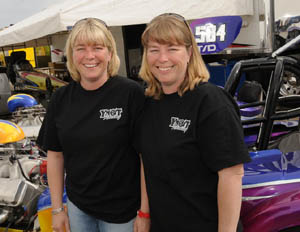 Anita and Annie
Annie Whiteley and Anita Pulliam are the two women that I'm talking about and the reason I can't tell them apart is that they are identical twins. If memory serves me correctly, when I asked them who was older it was Annie who said, "I am, by six minutes." Knowing sisters the way I do (after all, I have three daughters), Anita doesn't miss an opportunity to point out to her friends and family that she is the younger of the two. "We have been very close for all of our lives," Anita said. "Even when we were living in different states we stayed close. We even traded off our children in the summer." The women, who were on the same basketball and softball teams in high school, are on the same team again, only this time it's at the drag strip. They are both part of the "Y Not" Racing team that is headed up by Annie's husband, Jim Whiteley. "We were all sitting around one day and someone said why don't we go racing," Annie said. "And somebody else said, why not? And here we are." The team had the same reaction a while ago when they wanted to get a new trailer for their expanding operation. "We were at the Strasburg's shop and they had Richie Stevens truck, trailer and race car there. We wanted to buy the truck and someone said why not buy the car too? So we did." They eventually sold the Pro Stock car but their racing operation continued to grow. In addition to Jim's hard-charging dragster, both Annie and Anita run in the ultra-tough Top Dragster class. And while the name suggests that a dragster may be best for competition, the ladies both run bantam altereds in the class. "We wanted something a little different and this filled the bill," Annie said. "It's a little tough racing the dragsters, especially when you're trying to judge the finish line but we love it."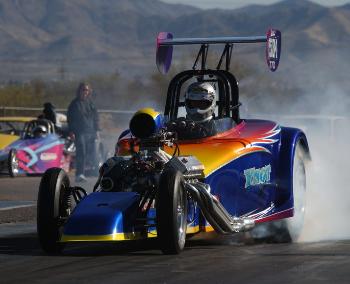 Annie Whiteley
Annie began her drag racing career almost as soon as she met Jim. "He had a '69 Camaro that he was racing and when he stepped up I got to drive the Camaro." After a few seasons in that car Annie moved up herself, to the 632 cubic inch, Madcap Racing Engine powered, '32 altered. The car has a full suspension and, as you might expect, is a handful to drive. "We had a small block in it at first and that was a lot easier and smoother to drive," Annie said. "But it just wasn't fast enough. This car, with all the power we have and with the short wheelbase is tough to handle but it's a lot of fun to drive." Anita added that a lot of people don't know quite what to make of the twins and their almost identical cars. "Most people are very friendly, but some look at us as if we shouldn't be racing these cars in the Top Dragster class. But we both love it and it's great to be able to get out and do this as a family." Annie has four children, three boys and a girl and it looks like they may follow her into the sport. "The oldest boy is seventeen and he doesn't have a lot of interest in it now, but the other two, Cory and Steven, are racing in Jr. Dragsters and they'll get to run the Camaro when they turn sixteen. They really like it." No word on what her daughter may do, but if she's anything like Annie, she'll be racing before too long.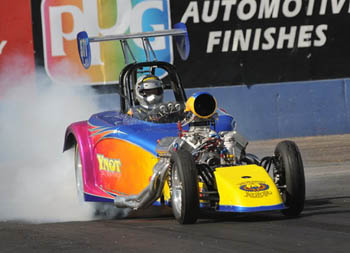 Anita Pulliam
Unlike her sister who has been racing for a while and who has moved up the food chain over the years, Anita is relatively new to the driver's seat. "I had an old Chevy pickup that I raced at our local track, but nothing like this," she said, pointing to her Top Dragster entry. When she mentioned that her car was also a '32 bantam with a big block Madcap engine in it I asked her how technical she was. "I get in the car and push the gas." Works for me. And as for her plans in the future, especially if Annie moves up to drive Jim's dragster eventually she said, "She can drive and I'll video tape her." In addition to being on the team and being Annie's younger sister ( she made me put that in), Anita is also engaged to one of the team members, Dirk Olsen. Now that's keeping everything in the family, isn't it? When I caught up with Annie and Anita at the Lucas Oil race at Southwestern International Raceway in Tucson, they were having a great time. The cars look good and run very well and they always get a lot of attention. "Tony Applegate painted the cars. He is from Boise, Idaho, and he has painted a lot of motorcycles. He gave us two drawings and we liked them both, so I had them put the checkers on mine and the question marks on Anita's car since this is her first year out. We didn't know what to expect so I thought the question marks were good for her." Spoken like a true, big sister.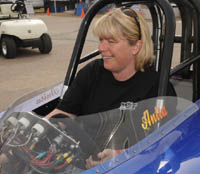 Anita Pulliam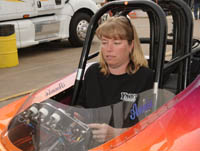 Annie Whiteley
As Annie and Anita went through their racing day in Tucson, they didn't win the race but they did have a lot of fun and they got to watch Jim win with an amazing 5.31 in the final round. The discussion after they were eliminated in the Top Dragster class centered on two things, their respective reaction times and their elapsed times on the track. "Oh, she ran quicker than I did but I had the better reaction time so we're both happy," Annie said. Anyone who gets to watch the two women race should be happy, too. They are great ambassadors for their family and their team, their cars look great and they run well. "We just enjoy doing this," Anita added. With the weather in their home state of Colorado staying cool for a while, the ladies won't get to race until next month. Meanwhile, Jim and the rest of the "Y Not" team will continue their torrid pace at the national and divisional events and they'll head to Topeka in May where they are the defending champions. "That was such a great race for Jim and the team last year," Annie said. "Especially since they crashed the car at Pomona. It was nice to see them come back from that incident." She was there when Jim had his accident and admits to almost hyperventilating at the scene. "It seemed like such a long time before he got out of the car." He did get out and was unharmed, and since that time, he has come back to field one of the best cars in the class. He also has two of the biggest cheerleaders at the races, two women who look remarkably alike.




NHRA: 10 Most Recent Entries [ top ]

Mar 19- GAINESVILLE - Lucas Oil Drag Racing Series Wrap Up
Mar 19- GAINESVILLE - Top Fuel Harley Wrap Up
Mar 19- GAINESVILLE - Pro Mod Wrap Up
Mar 18- GAINESVILLE - Sunday Video
Mar 17- GAINESVILLE - Sunday Wrap Up
Mar 17- GAINESVILLE - Factory Stock Showdown Championship Points
Mar 17- GAINESVILLE - Mickey Thompson Top Fuel Harley Series Championship Points
Mar 17- GAINESVILLE - Bonus Points
Mar 17- GAINESVILLE - Pro Mod Championship Points
Mar 17- GAINESVILLE - Championship Points