Thu, 3 Jan 2008, 01:32 PM



Gilbertson Names Boninfante as Crew Chief for 2008



Courtesy of Berserko Bob


Photo copyright 2008 Auto Imagery, Inc.





CHARLOTTE, N.C. --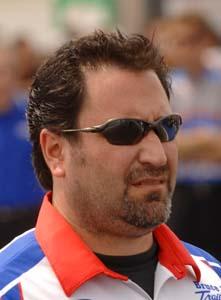 Nicky Boninfante Jr.
Bob Gilbertson, owner/driver of the Autolite/Prestone nitro Funny Car, has announced that Nicky Boninfante Jr. will re-join the Terminator Motorsports team as crew chief for the 2008 season.
Boninfante was Gilbertson's crew chief from 2003 to 2006 before stepping aside in 2007 to concentrate on his family-owned business and cut back to a limited race schedule. Boninfante spent last year working with Top Fuel driver Bruce Litton who he tuned to the 2007 IHRA championship.
Boninfante replaces Tommy Delago, who he shared crew chief duties with in 2006 then Delago took over the job solo for the 2007 season.
"This was a really tough decision for me to make," Gilbertson said. "Tommy is a great guy, a talented crew chief and he tuned me to 4.70s at 325 and we posted some of the fastest early numbers at the NHRA races and I give him all the credit for that. Tommy is full of ideas and some of the things we tried didn't work and in the process we went through a lot of parts. Tommy needs to work with a team that's a lot better funded than we are, with Nicky returning we're going to go back to what worked for us two years ago and go from there."
For Boninfante the decision was also a hard one to make.
"Telling Bruce Litton that I was leaving was tough," Boninfante said. "I love the guy like a brother and I'm proud to have been a part of him winning the championship last year but to tell the truth I like Funny Cars better than Dragsters. With Gilby cutting back to a limited schedule this year the circumstances worked out for me and I look forward to once again teaming up with Bob and his guys, most of whom I've worked with in the past, it will be like old home week."
Delago understands that this is a competitive business and he's Okay with the change.
"Nicky is the guy who brought me to Bob's team and I have to thank both him and Gilby for the opportunity," said Delago. "I learned a lot the two years I was there and I know that Bob wants to go in a different direction and I wish both him and Nicky the best. There's a few opportunities out there for me and I'm sure that I'll land on my feet."




IHRA: 10 Most Recent Entries [ top ]

Mar 21- 2018 IHRA Summit Sportsman Spectacular Series on April 20-22
Feb 26- Weather-Related Construction Delays Postpone IHRA Xtreme Raceway Park Opener
Feb 16- IHRA Summit Sportsman Spectacular Schedule Announced
Feb 15- New York Track Finds Value for Racers with IHRA Agreement
Feb 15- IHRA Summit Sportsman Spectacular Debut Only One Month Away Now is the Time to Pre-Enter
Feb 15- Summit Texas Location is a Racers' Paradise
Feb 15- Canadian Track Makes Large Commitment to IHRA Drag Racing
Jan 27- Mid-Michigan Destination Joins IHRA Family
Jan 27- Mississippi Track Reaches Sanctioning Agreement
Jan 16- Michigan Track to Host IHRA Summit Sportsman Spectacular