Thu, 3 Jan 2008, 10:04 AM



The Wacky World of Pro Stock



By Bob Frey


Photo copyright 2007 Auto Imagery, Inc.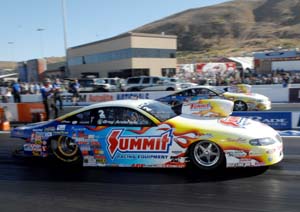 Anderson vs. Line
Even though the Top Fuel and the Pro Stock Motorcycle championship battles got a lot of attention because they came down to the last run of the year, the Pro Stock class had just as much excitement and more twists and turns than any other pro class in 2007, and, from what I hear, 2008 will offer more of the same. Forty-seven different drivers tried their hand at Pro Stock racing in 2007 and that's just about the average for the class over the past few years. At least it's about average since the "
Anderson
factor" kicked in a few years ago. That refers to the time when
Greg Anderson
and his
Summit Racing
team started crushing the field and, as a result, several of the teams or drivers who had been on tour for a while decided that they couldn't keep up, or didn't want to spend the time, effort and money (in no particular order) to keep up with the Summit team. That, from what I can tell, trimmed about ten cars from the field at the average race, and whether those ten could have been competitive or not is another story. Sometimes in Pro Stock, just like in life, less is more, if you know what I mean. Just by comparison, there were thirty-six Top Fuel drivers who earned points this year, thirty-three Funny Car drivers and forty-three motorcycle riders.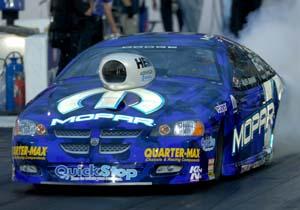 Allen Johnson
Jeg Coughlin
won the championship this year and, looking at the numbers, you would have to say that nobody took advantage of the new Countdown format more that Jeg did. A simple look at the numbers will bear that out. Jeg won the title with forty-two round wins while Greg had fifty-two and
Dave Connolly
had fifty. Now for those of you who don't like the Countdown, never did and never will, and for those who say that those numbers indicate just how unfair the system is, I would like to point out two things. First, everyone, including the three drivers whom I already mentioned along with
Allen Johnson,
the fourth place finisher in 2007 (with twenty-five round wins) all had the same opportunity to win the title so it was, indeed, fair. Second, as the NFL gets ready to begin its playoffs, I would like to point out that the Cleveland Browns won ten games this year and finished second in their division and didn't make the playoffs, while the Washington Redskins, who won nine games and finished third in their division, did make the playoffs. And if
New England
, with their 16-0 regular season record, doesn't win the Super Bowl is the NFL system fair? Obviously the Patriots are the best team in the league so why not give them the title? OK, enough of that, because I won't change my mind about the Countdown and you won't change yours, so let's move on....Jeg won seven of eight possible rounds over the last two races of the Countdown to win the title and he took advantage of one of the few mistakes by Greg Anderson in 2007 to do so. Greg, who competed in sixty-seven rounds this year, had only lost two rounds on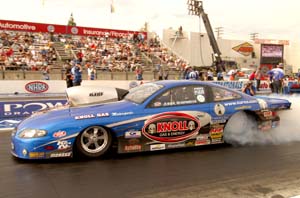 Justin Humphreys
holeshots all season long coming into the final race in
Pomona
. There, however, he dropped one to
Justin Humphreys
and that opened the way for Jeg to win the championship.
Did you know
that this is not the first time that the Pro Stock driver with the most rounds wins didn't win the championship? In 1980,
Bob Glidden
won twenty-eight rounds while
Lee Shepherd
won thirty-one and yet Mr. Glidden won the championship. Of course, back then you could waive points at certain races, earn points at other than national events and get bonus points for setting low elapsed time and top speed at a race. Still, Lee won more rounds than Bob and Bob won the championship.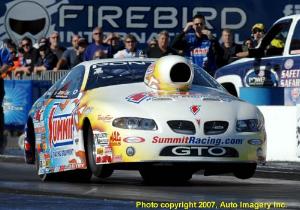 Jason Line
Ken Black's Summit Racing
team didn't win the championship for the first time since 2002 when Jeg Coughlin was the champ. Even though they won't put the number one back on their cars this year, Greg and his teammate,
Jason Line
, did seem to have the best cars in the class. Especially Greg.
Did you know
that Greg was the number one qualifier eleven times this year while he set low elapsed time an amazing sixteen times? At the end of the season he led the league in average elapsed time and top speed.
Jason, who I have to admit I thought had one of the best cars in the class in 2007, only was the top qualifier twice and he only set low elapsed time once during the entire season, so maybe his car wasn't as good as I thought. But on average, he was still pretty good, finishing third best in the E/T department (behind Greg and Dave Connolly) and second best in speed behind Greg. By comparison, the cars from
Victor Cagnazzi's
shop led the way in qualifying seven times and set low elapsed time at ten races. But, and this surprised me when I looked at the numbers, between Jeg and Dave Connolly they only recorded top speed once all year and that was by Dave. Historically, even with his three Pro Stock championships, Jeg doesn't drive the most powerful car in the class.
Did you know
Coughlin vs Connolly
that in his entire PS career, Jeg has only set top speed three times? That's amazing for a guy with as many wins as he has. I guess the man just knows how to get the most out of a race car. Based on that I think it's logical to conclude that both Jeg and Dave had their cars set up very well and that the two drove extremely well. That's why this really is a team sport, the "guys back at the shop" gave them good cars, Victor gave them the resources and the opportunity to compete and win and Jeg and Dave drove well. It's actually interesting to see that, in the long run, the championship really was decided on the starting line, with Dave losing on a slight holeshot in Vegas (to Jeggie) and then fouling out in Pomona, while Greg Anderson lost on that holeshot at the last race of the season. When you look at how good and steady the teams were from Victor's shop it's not surprising that several of the Pro Stock teams are putting in bids to use "Cagnazzi power" in 2008. Of course a lot of teams would like to use "Ken Black" power but I don't believe that Ken is selling or renting anything to anyone. Can you blame him?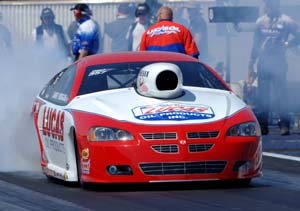 Larry Morgan
There will be some folks leasing, buying, borrowing or doing whatever it takes to get a Pro Stock engine this year and one of them will be
Johnny Gray
. The rumors you may have heard about him returning to Pro Stock are true. He'll be running a Dodge with power from the
Larry Morgan
emporium of speed and he'll have
Craig Hankinson
as the crew chief. Craig, who was a candidate fro Rookie of the Year in 2007 and most recently was with
Bob Perry's
team, is setting up a shop in
Ohio
and is working on a new
Don Ness
car for Johnny at this very moment. Craig told me that Johnny is very intent and that he is competing for a spot in the Countdown this year. He also said that Johnny's main goal is to "have fun and race hard." Those are the things that Johnny has done all through his drag racing career and, no doubt, he'll do it again this year. Now I don't know how these things work but I wonder if Johnny has to "downgrade" his NHRA driver's license to run in Pro Stock? The last time we saw him Johnny was running in the Funny Car class and I wonder if that license is good enough to run in a slower class? Hmmmm. Not many folks return to the sport and go slower than when they left. Johnny has competed in Pro Stock before, in fact,
did you know
that he began his professional career in that class back in 1993? And even though he did race in the class in 1993 and '94, if he makes the field in
Pomona
it will be the first time that he has qualified in a Pro Stock car. Johnny has been very successful at all of his racing endeavors including stints in both the Top Alcohol Dragster and Top Alcohol Funny Car class.
Did you know
that he is one of nine drivers to win a national event in both of those sportsman classes? He was also the first driver to make a 200 mile per hour run in the Competition Eliminator class when he went 201.65 in
Houston
back in 1993. Now that I think about it, 1993 was a pretty busy year for Johnny, with a 200 mile per hour run in Comp and his debut in Pro Stock. Johnny, his wife and son, have always been big drag racing fans and it will be good to see them back on the tour because they are wonderful people and a credit to our sport. If all goes according to plan we'll see Johnny, Craig and the rest of the team at the final test session in
Las Vegas
before he returns to action n
Pomona
.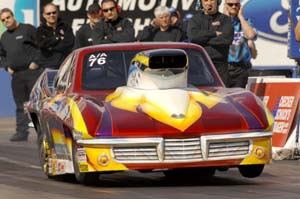 Vinnie Deceglie
Johnny won't be the only guy running Larry Morgan power this year.
Vinnie Deceglie,
coming over to the Pro Stock class after a very successful stint in Competition Eliminator, will run a Dodge with "Larry power" and it will be very interesting to see how he does in the Pro class. It's funny, because like Johnny, Vinnie will actually be slowing down from his previous ride to run in Pro Stock. The folks from
Mountain View Tire
have always had immaculate equipment that runs very well and I don't think their initial foray into Pro Stock is to simply have fun. I believe that they're very serious about this and, after an initial season of running the ever-popular "ten or twelve races," I expect to see them make a commitment to the entire tour next year, although I guess only time will tell if that's how it plays out. I do know this, Vinnie can drive and he could be a spoiler at the very first race in Pomona....
Max Naylor
will also run one of Larry's engines this year as he continues to work the room in an effort to put another marketing package together. Max did a wonderful job with and for the
Jaegermeister
folks last year and he could do the same for another company this season. Max and his wife, Jane, worked so hard on and off the track last year and it's a shame that they weren't able to come to terms with the Jager folks for this year. Having said that, nobody worked harder for their sponsors than Max and I hope he's able to put together another major marketing program because he is very good for the sport. Max probably made as many appearances for his sponsors last year as anyone in the sport and he became one of the fan favorites. He has a lot to offer and let's hope his plans all come together real soon. Max did tell me that we'll see him at the Las Vegas test session and he will be at Pomona..
V. Gaines,
who had a very good year in 2007, will return with another one of Larry's engines and he has to be considered one of those who can contend for a spot in the Countdown. V. just completed his second consecutive top ten season and he did everything but win a race in 2007. Of course when there are only six winners in the class during the year, and when the
Summit
cars and the "yellow" cars have such dominating seasons, it doesn't leave a lot of room (or wins) for anyone else. But V. did have a good car and a good year and it will be interesting to see if he can crack the top ten again.There has been a kind of merger between a couple of the very talented Pro Stock teams out there.
Greg Hill
will be working with
Bart Price
and
Greg Stanfield
in addition to fielding the
Indicom Electric / Nitro Fish
car in an effort to make both teams stronger and more competitive. Both teams will maintain their separate identity but they could, eventually, have their engines coming from the same shop. At the start of the '08 season,
Kenny Koretsky
, the driver of the Nitro Fish car, will be running a motor that has been worked on by
Sonny Leonard
, he of mountain motor fame. Both teams are looking to make it over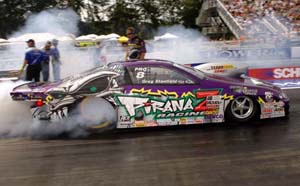 Greg Stanfield
that last little hump, the hump that separates the field from those who can and do win races. Both Kenny and Greg Stanfield had competitive cars last year but both are looking for that something extra to put them over the top and this just might be the thing. Like I said, there was a very small window for teams last year and we'll just have to wait and see if that window opens or closes for the teams in Pro Stock this year
..Jim Yates
will open the year with a new
Pontiac G-6
with a
Steve Schmidt
engine. Jim, who has a very nice deal with the folks at
Wiley X Eyewear
, is about as enthused as I have heard him in a long while. "Wiley X is putting a lot into this program and we want to do the best we can. Steve (Schmidt) has always made good power and we expect big things this year.... Remember, before Greg and Jason started dominating the class we had multiple winners in Pro Stock.
Did you know
that in 2001 there were fifteen different winners, the most in the history of the class, and a year later we had thirteen drivers visit the winner's circle in Pro Stock? In 2003, we had five winners and in 2004 we only had four drivers win races. So what does 2008 have in store? Pro Stock should be very interesting this year with the mix of the veteran teams and the newcomers and we should get an opportunity to see them and get an early indication of who will be strong at the test session and
Pontiac Pro Stock Showdown
in
Las Vegas
the first weekend of February. And then, it's on to the Winternationals!




NHRA: 10 Most Recent Entries [ top ]

Apr 24- CHARLOTTE 1 - Steve Torrence Enjoying Four-Wide Success Heading to NGK Spark Plugs NHRA Four-Wide Nationals
Apr 24- CHARLOTTE 1 - Fact Sheet
Apr 24- Kalitta Motorsports Welcomes NASCAR Stars to the SealMaster Track Walk in Charlotte
Apr 24- zMAX Dragway Celebrates 10th Anniversary
Apr 24- CHARLOTTE 1 - NGK Spark Plugs NHRA Four-Wide Nationals Brings 40,000 Horsepower Thrill Show to zMAX Dragway
Apr 23- HOUSTON - Lucas Oil Drag Racing Series Wrap Up The NHRA Lucas Oil Drag Racing Series Wrap Up
Apr 23- CHARLOTTE 1 - J.R. Todd Aiming for Two Four-Wide Racing Wins in 2018
Apr 23- Mid America Dragway Joins NHRA Member Track Network
Apr 23- HOUSTON - Special Awards
Apr 23- HOUSTON - Sunday Video