Sun, 30 Nov 2003, 04:01 PM



Upholding The Honor Of The Division…And The Family.



By Bob Frey
Photo by:Auto Imagery, Inc.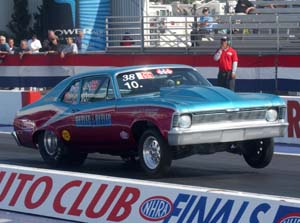 Mark Butler launces hard.
Mark Butler is the 2003 Summit Racing E/T Series Pro Champion and going into the race in Pomona he felt a lot of pressure. "There's always a lot of talk about how good the Division 1 drivers are," he said, "and I wanted to do well for all the guys in our division, all the guys who have had the same dream that I did." Well, Mark, the rest of the division can be justifiably proud of you, because everyone knows now how good the D-1 guys are, and how good you are.
At the tender age of twenty-five, Mark is relatively new to the sport of drag racing although racing has been in his family for a while since his dad raced at Cecil County back in the 1960's and '70's. "I started about four years ago," he said, "and I began with the same car that I have today." That car, a 1972 Nova with a small block engine, began life as a street car and when Mark got it it was completely street legal. Then, after racing it a bit, he gradually made some changes, added some things, made it a little faster and the end result is a pretty nice Pro E/T car that he races regularly at his home track, Cecil County Raceway in Maryland, the same place his dad raced years ago. "My friend Doug Krause and I did most of the work on the car, we tubbed it, did the engine and everything. It's a 406 cubic inch small block with a Powerglide behind it and it runs low tens pretty consistently." As good as the car had been over the past few seasons, 2003 wasn't a great year for Mark, at least not until the end. "I finished eighth at Cecil and I had a terrible year," he said. "I was in the top five, and then I lost a motor and a torque converter and I fell way back in the points, but I was fortunate enough to make it back into the top ten." He thought about taking a break, but with the points being so important every week, he stayed with it and he made it back to the D-1 bracket finals. "I made it to the final five there two years ago and didn't think I'd ever get back there again so this is extra special."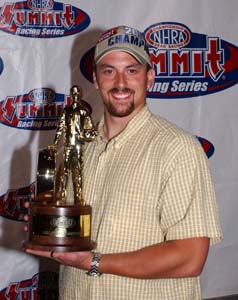 Mark Butler
Mark and his wife, Jenna, are expecting their first baby "any day now," and because of the doctor's recommendations, Mark stayed home as long as he could before heading for California. "My dad and a friend of mine, Don Troy, took the car to Pomona and Don even volunteered his rig for the trip. That was really nice of him and that's the kind of guys we have here at Cecil County." The trip took them about three days but for his dad, a truck driver, it wasn't too bad. "They didn't have any problems and they were all set up when I got there on Tuesday," Mark said. And when he got there he really didn't know what to expect. "I've never been to California so the whole experience was awesome. The track, the people, even where they had has park in the pits was cool," Mark said. "The people at Summit, Kirk and all of them, couldn't have been nicer. The whole experience was awesome and I hope every racer gets to experience it." Of course, winning the race made it even nicer for Mark. " I wasn't overwhelmed by the track and I told myself not to worry about the crowd, so I just tuned that out." Of course Mark was faced with another little problem, the new LED lights that they used at Pomona were something that Mark hadn't faced before. "I had never raced against the LED lights and some of my friends told me to be careful and not to foul," he said. "So I went up there really soft the first time and was late, so I adjusted and then the rest of the weekend they weren't a problem at all." Ironically one of Mark's worst reaction times came in the final round where he had a "50" light. "Fortunately I was giving the other guy (Mark Putnam from Gainesville) three seconds and I could tell that he was late so I just eased up and got the win." Prior to that Mark had reaction time of .010 and .030 in the first two rounds.
When a young racer from the east coast gets to go to one of the Mecca's of drag racing like Pomona, California, it's always interesting to get his response to the entire event. "It was awesome. I got to talk to a lot of the pro racers and they were so nice it was unbelievable. My dad loved the NHRA museum, especially when he saw the Stone, Woods and Cook car because he used to see it race at Cecil. We pitted right near Dan Fletcher and he was really helpful with the weather information and stuff like that. And a friend of mine knew Jeg Coughlin and he told me to look him up and he couldn't have been nicer, he even sent me an e-mail after the win. When we went to the dinner that Summit had for us they treated us really nice. Like I said, everyone at Summit was great." Of course winning makes the entire event extra special and when I asked Mark how long after his run it was before he called his wife and told her the news he said, "Right away. I got out of the car, got my pictures taken and then called her. In fact, I have my cell phone in my hand in the pictures from the end of the track."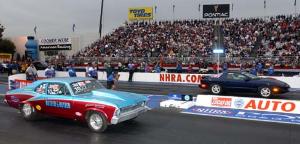 Butler vs Derek Putnam in the final.
With a Summit E/T national championship, a gold card, a beautiful wife who supports his racing program and a baby on the way, life is pretty good for Mark Butler. "The gold card will come in handy next year and I intend to do a lot of racing. But for now, with the baby coming, I'm staying close to home for the winter, but I'm really looking forward to next year." Mark is also looking forward to the possibility of stepping up in class in the future. "I'd like to move up to Stock or Super Stock eliminator in the future," he said, "but I only want to do it if I can do it right." And after watching him progress from a novice bracket racer a few years ago to Summit Racing E/T series champ this year, there should be no doubt in anyone's mind, especially the other racers in Division 1, that Mark Butler will do it right, after all, he's done everything else right so far.
In addition to his wife, Jenna, Mark would like to thank his sponsors, Charley's Service Center, Price Trucking and Good Builders. He'd also like to say a special thank you to his mom, Sue, and his dad, Jack for all of their help and support. Congratulations to Mark Butler and good luck with the baby!!




NHRA: 10 Most Recent Entries [ top ]

Apr 19- HOUSTON - Friday Schedule
Apr 19- Tige Boats Named Presenting Sponsor of E3 Spark Plugs NHRA Pro Mod Drag Racing Series Portion of NHRA SpringNationals
Apr 19- HOUSTON - Previous Success, Early Win has Funny Car's Courtney Force Excited
Apr 18- Haney Headed for NHRA Pro Mod with Summit Racing on His Side
Apr 18- HOUSTON - Richie Crampton Enjoying Early-Season Success Heading to 31st Annual NHRA SpringNationals
Apr 18- 2018 Mustang Cobra Jet Celebrates 50th Anniversary of Racing Legend with Quickest
Apr 18- New Ford Mustang Funny Car Scheduled to Debut In 2019 NHRA Mello Yello Season Opener
Apr 16- HOUSTON - Fact Sheet
Apr 16- HOUSTON - After Early-Season Mishap Funny Car's Jonnie Lindberg Looks to Get On Track