Sat, 6 Dec 2003, 11:45 AM



Jim Dunn Racing Selects Tony Bartone to Drive K & N Filters/Lucas Oil Pontiac



Courtesy of Jeff Romack
Photo by:Auto Imagery, Inc.



LOS ANGELES --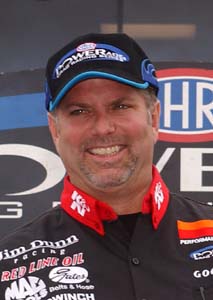 Tony Bartone
Jim Dunn Racing has selected Tony Bartone to drive the K & N Filters/Lucas Oil Pontiac Funny Car in 2004, signing the 47-year-old drag racing veteran and former national champion to a three-year contract.
"Tony Bartone's credentials are impeccable," said team owner Jim Dunn. "He's a tremendously talented racer who can drive just about anything that has tires and a steering wheel. Tony's also an extremely personable individual who will help this team to be successful and we're glad to have him with us next season. Tony did a great job at Pomona to get the K & N Pontiac into the show, and we're confident that he's the right driver to take this program to the next level."
Up until now Bartone had competed primarily in Alcohol Funny Car where he won 23 national events and posted nine top-10 finishes between 1992 - 2000. Bartone's first national-event victory was at Columbus in 1992, the first of three wins that season in which the New York native battled his way to third place in the NHRA points standings.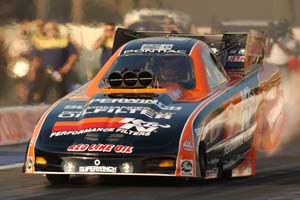 Bartone driving for Dunn at the Finals.
Bartone's best year was in 1996 when he captured eight national-event victories in 10 final rounds including wins in the first six national meets he entered. Bartone also set a single-season record with 37 consecutive round victories in national and divisional events. He captured the Winston Select, the TRW Funny Car All-Star championship, four additional divisional meets, and went on to clinch the NHRA Alcohol Funny Car title in late August.
Bartone finished second in the national points chase in 1997 and 1999 before joining Toliver Racing in 2001 to race in Nitro Funny Car.
In 2002, Bartone competed in Top Alcohol Dragster, and this past season won national meets at Pomona, Calif., Gainesville, Fla., and Englishtown, N.J., to finish third in the Lucas Oil national standings.
To broaden his motorsports scope, Bartone completed road course instruction at the Panoz Racing School at Road Atlanta in 1999, competed in three Motorola Cup events in both 1999 and 2000, and raced in the 24 Hours of Daytona Rolex Series in 2000 and 2001. He placed third in the SGT Class at the Mid-Ohio Grand Am Cup in 2001.
"This is a tremendous opportunity to get back into POWERade Funny Car competition," said Bartone. "I'm looking forward to working with Jim Dunn and the rest of the team to give K & N Filters and Lucas Oil a Funny Car program they can be proud of. I've known Jim a long time and working with the team at Pomona was a great experience. Now we can focus on what needs to be done next season to get this Pontiac into the winner's circle."




NHRA: 10 Most Recent Entries [ top ]

Jun 20- NORWALK - Event Preview
Jun 20- NORWALK - Tim Wilkerson Knows Summit Racing Equipment NHRA Nationals Ideal Place for Turnaround
Jun 20- NORWALK - Thursday Schedule
Jun 20- Summit Racing Equipment Continues Sponsorship of NHRA Summit Racing Jr. Drag Racing League
Jun 20- NHRA Summit National Championship Drawing To Be Held In Norwalk
Jun 19- NORWALK - Steve Torrence Hopes to Go Back-to-Back at Summit Racing Equipment NHRA Nationals
Jun 19- NORWALK - Fact Sheet
Jun 19- BRISTOL - Mickey Thompson Top Fuel Harley Series Championship Points
Jun 18- Farewell to the Mongoose Part III
Jun 18- BRISTOL - Lucas Oil Drag Racing Series Wrap Up