Mon, 8 Dec 2003, 12:57 PM



Either The Motorcycle Or The Dragster…Make Up Your Mind!!



By Bob Frey
Photo by: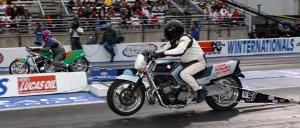 Brian Johnson (near lane) defeated Ricky Cook
Brian Johnson won the Summit Racing E/T Series in the motorcycle class at Pomona. Based on what he's done in his racing career he could have won it in Super Pro, too. "I race the bike at Brainerd and my dragster at Rock Falls," Brian said. "I enjoy them both but this year was a very good one for me on the bike." Now there's an understatement.
The trip to Pomona wasn't a first for Brian like it was for so many of the other competitors since he came to the Summit finals a couple of years ago with his friend, Jeff Lanoue, but he admitted that this time was different. "When you're actually part of the race it's pretty impressive," he said. "The folks at Summit couldn't have been nicer, they really do go all out for you. When I was here with Jeff I didn't go to the dinner or take part in any of the activities, but this time I did and it was unbelievable." Brian said that he enjoyed everything from the special dinner that Summit had for the competitors to being introduced with the pro racers on Sunday morning. "It was all pretty exciting and I hope to do it again next year." Well, based on his performance in the bike class in Division 5 over the past few years, he just might. Brian has won either the divisional title or the Summit Racing Series Finals in seven of the last eight seasons.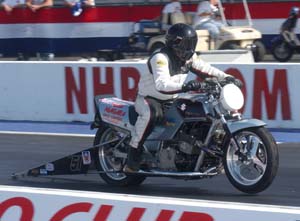 Brian Johnson
One of the advantages that Brian may have brought with him to Pomona was the fact that he has competed in several national events in recent years. "I think racing at Brainerd and at Rt. 66 gave me a little edge," he said. "The crowds didn't bother me and I was used to racing against really tough competition." Of course when you get to the Summit E/T finals, everyone is tough, and that's why it was so important to Brian to get off to a good start. When he put an "03" reaction time on the board on his first time trial run in Pomona he knew that he was headed in the right direction. "It was a real plus to find the tree right away," he said, "instead of having to make adjustments to the bike. That was a real advantage for me." It must have been since Brian threw out reaction times of .007, .017 and .023 in his three rounds of competition on Sunday at the Finals. That, coupled with a couple of runs that were within a tenth of his dial-in and a final round that featured a double-breakout was all he needed to take the bike title back to Division 5. "We take a lot of pride in the bikes up here and it's nice to bring the title back home." Division 5 riders have won the Summit E/T Finals in the motorcycle class in three of the four years that the race has been contested.
Like so many racers, Brian Johnson began racing right out of high school in 1986. He started with a bike that was basically street legal and then, gradually, moved up the performance ladder. "You know how it is, you start with a bike that runs well and then you want to go faster, so you add some wheelie bars, get the engine done and stuff like that," Brian said. Rick Ward, a fellow Minnesotan and friend of Brian is the guy who does the engine on the bike. And being from Minnesota, Brian may have had one little experience that none of the other racers at Pomona did. "It was funny, we had a little snow the day I was leaving for California and I actually had to get the broom out and clean the truck and trailer before heading west," he said. When he did finally head out, Brian and his friend Lance Larson took their time on the drive west, stopping off at Las Vegas to catch some of the action at the Lucas Oil divisional race there and then stayed for another day before completing the trip. When he got to California, Brian joked that going into Pomona was a lot like going into one of his home tracks, Rock Falls Raceway. "Yeah, its' pretty easy to get the two of them confused," he said, because the tracks are so much alike." Be that as it may, Brian credits the competition at both Brainerd and Rock Falls for making him so good. "The bike program around home is very good and between the divisional races and the special Kerker Shootout that we have for the motorcycles, it's not easy to be the bike champ. And the regular program for the Super Pro cars, well, that's brutal. Everyone in that class can win at any time." This year, though, only one of them was able to win the big race and that's thirty-five year old Brian Johnson.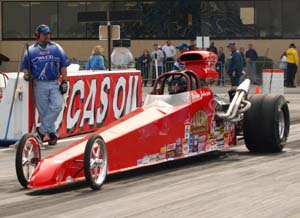 Johnson in his Super Comp.
Brian would like to thank his sponsors, National Lending Source and Ward Performance as well as his wife, Chris, and daughters Erin and Sarah. "Chris usually drives to the races with me but it was a little too much to travel that far with the girls, so she stayed home for a couple of days and then she flew out to be with me at the race. It was great having her there." He also wanted to thank everyone at Summit for the way they treated the racers and he mentioned the NHRA liaison for the event, Jill Caliendo, and how helpful she was. "Jill even gave us her cell phone number in case we had any questions. Like I said, we couldn't have been treated any better."




NHRA: 10 Most Recent Entries [ top ]

Apr 24- CHARLOTTE 1 - Steve Torrence Enjoying Four-Wide Success Heading to NGK Spark Plugs NHRA Four-Wide Nationals
Apr 24- CHARLOTTE 1 - Fact Sheet
Apr 24- Kalitta Motorsports Welcomes NASCAR Stars to the SealMaster Track Walk in Charlotte
Apr 24- zMAX Dragway Celebrates 10th Anniversary
Apr 24- CHARLOTTE 1 - NGK Spark Plugs NHRA Four-Wide Nationals Brings 40,000 Horsepower Thrill Show to zMAX Dragway
Apr 23- HOUSTON - Lucas Oil Drag Racing Series Wrap Up The NHRA Lucas Oil Drag Racing Series Wrap Up
Apr 23- CHARLOTTE 1 - J.R. Todd Aiming for Two Four-Wide Racing Wins in 2018
Apr 23- Mid America Dragway Joins NHRA Member Track Network
Apr 23- HOUSTON - Special Awards
Apr 23- HOUSTON - Sunday Video