Wed, 17 Dec 2003, 09:41 PM



Learning Together



By Jim Luikens



Much has been said lately about Tony and Cruz Pedregon and their joint, yet separate, racing plans for the upcoming season. However, another brother team of Hispanic descent has already completed six seasons of competition at Milan Dragway. In addition to racing together they also are the creators of the Minority Mentoring in Motorsports Program, a youth-to-youth initiative. This is the story of Philip and John Paul Gutierrez and their motorsports activities, both on and off the track.
Twenty-year-old Philip and thirteen-year-old John Paul, better known as JP, are the only sons of long-time motorsports enthusiasts David and Laura Gutierrez. As youngsters they were exposed to motorsports often. One day, while watching drag racing on TV they saw their first junior dragster and it was love at first sight.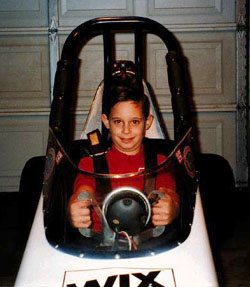 JP on Christmas Eve at 7-3/4-years-old.
When JP was only seven he wrote a letter to Santa requesting a junior dragster, helmet and firesuit. Interested in fulfilling his Christmas wish, his parents set about seeing what they could do. A suitable junior dragster was located in Florida, fresh from competing at the Turkey Trot Nationals. Enlisting the aid of friends the dragster was transported via the relay system, first from Florida to Tennessee and then from Tennessee to Michigan.
After arriving in the dead of night it was hidden away in the Gutierrez' garage to wait for Christmas Eve. Upon returning from midnight mass, JP was asked to see why the garage light was on. There he discovered his first race car and couldn't wait to climb in. He was only 7-3/4 years-old at the time, not even old enough to meet the minimum driving age of eight.
As much as he loved his first race car, JP wasn't enamored with its white paint scheme and asked to have the car painted red like family friend Jack Ostrander's Top Fuel dragster. Not only was his racer painted red, it was turned into a miniature Ostrander car carrying the same lettering and graphics as the full size version.
JP's older brother Philip, seven years his senior, wasn't as enthusiastic at first about racing a junior dragster, but the thrill of competition grew on him. Today, Philip serves as JP's crew chief and his role is not one of name only. In fact, Philip takes great pride in the team's accomplishments because most of the time he is competing as crew chief against adults who fulfill a similar role on other teams.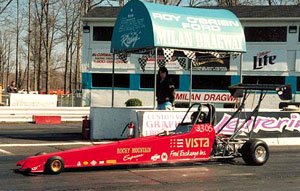 First car in Jack Ostrander livery.
Starting from scratch, the JP Motorsports team did well during its first three seasons and notched nearly a half dozen wins as well as roughly twice as many runner-ups. Their original car has since been replaced with a newer model, which is ironically painted white due to sponsor considerations. White may not be JP's favorite color but he already understands how important sponsorship is in the overall scheme of racing.
However, there is much more to the JP Motorsports team than just their on-track activities. JP and Philip and have created a minority mentoring program as a way to give back to their community. Now in its third year, it is a youth-to-youth initiative directed at sixth, seventh and eighth grade students about the opportunities that are available to students that stay in school and get good grades.
At every appearance the team's junior dragster is on display as a validation of the concepts that they are sharing and goody bags are handed out. As always, the boys have bigger plans for the future and would like to start taking a different student to the track each week as the next evolutionary step in their program. Both of the boys know that their program is a success by the number of requests that they receive to return to the same schools.
Just to prove that no good deed goes unpunished their newest junior dragster was stolen from the family garage that serves as the team's shop not long after it was completed. JP was the first to discover that something was amiss when he returned from middle school to find that the gate to the back yard was unlatched and that their garage door was partially ajar.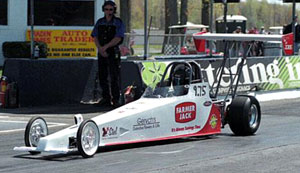 JP launches his current dragster.
Despite having their garage heavily fortified, the team had forgotten about the garage window and a young thief had broken the window to gain access to the garage before using the team's own tools to disassemble the garage door enough to free the car. JP immediately called his parents who rushed home from their respective jobs. The police were notified and an all-points bulletin was issued to be on the lookout for a "long go cart".
Ironically the wife of a retired police officer lives nearby and she remarked to her husband at dinner that she had seen a neighborhood youth pushing the strangest car down their street earlier that day. Not knowing what to make of this he contacted an off-duty friend of his who was still on the force. Meanwhile, the theft had already made the evening news and was being followed with live reports.
The evening's events unfolded rapidly from that point and the twelve-year-old perpetrator ended up being arrested on live TV. No stranger to the judicial system, he had already stolen five full size cars in his life in addition to the junior dragster. In fact, before the final judgment on this case could be rendered he stole a sixth full size car. He was removed from his mother and became a ward of the court until he is nineteen-years-old.
Both JP and Philip have profited from the life lessons that racing has taught them. As a result of their racing involvement they have learned sportsmanship, leadership and communication skills while drawing ever closer as brothers. Racing has also helped to define their intended careers. Each desires to be a mechanical engineer and, in addition, JP dreams of driving for a pro team when he is old enough, preferably in Top Fuel.
Several times their parents have been asked if they are living their dream thru their sons. No way, they emphatically reply, this is not our dream. They are however, very proud of their sons and what they have accomplished to date in the world of motorsports as well as life.




IHRA: 10 Most Recent Entries [ top ]

Apr 24- Racers Receive Prizes at IHRA Summit Sportsman Spectacular Opener
Apr 24- Comeaux, Hughes Make History at IHRA Summit Sportsman Spectacular
Mar 21- 2018 IHRA Summit Sportsman Spectacular Series on April 20-22
Feb 26- Weather-Related Construction Delays Postpone IHRA Xtreme Raceway Park Opener
Feb 16- IHRA Summit Sportsman Spectacular Schedule Announced
Feb 15- New York Track Finds Value for Racers with IHRA Agreement
Feb 15- IHRA Summit Sportsman Spectacular Debut Only One Month Away Now is the Time to Pre-Enter
Feb 15- Summit Texas Location is a Racers' Paradise
Feb 15- Canadian Track Makes Large Commitment to IHRA Drag Racing
Jan 27- Mid-Michigan Destination Joins IHRA Family