OK, so the holidays are over and USC got robbed of the national championship, the Eagles are going to win the Super Bowl, San Antonio will repeat a the NBA champs and drag racing is still six weeks away. Are you kidding me? It seems like an eternity since the last race of the 2003 season and I know that I, for one, can't wait until the new season begins. As we wait for that to happen let's wish the best to two former sportsman racers who recently tied the knot and that would be Tommy Johnson and Melanie Troxel. In the "it's a tough world out there" category, the two got married on New Year's eve and are now honeymooning in Hawaii. I'm sure that Tommy shares my sentiments that he can't wait to get back from his honeymoon and for the new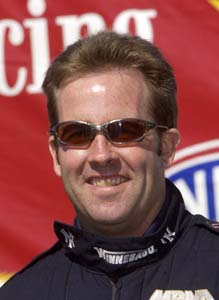 Mike Dunn
drag racing season to begin. Yeah, right. And let's give big props to Mike Dunn and Whit Bazemore who are recovering from their eight-day trek through Florida on bicycles. Now that's something that I think I'll try next year? Yeah, right. Actually I got tired and sore once when I drove 800 miles in Florida so I can't really imagine what it must be like to pedal that distance. At least it'll give Mike some nice things to talk about during the first television show of the year. Mike did have a great quote, however, when he said that he hadn't been in this much pain since he drove for Frank Bradley!! Way to go, Mike and don't be surprised that you didn't get a Christmas card from "the beard" this year. Or next year…
As we begin the new year let's also congratulate Deb and Kyle Fickler who became parents on the last day of 2003. The lovely Danika Carrera Fickler came into the world on Wednesday and tipped the scales at 4 pounds and eight ounces and mother and daughter are both doing fine. No word on dad, yet, although we do know that Danika is already taking after her father since she arrived a little early, or in drag racing terms, she fouled!! Actually, Kyle said that but I think it's funny. Let's all wish them the best as they begin their new family life together. Let's see, a dad who likes racing, a mom who likes racing and is a lawyer and was in the Miss America pageant…yeah, Danika's gonna be a heart breaker when she grows up…..On a sad note, one of the long time racers in the alcohol ranks passed away last week. Larry Bakke died of complications following heart surgery and he will be missed. Larry was one of those guys who started racing at a very early age and actually continued racing while he was in the service between 1965 and 1969. In early 1970 Larry began his career in the alcohol funny car ranks and he was a fixture there ever since. He competed on the UDRA circuit in the Midwest for many years as well as at the Division 5 events and a few national races every year. It was always nice to see him show up at Brainerd when the tour stopped by there and the car that he raced this past year was one of his nicest ever, the blue-flamed Firebird that carried the name of his company, Performance Head Service on the side. Our condolences, thoughts and prayers go out to his family and friends.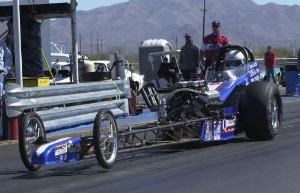 Dean Carter
When the season does get underway one of the key classes to watch will be Competition Eliminator. With Dean Carter taking the title in 2003 it will be interesting to see how he does in his efforts to repeat. Of all the classes in NHRA is seems that none are harder to repeat in than Comp. Since 1970 there has only been one driver who won the title in consecutive years and that was Coleman Roddy and he did it twenty years ago. After winning the crown in 1983 Colman did it again in '84 and he's the last and only one to successfully defend his championship in Competition Eliminator. A couple of other drivers have come close, like the great Bill Maropulos who won it in 1985 and 1987 (along with his 1993 title) and Andy Manna who earned the number one plate in 1997 and 1999. Other than that, although a lot of great drivers have tried, none have been able to put back-to-back wins on the board in this very exciting category. When you look at who some of the champs have been it really becomes surprising that Dean will try to break a mark that has stood for twenty years. Vinny Barone, David Rampy, David and Bo Nickens, Steve Ambrose and more are all among the best sportsman racers in history and yet the "double up" in Comp eluded all of them. Carter, though, has as good a chance as anyone since his car runs so well, he seems to excel under pressure and he makes very few mistakes. One of the interesting things about his class however, is the NHRA rule book and the limitations that it puts on the cars in A/ND. They are limited to a twelve inch tire, one magneto and must use the upswept type headers with no collector type headers permitted in order to maintain that nostalgia look. All of this keeps them from moving into the "space age" of technology, in theory, and helps retain the look of the original front-engine cars or "junior fuelers" for those of us who are old enough to remember that term. Still, Dean and his fellow A/ND practitioners ran very well last year. According to my numbers there were about twenty different drivers who competed in the class last year with at least four of them dipping well into the 7.0 range. Among them are Wayne Ramay (7.03) J.D. Zink (7.04), Dean (7.05) and Troy Buff (7.09). All of them and a handful of others will be shooting for the first six-second run in the class next year (at official NHRA weight) and it should make the season opener in Pomona very exciting since three of those four are west coast teams. The sleeper in the field this year may be that very talented Troy Buff and I wouldn't be surprised to see him at more national events this year.
There will be plenty of things to watch in '04 in the sportsman ranks and the battle in Competition Eliminator is just one of them. I look forward to the start of the season, the Sportsnationals where all of the A/ND hitters may show up, and the battle for all seven divisional crowns, too. By the way, let's give a huge tip of the cap to Dean Carter and his dad, Ray, who swept the honors at the Division 7 awards banquet this year. Dean grabbed the coveted "Driver of the Year" award while Ray was honored as the top "Crew Chief of the Year," and that's quite an honor for the family and the team. Now that I think of it, with talent like that, Dean just may be the favorite going into the 2004 season. Good luck to him and all of the racers in one of the most exciting classes in NHRA racing, Competition Eliminator.




NHRA: 10 Most Recent Entries [ top ]

Mar 22- LAS VEGAS 1 - Defending Funny Car Winner Tommy Johnson Jr. Excited for Four-Wide Racing
Mar 22- NHRA Northwest Nationals Tickets on Sale Now
Mar 21- LAS VEGAS 1 - Fact Sheet
Mar 21- LAS VEGAS 1 - Event Preview
Mar 20- Strong Stable of Contending Pro Stock Racers Vie for Final Starting Position for K&N Horsepower Challenge
Mar 20- GAINESVILLE - Special Awards
Mar 20- GAINESVILLE - Lucas Oil Drag Racing Series Wrap Up
Mar 19- GAINESVILLE - Sunday Video
Mar 18- GAINESVILLE - Pro Mod Sunday Wrap Up
Mar 18- GAINESVILLE - Sunday Wrap Up