Thu, 8 Jan 2004, 07:49 PM



Overcoming Obstacles



By Jim Luikens
Photo copyright 2004 BME Photography.com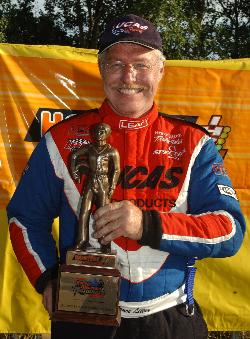 Bruce Litton
Most people don't know that Bruce Litton actually began his drag racing career racing motorcycles. Or that his nationally known business, Bruce Litton Trailer Sales is directly across the street from NHRA's Indianapolis Raceway Park (IRP) yet he competes full time on the IHRA tour. This is the story of Bruce Litton and how he has overcome a few obstacles in his life.
Bruce was born in Oneida, Tennessee in 1955 before moving to Indianapolis ten years later. At the age of 16, he entered organized drag racing behind the handlebars of a 450 cc Honda motorcycle after a short stint as a street racer. He won the first six races he entered, all of which were at the renowned IRP strip. He had to hide his trophies because his family was unaware of his racing activities. It was hard to keep them a secret when he was forced to leave the house in the summertime while wearing full leathers.
By 1976 Bruce had advanced to riding modified bikes and expanded his scope beyond the NHRA to include other sanctioning bodies such as the IDBA and AMDRA. His success at setting records and winning national events eventually got him rides on even faster bikes that were owned by other people.
In 1978 he was riding a 960 cc Kawasaki when he recorded the first 8.60-second, 156 mile-per-hour pass on a Turbo Comp bike. One year later he advanced again, this time to Funny Bike. A 1200 cc turbocharged engine that burns nitromethane and uses nitrous oxide for a "power adder" doesn't sound very funny to me, however.
In fact, that bike could run either Top Fuel or Funny Bike with just a body change. Bruce's goal was to notch the first 200 mile-per-hour pass using that combination. Needless to say, a combination like that can be volatile and the best speed he ever recorded was 172 mph while coasting across the finish line.
On October 9th, 1982 Bruce was qualifying at the IDBA World Finals in Gulfport, Mississippi when his bike went into a high-speed wobble. Bruce was tossed off the bike and beat up quite badly. His left hand was broken and his right thumb was ground off. Eight surgeries have since restored full use of his left hand but he is thumbless to this day.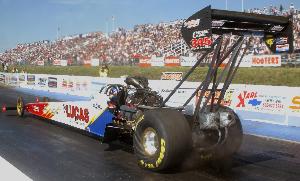 Litton launches hard.
Obviously an event of that magnitude can change your whole opinion of racing. It certainly did Bruce's. He went home and immediately started building his first drag racing CAR, a 1968 Camaro powered by a 427 cubic inch big block. After spending all winter building that Camaro he returned to IRP in the spring of 1983, racing with casts still on both hands.
In 1985 Bruce debuted his first tube-chassis race car, a Corvette that was capable of running Super Comp. It typically ran in the 8.80 (second ) range at 160 miles-per-hour. Bruce then debuted a more conventional Super Comp racer in 1988. Built by fellow Hoosier Mike Spitzer, it was Bruce's first dragster. Despite turning good times only average results were achieved with this car.
A highlight of this era however, was the beginning of Bruce's relationship with Mike Wolfarth, a close relationship that continues to this day. In 1992 Joe Leach loaned Bruce his 1991 dragster to run IHRA Quick 8 events. At that year's Bristol event Bruce qualified third with a 6.98 elapsed time and won the race defeating another future IHRA star, Von Smith, in the final.
1993 found Bruce back behind the wheel of his own car, a new Spitzer creation that was built for Top Dragster and Quick 8 competition. It featured small block Buick power. This was the car that Bruce won his first-ever championship with. More success followed during the next two years as Bruce carried the sponsorship of Moser Engineering for the first time and recorded 11 wins and two more championships.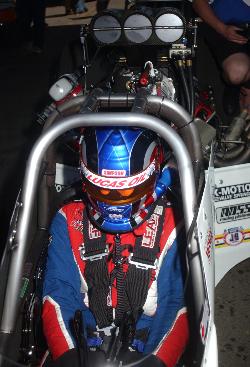 Litton ready to go.
During late 1995 Bruce happened to be pitted near the Virgil Hartman team. One thing led to another and before you can say top fuel Bruce was right in the thick of it, running as a teammate to Rhonda Hartman. At the 1996 Bristol event, Tennessee native Litton went to his first final round in Top Fuel eliminator, falling to the late Wayne Bailey.
Bruce continued to learn about the kings of the sport and the next year met Paul Romine in the final round at Norwalk before finishing a then career-high 5th in the points standings. At the end of the year Bruce bought that car and began preparations to start his own team the following season.
Bristol, his "home track'", continued to be good to Bruce as he qualified number one at the 1997 event and was the runner-up when he was unable to return after dodging Paul Romine's blowover in the semi-final round. For the year Bruce's fledgling team finished 6th in the final standings before their recording their third consecutive top ten, a 7th, in 1998 while using Richard Hartman as their tuner.
Things continued to trend upward in 1999 as Bruce and his team appeared in 4 final-rounds and recorded their first win and highest ever Top Fuel points finish, a third. Another third followed in 2000 before the next devastating twist in Bruce's career occurred on January 13, 2001. His race shop, and everything in it, burned to the ground. Undaunted, a replacement fueler was begun that very day. A new 174 x 170 foot race shop was started shortly thereafter.
Despite such a trying start to the 2001 season, Bruce reached three finals in 2001 and won the IHRA World Finals at Shreveport, Louisiana. 2002 was all Clay Millican as Bruce recorded no wins despite appearing in nine final-rounds. Last season Bruce recorded two wins in six finals as Clay had another career year. Thus, Bruce's career Top Fuel record stands at a respectable 30 final-round appearances and eight wins.
Undaunted, Bruce looks ahead optimistically to the upcoming 2004 season. With a new car, new parts and Mike Wolfarth still by his side Bruce is prepared to give it his all once again. Part of his optimism comes from the never-ending support of his wife Carol, to whom he has been married for 26 years, and his daughter Heather.
Bruce Litton is pleased to be able to enjoy what he does. He feels that, despite a few obstacles, he has been blessed in many ways. He is proud to be a Christian and sees his efforts as a chance to offer testimony in his own way. A lesser person might have quit rather than have to overcome even one of the challenges that Bruce has faced but he is grateful for them and looks for the greater good in everything that he does.




IHRA: 10 Most Recent Entries [ top ]

Feb 26- Weather-Related Construction Delays Postpone IHRA Xtreme Raceway Park Opener
Feb 16- IHRA Summit Sportsman Spectacular Schedule Announced
Feb 15- New York Track Finds Value for Racers with IHRA Agreement
Feb 15- IHRA Summit Sportsman Spectacular Debut Only One Month Away Now is the Time to Pre-Enter
Feb 15- Summit Texas Location is a Racers' Paradise
Feb 15- Canadian Track Makes Large Commitment to IHRA Drag Racing
Jan 27- Mid-Michigan Destination Joins IHRA Family
Jan 27- Mississippi Track Reaches Sanctioning Agreement
Jan 16- Michigan Track to Host IHRA Summit Sportsman Spectacular
Jan 16- Canadian Track Signs Multi-Year Agreement with IHRA