Tue, 2 Jan 2007, 09:18 AM



Carrying on a Great Family Tradition



By Bob Frey


Photo copyright 2006 Auto Imagery, Inc.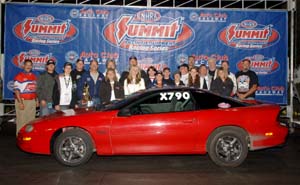 Willie Hoefer and team celebrate win.
Because I love the history of this great sport that we all enjoy, I thought that the win by Willie Hoefer in the Summit Racing Equipment Series at Pomona was very interesting. First of all, Willie had previously won an NHRA national event in a "class" car and there aren't many racers who can say they've won both an NHRA national event and a Summit Racing national championship. "I won Super Stock at the 1984 Mile-High Nationals," Willie said. And that came on top of a couple final rounds that he had previously been in, including one at the Golden Gate Nationals in 1981 and another at the Denver race in 1979. "I lost to Keith Lynch at the Denver race and Eddie Rezac beat me in '79," he said recalling the details as if those races were yesterday. "We did a lot of traveling back then and it was pretty tough racing." His loss to Keith Lynch was ironic since Keith would go on the next year to win the world championship, a title that Willie's dad, Bill, claimed back in 1964. Actually Bill won the championship in the old Street Eliminator category, but to win it in any class is quite an accomplishment regardless of the category. To quote National Dragster in the October 16, 1964 issue."Street Eliminator looked to be a runaway for the Hoefer Brothers and their D/MP Chevy from LaHabra, California, but in the final tally the bracket proved to be the tightest and hardest fought of all six champions." The brothers held off Joe Lunati by a mere five points to win the championship and a family's legacy was born. En route to the title that year Bill won divisional races at tracks like Kingdon Drag Strip, Inyokern, Arlington Dragway in Washington and Shreveport Dragway in Louisiana.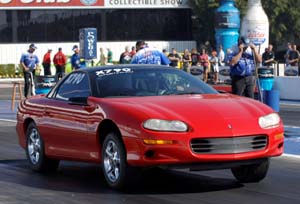 Willie Hoefer
The year after the championship, 1965, Bill Hoefer and his brother had to do a lot of traveling in an effort to defend their title, but that didn't mean that the family wouldn't still be highly competitive back in their home state of California. Bill's wife, Willie's mom, Sylvia, was busy carving out a nitch of her own at their favorite drag strip, the famous Half Moon Bay track. At the final race of the 1965 season, Sylvia not only won the C/FX class but she also set both ends of the national record at 13.17 and 107.78 mph. Again to quote National Dragster from the October 8, 1965 edition."It was Bill's Galaxie all right, but Bill wasn't at the helm. Sylvia, Bill's wife, was mashing the throttle since another meet would put Bill in the Traveler's Division. The car has a throttle stop, or governor, and Bill removed it figuring that Sylvia didn't have a chance to set the record. But what started out as fun turned out to be serious as Sylvia got both ends of the record. Not bad for her first time in the car." Fast forward from 1965 to 2006, and to further add to the family's history, Willie's brother, C.W., advanced to the semi-finals in Super Street at the Phoenix national event this past year.
With parents who both raced and won during the sport's formative years it's easy to see why drag racing is in Willie's blood. "I used to go with my dad to a lot of the races. We went to Pomona a lot, Fontana and places like that," he recalled. And even though he was one of the best in his class back in the late 1970's and early '80's, Willie Hoefer has not raced a lot since those championship days, in fact, he quit soon after winning in Denver in '84. "It got to be like a job," he said. "It wasn't a lot of fun and we traveled a lot so I decided to quit." After that Denver win in '84 he finished a career high twelfth in the world championship points, but he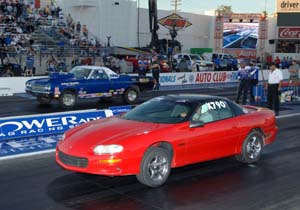 Hoefer vs. Derrick Jackson
decided that he had enough and so he quit cold turkey. Willie went on to own and operate a used car lot with his dad until his passing a few years ago, and today Willie and his brother C.W. run the operation. "We wholesale a lot to the dealers in the area and I go to a lot of the auctions." When he's not busy working Willie spends time with his wife, Annette, and his children, Garrett and Hailee and their oldest daughter, Jaime Bessler and her husband Lee, as well as their grand daughter Brooke. The car that he raced at Pomona was one that he actually bought at one of the auctions and he had every intent of selling it and not racing it. "When I got it the car had really ugly wheels on it and it just didn't look like a race car, but when my brother told me how much fun he had racing in the Summit Series I decided to give it a try." He raced the car at a couple of the California tracks before going to the Division 7 Summit Racing championships at Bakersfield where he won the Race of Champions in the Sportsman class. "It was so much fun and the racing was great," he said. "And when I realized that I got to go to Pomona it made the win even sweeter." Willie's other brother Alan, was also instrumental in getting him back to the track. "He was the 2005 Southern California Pro Gas champ and he told me how much fun he was having. He even owned the car that C.W. drove last year. That car, by the way was sold to someone in Russia. I don't know how much racing they do over there but someone got themselves a really nice car."
In Pomona Willie showed off his great bloodline when he beat each of his first two opponents off the starting line. And then, just like his dad did to win the Springnationals in Bristol back in 1965, Willie was first off the line in the final round and he held on to beat Derrick Jackson, the Division 6 champ. "Between my races in Bakersfield and the ones at Pomona they were all decided by just a couple thousandths of a second. To win in Pomona was great and to have about forty of my family and friends in the winner's circle was unbelievable." I then asked Willie about his future plans and he said that his brother told him that "now you have a gold card you can race more and he said that we should build a Stock class car but I think I'll stay where I am. I'm racing and I'm having fun." Willie then reiterated what every Summit series champion has said to me since the series began, and that is how much fun it was and how great he was treated. "It's really neat for the folks at Summit to do this for the every day racer," he said. "The entire experience was great and I enjoyed every minute of it. The racers in this series are second to none when they're on the track and they have a lot of fun while they are doing it. This is what racing is all about." And winning is what racing has been all about in the Hoefer family for two generations.




NHRA: 10 Most Recent Entries [ top ]

Mar 22- LAS VEGAS 1 - Defending Funny Car Winner Tommy Johnson Jr. Excited for Four-Wide Racing
Mar 22- NHRA Northwest Nationals Tickets on Sale Now
Mar 21- LAS VEGAS 1 - Fact Sheet
Mar 21- LAS VEGAS 1 - Event Preview
Mar 20- Strong Stable of Contending Pro Stock Racers Vie for Final Starting Position for K&N Horsepower Challenge
Mar 20- GAINESVILLE - Special Awards
Mar 20- GAINESVILLE - Lucas Oil Drag Racing Series Wrap Up
Mar 19- GAINESVILLE - Sunday Video
Mar 18- GAINESVILLE - Pro Mod Sunday Wrap Up
Mar 18- GAINESVILLE - Sunday Wrap Up