Wed, 28 Dec 2005, 10:09 PM



It's Just As Good On Two Wheels



By Bob Frey


Photo copyright 2005 Auto Imagery, Inc.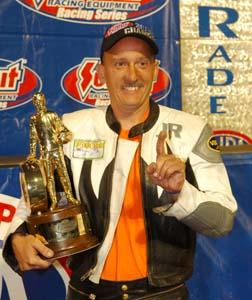 Roy Nealy Jr.
As good as the Summit Racing Equipment Racing Series is for the cars it is even better for the motorcycles. That's because the bikes are often relegated to "second class" status at a lot of tracks but at the Summit Series they are treated as equals to their four-wheel brethren. And for anyone to get to participate in the national championship for bracket racers at Pomona, California is a treat and it's extra nice for the motorcycle teams. In previous years this has also been true for the snow mobiles who get to be a part of the big show. This year, however, it was all motorcycles with four Suzuki's, two Kawasaki's and one Yamaha. Oh yes, there was also one champion and that was, from Franklin, Kentucky.
Roy Nealy will readily admit to being awed by the huge crowd at Pomona. "Like a lot of racers at our local tracks we don't get to run in front of a crowd like that and I was aware of it." But he admits to being able to block it all out and concentrate on the business at hand once he made that first, all-important burnout. "Everyone there is a good racer so you couldn't let down at any time," he said. Roy's first run netted him a pass of 8.87 on a dial-in of 8.65. "I knew that he (opponent Ken Van Buren from Division 7), should have left first and when I didn't see him or hear him I figured I had it won." But like a lot of bracket racers, at the local tracks or at a major event like Pomona, Roy didn't want to give it away at the end of the track. "That's happened to me before and I didn't want to let it happen here." He didn't let it happen and he eased up and coasted across for the win. Round two was a little tougher and Roy responded with his best reaction time of the day, a solid .008 that, when coupled up with his 8.63 (on an 8.60 dial-in) was good enough to put him in the finals. "I wanted to be good on the lights but I didn't want to foul," he said. "For years my dad would tell me not to give it away on the starting line so I try really hard not to red light." He didn't and that combination of a good reaction time and a strong performance on the quarter mile would put him in the final round where he would face off against the Division 5 champion, Donnie Durenberger, who had been perfect the round before. "He went '59' on a dial-in of '59' so I knew he would be tough," Roy said. He was, as Donnie had the better reaction time by a few thousandths, and sometimes that's all that matters in these crucial races. But when Donnie missed his dial by four-hundredths, and when Roy went one over (8.61 on his 8.60 dial) it was all over but the shouting. Roy Nealy Jr. was the Summit Racing Series Motorcycle champion.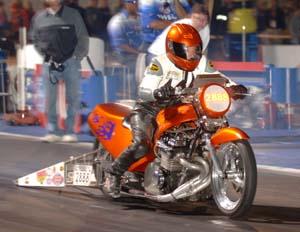 Like most racers who participate in the motorcycle class Roy absolutely loves the two-wheeled class. The bike he rides is a 1985 Suzuki that started out with an 1000 c.c. engine but now sports a bigger 1327 c.c. model. Unlike a lot of the other racers in the motorcycle class, Roy has never been in a race car in his life. "I've always liked the bikes and that's all I've ever raced," he said. "I like being out in the open and being able to see and hear my crew guys in the burnout area. Plus, if everything is going right on a run, I can actually see the faces of kids in the grandstands as I go down the track and that's pretty neat." I'll say, being able to pick out faces at about 150 miles per hour is an art form in itself, but it's one that Roy has perfected. He has also perfected the art of getting kids who come to the track interested in the motorcycles. "When kids come to the track a lot of times the first thing they will do is come over to look at the motorcycles. And when they ask me how fast I go on my motorcycle I tell them to picture themselves on their bike, at the top of the biggest hill they know and then just coming down it as fast as they can. That always seems to get their attention." Whether it's his home track of Music City Raceway or on the big stage at Pomona, there is no better ambassador for the motorcycles than Roy Nealy Jr. "I've never raced a car, I've had this bike for a long time and I plan on continuing my racing career in the bike class." The only thing that will change is the number on his bike. "I've always had the number 2888," he said. "And when I won the division my friends asked me if I would put the number '21' on the bike (symbolic of a division champion). Well I guess I'm going to change to the number 1 next year. I've earned it and I might as well enjoy it."
For the forty five hundred mile round trip from his home in Franklin, Kentucky, to the fairgrounds in Pomona, Roy was joined by his wife, Debora, and their two boys, Justin and Devin. "It was like a vacation for us and it took us a couple of days of pretty steady driving to get there." Once he got to the track Roy stayed put. "We thought about going out and doing some sight seeing but I told my wife that I've never been to a national event before and I was going to take it all in." And he did, from the early moments of watching the professional teams set up, through the Summit Racing dinner for the competitors, Roy and his family thoroughly enjoyed the entire experience. "It was awesome. Just to be there was great but to win it was the biggest thing I've ever done in my racing career." Roy did say that he got to watch, but not talk to several of the professional motorcycle teams. "They had their job to do and I didn't want to bother them," he said. "But it was fun being able to watch guys like Antron Brown and Andrew Hines as they went through their regular routines." While the pro racers had their jobs to do, so did the entrants in the Summit Racing series and as a driver Roy certainly did his job. And while he did well Roy is quick to point out that the bike was also flawless and he gives credit to one person for that. "John Bennett out of Goodlettsville works on my bike and I had him go over it completely before I headed out. I didn't have any real problems all year long and I wanted to make sure I didn't have any at Pomona." He didn't and the end result is a national championship for this married, father of two from a little town in Kentucky. "Some people say that the bikes are a dying breed but I love them and I'll keep racing as long as I can." And next year he'll be racing with the number one on his bike, the rewards for being the Summit Racing Series national champion.




NHRA: 10 Most Recent Entries [ top ]

Apr 24- CHARLOTTE 1 - Steve Torrence Enjoying Four-Wide Success Heading to NGK Spark Plugs NHRA Four-Wide Nationals
Apr 24- CHARLOTTE 1 - Fact Sheet
Apr 24- Kalitta Motorsports Welcomes NASCAR Stars to the SealMaster Track Walk in Charlotte
Apr 24- zMAX Dragway Celebrates 10th Anniversary
Apr 24- CHARLOTTE 1 - NGK Spark Plugs NHRA Four-Wide Nationals Brings 40,000 Horsepower Thrill Show to zMAX Dragway
Apr 23- HOUSTON - Lucas Oil Drag Racing Series Wrap Up The NHRA Lucas Oil Drag Racing Series Wrap Up
Apr 23- CHARLOTTE 1 - J.R. Todd Aiming for Two Four-Wide Racing Wins in 2018
Apr 23- Mid America Dragway Joins NHRA Member Track Network
Apr 23- HOUSTON - Special Awards
Apr 23- HOUSTON - Sunday Video