Wed, 14 Dec 2005, 07:29 AM



A Conversation with Greg Anderson (part 2 of 2 parts)



By Norm Froscher


Photo copyright 2005 Auto Imagery, Inc.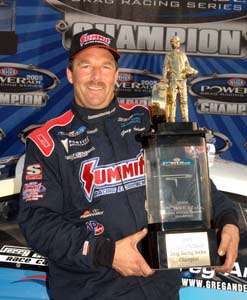 Greg Anderson
We continue our between-test runs conversation with three-time defending Pro Stock Champion Greg Anderson. Today we deal with multi-car teams, comments on Jason Line, fan interest, Erica Enders and the Speed Channel Driver of the Year.
Greg, two-car teams and in your situation, Jason Line. The advantages and how do you see Line?
"I've said all along that when we go to a National Event we get eight qualifying runs instead of four. Every track you go to is different and sometimes it takes you into race day before you get a happy set up with your car and that's having two cars. If you had one, you may not figure it out by Sunday and you go home.
"You gotta conquer that track by the time you get to Sunday and two cars help you to do that and I would think three cars would help you even more. So maybe one day we'll try and run three cars."
Jason Line. What about him as your teammate?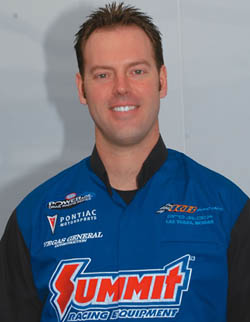 Jason Line
"Most people don't understand all that Jason brings to the table. Jason's strong points, even though he's showed how great a driver he can be, is he tunes my car and his car and tunes the carburetors and makes all the calls engine-wise on both cars.
"That's not actually where he is really strong. Where he is strong is back at the shop and running that dyno and it's running practically night and day. I've never seen anybody who knows more about how to operate a dyno and it comes from all those years when he was head dyno operator for Joe Gibbs. I've never met anybody sharper," Anderson says.
"If you get one run and you get another and wonder if you can believe the information and a lot of times you can't. If your dyno is not telling the truth, it might fool some, but it doesn't happen with Jason. He's so sharp with that stuff it'll never happen. He has a very creative mind and is a hard worker. He likes going up and down the race track. He gets a big kick out of that, but really his first love is being at the shop and running that dyno."
Pro Stock series as a whole? Fan interest?
"I think fan interest is pretty good. It could always be better. It seems the fuel cars are getting a little more of the fan attention. But it's almost a different type of fan who follows the fuel cars. The Pro Stock race cars, the fan has to be kind of a race enthusiast or even a hands-on car worker themselves, while the fuel cars are loud and explosive and people who may not understand that much about racing they think that's cool.
"I would like to see the (Pro Stock) cars get faster. You know, you have the fuel cars running over 300 plus mph and we're running barely over 200. So, at least for that person who's not that knowledgeable about racing there's a little bit of non-excitement in watching the Pro Stock class.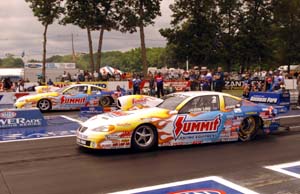 Line vs Anderson
"We like the fact we're close and the races are decided by inches, but some people don't really understand that, they just want to see the big speed numbers.
"And I won't say it's a gripe, but I want NHRA to be careful and not change the class too much with rules and make it into something like the IROC series were all the cars are exactly equal. I don't want to see that.
"Pro Stock is a class that's always been real high up on the ingenuity and on the innovation level deal and I don't want to see that change.
"NHRA made some changes last year and the excuse was to stop rising costs. That's always gonna be a problem, no doubt, but you just have to be careful.
"You can't make it Stock eliminator. It's Pro Stock, supposed to be unlimited and you know, the top of the food chain for a door car racer. He can spread his wings at that level and try anything he wants to try. I want to see the class continue to get faster."
Anderson has seen it and you have also. As soon as the fuel cars run, the stands lose a great number of spectators, probably to the pits. What gives?
"That's a tough decision to say what that is. One of things we thought of is that the Pro Stocks should run before the fuel classes. Maybe it's not so much that the people in the grandstands don't wanna watch Pro Stock, they just think it's so neat to see those fuel cars engines tore apart between rounds and they wanna get back and see that.
"There's an exodus after fuel cars and then an exodus after us. I don't think it's that they don't want to watch us, they want to see those fuel cars broken down.
"They could accommodate that by running Pro Stock first, then the fuel cars,"
So, back to Erica Enders. What's the secret of her success in an area where there has been extremely little success by females?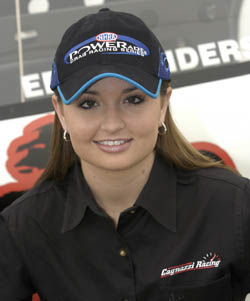 Erica Enders
"I don't honestly know the answer to why there has been so little success by female drivers in Pro Stock," Anderson admits.
"I've got to give her a lot of credit. I know that when she started she had a lot of pressure on her, she got back in the car after that crash in off-season testing, her team supported her 100 per cent. She progressed as the season went on and they gave her great equipment.
"I guess that's what it comes down to. Maybe some of the previous women who've tried to run in the sport haven't had the team behind them and the teamwork and equipment she has.
"The team is behind her 100 per cent. They're not sitting there snickering and hoping she fails so they can put a man in there. She has the whole team support and maybe in the past a woman didn't have 100 per cent from her team."
Anderson won the Speed Channel Driver of the Year in 2004, but had to win 15 races to do it (joining John Force of earlier, who managed it with 13 wins). Tony Schumacher won all five races in the panel's fourth quarter, but finished only second in the quarterly vote, How can drag racing be better represented?
"There's no question. Even last year, when I won the award, I was shocked, because you didn't feel that maybe you didn't get the same shake as the NASCAR guys or open wheel guys.
"After I won the award I talked to a lot of those reporters who voted and they admitted, you know, that they hadn't paid that much attention to drag racing. That this year they started looking at it and a lot of people said we have to start treating them the same. There's a lot neat things happening and a lot amazing things happening and we've gotta start treating us the same. I thought then that maybe we made it to near equal ground as NASCAR or open wheel.
"But it sure seems to me we've slipped right back. Do we have to win 15 or 20 races to be even considered? Tony Schumacher had a tremendous year and won five in a row there at the end. It's not about gaining points, but it's winning and winning has to become more important."
A last word?
"Golly, I don't know. I'm so proud of my team. I said to everybody a year ago, after 15 wins, there was almost no way to go but down and if we come out in '05 and don't win 15, don't win 10, don't even win five we have some down time, what's this team gonna do? Is it gonna fold up, is it going to start arguing and fighting like some or is it going to regroup and bounce back?
"We regrouped and bounced back and I'm more proud of my team this year than I was the year we won 15 races because after experiencing the highs, we experienced the low and were able to drive out of that rut in the ground.
"A lot of people would have given up. But the fact we didn't proves what kind of team we have and what kind of guys they are. They never say die, they never quit, they don't start pointing fingers or asking for rules changes.
"If you're not winning. You're not the man any more but you work harder to be the man. They just go home and work harder and that's what they did and by golly, we got that championship.
"I'm more proud of this one than the one before.
"Our main focus this year is to test a lot, but spread it around on some different chassis so we don't wear any of them out because we want to get off to a fast start. We do not want to dig a hole like we did last year."
Anderson likened that slow start to spilling blood in the water in front of some hungry sharks, and he says this year he hopes to keep the waters clear .




NHRA: 10 Most Recent Entries [ top ]

Apr 23- HOUSTON - Lucas Oil Drag Racing Series Wrap Up The NHRA Lucas Oil Drag Racing Series Wrap Up
Apr 23- CHARLOTTE 1 - J.R. Todd Aiming for Two Four-Wide Racing Wins in 2018
Apr 23- Mid America Dragway Joins NHRA Member Track Network
Apr 23- HOUSTON - Special Awards
Apr 23- HOUSTON - Sunday Video
Apr 22- HOUSTON - Sunday Pro Mod Wrap Up