Mon, 28 Nov 2005, 11:01 AM



Ralph Andreacchi Selected as "Driver of the Year" in OSCA Competition



Courtesy of Jon Salemi



MAPLE, Ont. --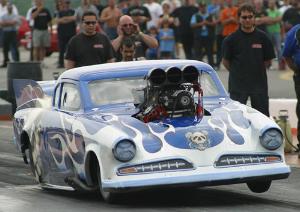 Ralph Andreacchi
Ralph Andreacchi from Maple, Ontario Canada and his Skull Motorsports Outlaw Street/Pro Modified 53 Studebaker were selected as the 2005 Ontario Street Car Association's "Driver of the Year". Andreacchi, who posted a Runner-Up finish in the season long points battle hopes to set up one more spot and capture the title in 2006. Ralph posted 1 win and 3 runner-up finishes during the 2005 season. He also set the OSCA Outlaw Street performance records of 6.45 seconds @ 219 Mph. Those numbers are very impressive for a car that sports muffled headers and tips the scales at 2900 lbs.
Andreacchi states, "I'm really honored to win this award. My team and I had a really good rookie year. We still are in the learning stage of what it takes to run this type of car. I can assure you one thing, it doesn't come easy. A lot of hard work and hard-earned money goes into the Skull Motorsportsracing operation. We are seriously looking for some sponsor support in '06.
With a little support from a sponsor, I'm sure we can bring home the title in'06. I'm confident that we can get into 6.30 elapsed time category. With this said, I can't wait for the 2006 season to get here". Andreacchi thanks many in his quest for title in 2005. He says, "Without the loving support of my wife and kids I could never make this a reality. Also Al Billes and the ABR racing crew, Jim Salemi at G-Force Race Cars, and the OSCA.




Drag News: 10 Most Recent Entries [ top ]

Apr 21- K&N Spring Fling Million Friday Results
Apr 20- K&N Spring Fling Million– Thursday Results
Apr 19- K&N Spring Fling Million- Wednesday Results
Apr 18- Buckeye S/SS @ National Trail April 28th
Apr 18- Don "the Snake" Prudhomme Returns To Baja Competition After 50 Years
Apr 18- K&N Spring Fling Million Tuesday Results
Apr 17- K&N Spring Fling Million Pre-Race
Apr 12- Summit Racing Equipment is Newest Sponsor of Midwest Junior Super Series
Apr 12- Summit Racing Named Official MWPMS Sponsor and Event Title Rights Holder
Apr 11- NMCA All-Star Nationals Chevrolet Performance Challenge Series Final Results