Wed, 29 Jun 2005, 11:33 PM



The One That Got Away



By Jim Luikens


Photo copyright 2005 BME Photography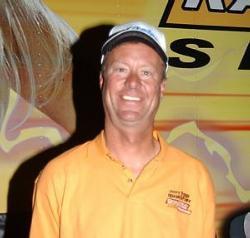 Steve Spiess
Steve Spiess, a water and sewer contractor by profession, was rebuilding a city street in downtown Joliet, Illinois when he noticed a (real) 427 Cobra up on jack stands in a garage. To make things even better it was his blue, his favorite color. Best of all, the owner was willing to sell the car. The asking price was $50,000 dollars, serious money at the time but a pittance today. This is the story of Steve Spiess who said thanks, but no thanks to that 427 Cobra.
Although Steve passed on the Cobra he never forgot about it. Kenny Hoger, a Chicago area race car chassis builder, also had a Cobra at that time which he used for his personal car. Kenny's was a kit car and Steve eventually purchased it when he couldn't get the thought of the real Cobra out of his mind. The kit Cobra was powered by a big block Chevrolet engine hooked to a Turbo 400 transmission and turned times in the mid-10 second range thanks to a pair of Pro Stock style heads that were prepared by Virginia's "General" Lee Edwards. In fact, this was the very car that introduced Steve to the world of drag racing. All told, he owned and raced the Cobra for about ten years.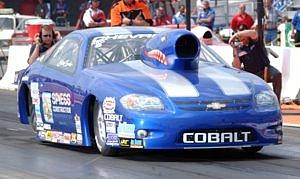 Spiess in his '05 Cobalt.
Meanwhile Steve's construction business was starting to roll. He had founded it in 1977 after working several years for someone else. Steve recalls that he was able to start his business because his father co-signed for his first backhoe and his grandfather loaned him the money to purchase his first dump truck. Today the Spiess Construction Company is fast approaching its 30th anniversary with 35 employees and 50 pieces of equipment in its fleet.
After his Cobra, Steve was ready to move up to his first purpose-built drag car so he purchased a 1984 Camaro from a used car lot. Lee Edwards again provided the power, this time a 557 cid big block Chevy engine on nitrous. Steve had the Camaro back-halved and tubbed in order to handle the General's power and was rewarded with elapsed times in the 7.70 range. The Camaro's elapsed times were pretty impressive for that era and Steve still has that car in his collection today after racing it from 1990 to 1993.
In 1994 he purchased his first Pro Stocker, a new Camaro, from Jerry Haas. The General was called upon once more, this time for an 804 cubic inch Chevrolet mountain motor. Steve sorted his new car out at Frank Hawley's driving school in Gainesville, Florida with Jerry Haas and Robbie Vandergriff assisting him. Steve eventually recorded a best elapsed time of 7.02 seconds while at Hawley's school.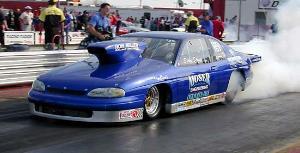 Spiess in his Monte Carlo.
Unfortunately, Steve only had the car for three months before it was destroyed in a racing accident at Dinwiddie, Virginia. He was competing in a Pro Stock Shootout that had been organized by Don Beverly when he "stayed with it" too long because he wasn't qualified for the program. The bump in the right lane upset his car and Steve's first Pro Stocker was history.
Bouncing back quickly, he ordered another Camaro the very next day. This one stayed around quite a bit longer, lasting three full seasons instead of just three months. Its most noteworthy accomplishment was recording a 200 mile-per-hour pass in time to join the 200 mph club. Unfortunately, Steve was disqualified because he didn't have the required decal on the car.
Another Haas car, this time a 1998 Monte Carlo followed Camaro number two. Now using Ron Miller engines, Steve's Monte Carlo set the IHRA elapsed time record at 6.62 seconds in Shreveport, Louisiana. At the IHRA national event in Bradenton, Florida, Steve had his second accident when the car got loose on sand that was blowing across the drag strip from the adjacent dirt oval track. Luckily, Steve never hurt his arm or received any serious injuries from the crash even though the car's window net broke when it rolled.
Once again Steve quickly ordered a replacement race car and used the Pro Stock Oldsmobile Cutlass of Indiana's Greg Moser to finish the season. Monte Carlo number two's debut was a rousing success when it won the Darlington national event. The joy of Steve's first ever professional win was short lived, however. At the very next event in Rockingham, North Carolina the car's parachutes became tangled at the end of its run and the car made a hard left into the wall.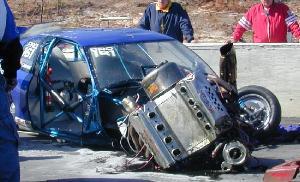 Spiess' car after the Rockingham incident.
The force of the impact was so great that the engine was ejected from the car and actually went through the Rockingham track's wall. As for Steve, he came away from the incident with cracked tailbone. Undaunted, he ordered a Pontiac Grand Am, the new hot lick in Pro Stock race cars at the time, from Jerry Haas. He finished out the season once again in Greg Moser's Cutlass while he waited for his Monte Carlo's replacement.
Steve raced the Grand Am for three seasons with middling results, sometimes qualifying and sometimes not. He primarily raced in the IHRA series but dabbled in an occasional NHRA event that was near his home, particularly Joliet's Route 66 Raceway, a track that he was involved in building. He still has a financial interest in Route 66 as member of the ownership group.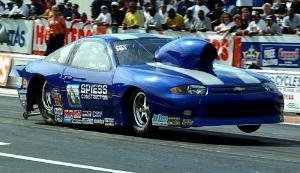 Spiess' 04 Cavalier.
After the Grand Am came his first RJ car, a Chevrolet Cavalier. According to Steve this is the best car that he ever had and rekindled his love affair with drag racing. Among the Cavalier's accomplishments is a win at Rockingham earlier this year. The Cavalier was recently superseded by a new RJ Chevrolet Cobalt but remains on standby as a first class replacement if the need arises.
The Cobalt too has already seen final round action. It was one half of an all RJ Cobalt final at the ACDelco Virginia Nationals in May when Rick Jones was victorious over Steve. Despite the loss, Steve left Dinwiddie with the P/S points lead. After the subsequent events at Grand Bend and Edmonton Steve now finds himself solidly in second place just 32 points out of first and 64 ahead of third place man Tony Gillig.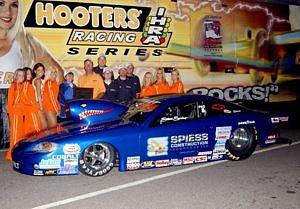 Spiess celebrates runner up with Cobalt.
Steve admits that he is points racing now and that he's never had so much fun. He particularly wants to thank Jason Been, Jon Kaase (he's Kaase's only Chevrolet customer), Bob Book's BRE Carburetors and HRE Intake Manifolds for his recent successes. Steve sees himself fading away from racing some day because of the time and money that the sport requires but before he goes he would like to write his name in the IHRA record book a few more times.
Remember that 427 Cobra that got away from Steve so long ago? He is not about to let that happen twice. On Christmas Day last year he won an auction on eBay for a new Ford GT from a Ford dealer in South Carolina. The scheduled delivery date is now drawing near and he is looking forward to flying down there and driving it home. What color is it? Dark Blue, of course.




IHRA: 10 Most Recent Entries [ top ]

Mar 21- 2018 IHRA Summit Sportsman Spectacular Series on April 20-22
Feb 26- Weather-Related Construction Delays Postpone IHRA Xtreme Raceway Park Opener
Feb 16- IHRA Summit Sportsman Spectacular Schedule Announced
Feb 15- New York Track Finds Value for Racers with IHRA Agreement
Feb 15- IHRA Summit Sportsman Spectacular Debut Only One Month Away Now is the Time to Pre-Enter
Feb 15- Summit Texas Location is a Racers' Paradise
Feb 15- Canadian Track Makes Large Commitment to IHRA Drag Racing
Jan 27- Mid-Michigan Destination Joins IHRA Family
Jan 27- Mississippi Track Reaches Sanctioning Agreement
Jan 16- Michigan Track to Host IHRA Summit Sportsman Spectacular