Mon, 27 Jun 2005, 12:35 PM



Notes from Jim Luikens' Reporter's Notebook



by Jim Luikens


Photo copyright 2005 BME Photography/Jim Luikens





at the 3rd Annual IHRA Rocky Mountain Nationals



EDMONTON, Alb. --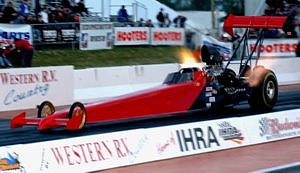 Ed Verenka
Weather affected pro qualifying at this event for the second straight year. When Saturday's two pro qualifying sessions were both rained out it meant that the pro fields would be set based on Friday's qualifying results. Because the Top Fuelers did not run in Friday's afternoon session just one qualifying round was used to determine their starting order. Luckily, only nine fuelers were here attempting to qualify for the eight car show.
Interestingly of the nine Top Fuelers on hand, two were of the injected variety and seven were supercharged. As a result we were guaranteed that at least one injected car would qualify for the first time ever in IHRA Top Fuel. When the injected car of Winnipeg's Scott Murry would not start during Friday's only fuel qualifying session, and both Saturday sessions were rained out, it meant that Ed Verenka of Calgary, Alberta would earn a footnote in the IHRA record books. On race day Verenka lost in the first round to the number one qualifier, Doug Foley. His elapsed time of 5.35 seconds fell just short of the best elapsed time ever recorded by an injected fueler in IHRA competition. Keith Stark's 5.31 second run from Richmond last year remains the standard.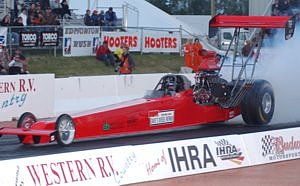 Keith Falconer
In addition to the two injected cars that were here to attempt to qualify for the field we actually had a third injected car on the grounds.
Keith Falconer
from Edmonton was also here to continue working towards his license. Keith was allowed to make a run during Friday's night session with a "holes-out" eight second time slip the result. The three injected cars are the most that we have seen at any one event this year.
Todd Paton made the run here that he and his team have been looking for all year. During the only T/F qualifying session that was held Todd made a strong run with 4.703 and 314.39 being the result. Both are career bests for Paton in T/F and qualified him second in the field, a mere .001 behind Foley's 4.702. Additional sponsorship funding for this race from Calgary's Shaganappi Chevrolet, Edmonton's Dave's Diesel Repair and the OK TIre Stores chain made Paton's Edmonton trip possible. Unfortunately for all of them, plus Todd's regular sponsors, he lost in the first round to Rick Cooper.
Last year Terry Capp from Edmonton made his return to Top Fuel competition at this event in a car that he borrowed from Bob Vandergriff. Using Vandergriff's crew chief, Rob Flynn, and his own hometown crew he electrified the local fans by going all the way to the finals, where he lost to Clay Millican. Originally Terry had planned to compete again this year using a similar plan but the NHRA race scheduled for St. Louis this weekend meant that Flynn would not be available. Ironically, several NHRA tuners played musical chairs earlier this week and Flynn was temporarily available before being scooped up by the Gary Densham team. Flynn's sudden (and temporary) availability came too late for Capp to make any last minute plans. Terry does hope to purchase a fueler and run at least the three Canadian IHRA events next season. As always, if adequate additional funding could be found he would happily expand his schedule to include some American IHRA races as well.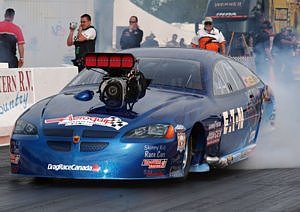 Mike Janis
A surprise contestant in Pro Modified here at Edmonton was P/M World Champion
Mike Janis
. In the past Janis was adamant that he would not travel this far for any drag race. In fact he lost the 2002 title by less than the bonus points that he would have automatically earned if he would have run all of the events. A slow start to his 2005 season however, caused him to rethink his position. After a first round victory over
Ed Hoover
, Mike lost in the second round to
Jim Halsey
. Mike reports that the fuel check problems he experienced at the last event in Grand Bend were caused by keeping his fuel jugs on ice in a cooler. It seems that some of his alcohol leaked out through the jug's vent hole and was then replaced by water from the melting ice. The water did not improve his performance but it did make his alcohol too "heavy". He states that he has never had any reason to check his alcohol in the past but that he has now purchased the very same test equipment that the IHRA uses and will be monitoring his fuel from now on.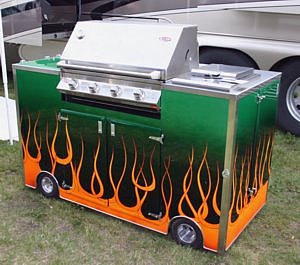 DiStefano's Grill
Calgary's
Rick DiStefano
has made the P/M final round both of the first two years that this event has been contested. In fact those two finals are the only two that he has ever earned. A fine 6.224-second elapsed time qualified him third in the field this year, the best elapsed time that he has recorded since taking the tuning of his car in-house. Last year he used the services of
Les Davenport
for tuning but Les has chosen not to tour in 2005. As a result Rick and crew chief
Andy McIntosh
are doing the tuning and slowly developing their own combination. After some rough going earlier in the season their combination has shown increasing promise at the last two events. This year's Edmonton event also featured the debut of the gas grill that he built over the winter. The grill can be operated by remote control and is painted in the same color scheme as his race car.
The rain-out on Saturday meant that five P/M competitors were stuck outside the field. Two racers that would have loved to have another chance were Billy Harper and Eddie Ware. Both of them are currently in the top ten in points but were on the outside looking in after Friday's two sessions.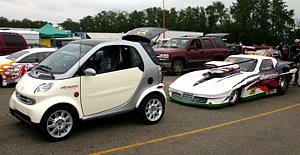 smart Tow Car
The award for the tow vehicle of the race goes to
Ross Hogenson
from Lethbridge, Alberta. Ross was using one of the smart micro cars that are manufactured by Mercedes-Benz. Long a favorite of european drivers, smarts became available in Canada last fall. Ross states that he has only driven his smart about 800 miles and that he couldn't be happier with it. After qualifying 16th Ross had the unenviable task of facing pole winner
Al Billes
in the first round. Ross however, was the winner when Al got out of the groove during their race. In the second round Ross' 6.373 and .049 reaction time fell just short of
Quain Stott
's winning 6.295 and .095 reaction time.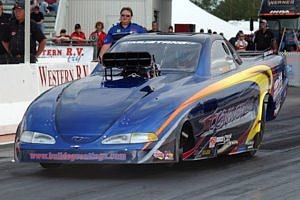 Trevor Lebsack
Slave Lake, Alberta's
Trevor Lebsack
has faithfully followed the IHRA trail all year but has never qualified for Funny Car eliminator. That all changed this weekend when he qualified fifth in the eight car field here. In the first round Trevor lost to
Mark Thomas
, who went on to advance to the finals. Even though Trevor's day ended earlier than he would have liked he is looking forward to the rest of the IHRA season.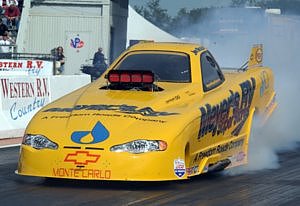 Jim Sickles
Jim Sickles
had not originally planned to race at Edmonton. But a victory at the last race on the tour had boosted him all the way up to second in points, just 23 behind
Rob Atchison
, dictating a trip west. After qualifying second Jim recorded a great 5.823 at 241.84 in his first round victory over
John Evenchuk
. However, he also suffered catastrophic engine damage on that run when he damaged his supercharger, injector and both cylinder heads. Despite a major thrash by his team they fell about ten minutes short of being able to answer the call for their second round match-up against Thomas.
This week's award for the best t-shirt goes to the one that said: "Damn Right I'm Good in Bed". Below those words in much smaller print it added: "I can sleep for days".




IHRA: 10 Most Recent Entries [ top ]

Feb 26- Weather-Related Construction Delays Postpone IHRA Xtreme Raceway Park Opener
Feb 16- IHRA Summit Sportsman Spectacular Schedule Announced
Feb 15- New York Track Finds Value for Racers with IHRA Agreement
Feb 15- IHRA Summit Sportsman Spectacular Debut Only One Month Away Now is the Time to Pre-Enter
Feb 15- Summit Texas Location is a Racers' Paradise
Feb 15- Canadian Track Makes Large Commitment to IHRA Drag Racing
Jan 27- Mid-Michigan Destination Joins IHRA Family
Jan 27- Mississippi Track Reaches Sanctioning Agreement
Jan 16- Michigan Track to Host IHRA Summit Sportsman Spectacular
Jan 16- Canadian Track Signs Multi-Year Agreement with IHRA