Sun, 26 Jun 2005, 11:47 PM



Fives Wild for Clay Millican



Courtesy of IHRA Communications


Photo copyright 2005 BME Photography





Fifth straight win to open 2005 season has Millican well on way to accomplishing goals



EDMONTON, Alb. --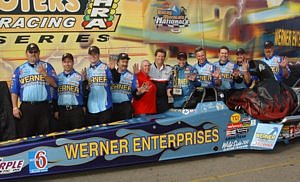 Werner Enterprises Team
At the beginning of the 2005 Hooters IHRA season, Clay Millican talked about how his Werner Enterprises team was looking for the "triple nickel." That was the fifth consecutive IHRA Top Fuel world championship in his fifth year driving for Werner Enterprises as his main sponsor in the year 2005.
After winning his fifth consecutive event to open the season, Millican is well on his way to accomplishing his goals. His latest conquest came at the Western RV Rocky Mountain Nationals in Edmonton, where Millican defeated Doug Foley in the final to claim career Ironman #42. It was Millican's ninth career title in 12 attempts on Canadian soil.
In what Millican called his "closest final round" since losing to Bruce Litton at this same event two years ago, the Drummonds, TN resident laid down a 4.712/298.21 with a .056 reaction time to better Foley's 4.719/311.77 with a .084 RT.
"Five for five, what can you say," Millican said. "I haven't really been spewing my catch-phrase about the 'triple nickel tour' lately, but that is kind of where we're headed. But we still have a long way to go."
Despite Saturday's rainout, Millican pointed to the packed grandstands as the reason he is such a big fan of Edmonton and Budweiser Park.
"I love coming up here," Millican said of Edmonton. "No matter how bad the weather is the grandstands are always full. All the people, Rob Reeves and everyone involved with this track do an incredible job. The track is better this year than it was the year before and I know next year it will be better than this year."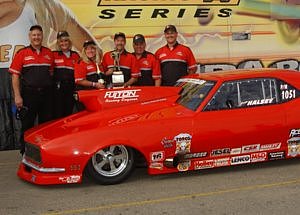 Jim Halsey Team
There was a first time winner in the Torco Pro Modified class as Jim Halsey (Street, MD) grabbed the first Ironman of his career when he defeated Carl Spiering in the final. Halsey had appeared in an IHRA final once prior to Edmonton, but this time he was able to get the job done with a 6.212/239.99 to Spiering's 6.255/228.50.
"I'm not real emotional, but I'm having a ball," a surprisingly subdued Halsey said after his first career win. "A couple of weeks ago we weren't coming here, but we ran real good in testing so we figured we better come. It was well worth it."
Halsey was pleased to get around Spiering in the final. He also went from sixth in the championship points race to a tie for second.
"Carl has a bad racecar," he said. "It is a fast car and we knew we couldn't let my car get too soft. We had rattled the tires in the semis and took some clutch out of it. We took a little too much out of it, but it was still enough where we could get down."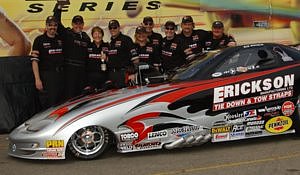 Erickson Manufacturing Team
After a disappointing performance in Grand Bend, his home track, London, ON resident Rob Atchison was able to take care of business in Western Canada as he defeated long-time rival Mark Thomas in the Funny Car final. Atchison defeated Thomas with a 5.866/240.38 to Thomas' 5.983/233.48.
"This was a great win for us," Atchison said. "We have a lot of friends out here, and a lot of fans, and it was a fantastic win. The best part was all my sponsors from out west were here and everything turned out perfect. Especially beating Mark in the final, that always gets me going."
Between Thomas and Atchison are seven Funny Car world championships. Thomas has five while Atchison has won the last two.
"I was so pumped up," Atchison said. "I love racing Mark and it is a special feeling when we get together because we have been doing this for so long. I was even more pumped to be racing in Canada because we wanted to bring one home for the Canadian fans."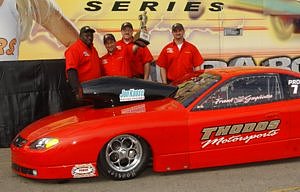 Thodos Motorsports Team
Frank Gugliotta (Mt. Airy, MD) captured his second career Ironman when he topped a red-lighting Tony Gillig in the Torco Pro Stock final. Gugliotta last won at the Torco Northern Nationals at US 131 in Michigan last August.
"It has been just about a year," Gugliotta said. "Our car owner (Steve Thodos) didn't come to that race and he didn't come to this race, so that was kind of a shame. We really missed him, too. But this was great. We really needed this win to move us up in the points."
Gugliotta's win made it five different Torco Pro Stock winners in five national events this season.
"This is a tough, tough deal," Gugliotta said. "Every single one of these guys is capable of winning at every single race. That's how tough it out here; it is a very competitive class."
EDMONTON, Alb. -- Sunday's final results from the Third Annual Western RV Rocky Mountain Nationals presented by TORCO Race Fuels at Budweiser Motorsports Park. The $1.1 million race is the fifth of 12 in the 2005 Hooters IHRA Drag Racing Series:
Top Fuel -- Clay Millican, 4.712 seconds, 298.21 mph def. Doug Foley, 4.719 seconds, 311.77 mph.
Pro Modified -- Jim Halsey, Chevy Camaro, 6.212, 223.99 def. Carl Spiering, Chevy Corvette, 6.255, 228.50.
Funny Car -- Rob Atchison, Pontiac Firebird, 5.866, 240.38 def. Mark Thomas, Dodge Avenger, 5.983, 233.48.
Pro Stock -- Frank Gugliotta, Ford Escort, 6.518, 214.08 def. Tony Gillig, Ford Mustang, foul.
Thunderbolts -- Jay Mageau, Chevy Bel Air, 7.635, 166.99 def. Tony Coopress, Ford Thunderbird, 7.688, 183.84.
Nitro Bikes -- Ron Houniet, Harley, 6.808, 201.10 def. Brian Hall, Harley, 6.918, 203.40.
Top Dragster -- Britt Cummings, Dragster, 7.832, 155.36 def. John Evans, Dragster, 7.763, 169.59.
Top Sportsman -- Dale Giroux, Chevy Cavalier, 7.535, 174.28 def. Bob Marshall, Pontiac Grand Am, 7.479, 185.15.
Quick Rod -- Ken Mostowich, Chevy Cavalier, 9.086, 160.81 def. Francesca Plaizier, Dragster, 9.074, 162.12.
Super Rod -- Scott Taylor, Ford Roadster, 10.041, 150.60 def. Daryl Baker, Roadster, 10.105, 137.47.
Hot Rod -- Curtis Smith, Pontiac Acadian, 11.036, 125.97 def. David Senkow, Ford Mustang, broke.
Super Stock -- Mark Faul, Pontiac Grand Am, 10.263, 119.71 def. Art Congdon, Oldsmobile Calais, 9.896, 127.90.
Stock -- Randy Hutchings, Dodge Ram, 12.403, 104.69 def. Mark Faul, Chevy Chevelle, 11.255, 110.87.
ET Bracket -- Adolph Sabourin, 11.882, 113.13 def. Darren Williams, 8.839, 153.49.
ET Box -- Darren Williams, 8.863, 145.42 def. Monty Isert, 8.697, 152.18.
ET No Box -- Adolph Sabourin, 11.862, 113.73 def. Dave Beck, 12.823, 103.89.
Junior Dragster -- Sarah Stelte, 10.395, 61.55 def. Dustin Watts, 7.882, 77.96.




IHRA: 10 Most Recent Entries [ top ]

Feb 26- Weather-Related Construction Delays Postpone IHRA Xtreme Raceway Park Opener
Feb 16- IHRA Summit Sportsman Spectacular Schedule Announced
Feb 15- New York Track Finds Value for Racers with IHRA Agreement
Feb 15- IHRA Summit Sportsman Spectacular Debut Only One Month Away Now is the Time to Pre-Enter
Feb 15- Summit Texas Location is a Racers' Paradise
Feb 15- Canadian Track Makes Large Commitment to IHRA Drag Racing
Jan 27- Mid-Michigan Destination Joins IHRA Family
Jan 27- Mississippi Track Reaches Sanctioning Agreement
Jan 16- Michigan Track to Host IHRA Summit Sportsman Spectacular
Jan 16- Canadian Track Signs Multi-Year Agreement with IHRA