Thu, 23 Jun 2005, 03:05 PM



IHRA Heads to Western Canada for the 3rd Annual Western RV Rocky Mountain Nationals



Courtesy of IHRA Communications


Photo copyright 2005 Auto Imagery, Inc. & BME Photography





EDMONTON, Alb. --
IHRA returns to Edmonton, Alberta, Canada for the 3rd Annual Western RV Rocky Mountain Nationals presented by Torco Race Fuels. The event is the second of three Canadian national events on the IHRA schedule in 2005. While Clay Millican may be running away with his fifth consecutive IHRA Top Fuel World Championship, the other three professional classes are locked in some pretty tight points battles.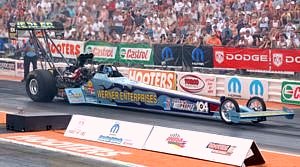 Clay Millican
In Top Fuel, Millican has won four consecutive events to start the 2005 season, most recently defeating Todd Paton at the 6th Annual Mopar Canadian Nationals presented by Castrol. Millican sits atop the points standings and his early season momentum carries him to yet another event where he reigns as defending champion. The recent sale of the Werner team to Kenny Koretsky and a team of investors that includes both Millican and crew chief Mike Kloeber has done nothing to slow down the four time consecutive Top Fuel World Champion.
Millican also holds the Bud Park track ET record at 4.575. Bruce Litton, who has consistently been Millican's toughest competitor over the past three seasons, also knows what it is like to win at Budweiser Motorsports Park, having claimed the inaugural Rocky Mountain Nationals in 2003. As always, in the hunt will be Doug Foley, who has beaten Millican in two out of three head to head finals, and Rick Cooper, who has teamed up with Foley to compete as a formidable duo in the Top Fuel class.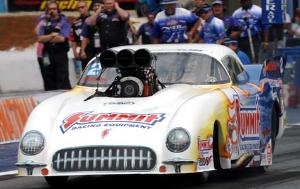 Al Billes
In Torco Pro Modified, the usual cast of characters is in the hunt for the event win. Al Billes, who has taken over the points lead, Shannon "The Iceman" Jenkins, Ed Hoover, Quain Stott and defending World Champion Mike Janis all look to tame Western Canada's premier drag racing facility. Local favorite Rick Distefano was the number one qualifier a year ago, and looks to make some noise again this year. Do not count out Harold Martin, who broke through at Bud Park last year for his first career win, and has been qualifying consistently in the top five. Martin also has the distinction of holding the track ET record with 6.223 seconds.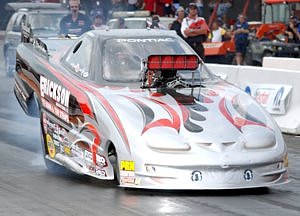 Rob Atchison
In Funny Car, London, Ontario's Rob Atchison once again sits on top of the points heading into Edmonton. But Jim Sickles, after winning at Grand Bend, has taken over second place in the points and is within striking distance of Atchison. As always, Mark Thomas and Terry McMillen are both favorites to make a run through the ladder. Atchison and McMillen have already squared off in multiple finals, and Mark Thomas has been in the hunt ever since his win at Rockingham. The rest of the class may have seen the door open a little bit as Atchison experienced mechanical trouble in the first round against McMillen at Grand Bend.
In Torco Pro Stock, it is shaping up to be another ridiculously tight year. With his win at Grand Bend, Robert Patrick has taken a nine point lead over Steve Spiess. Dan Seamon, who took the season opening event at San Antonio, the ever consistent Jerry Haas, and Tony Gillig are all within 115 points of the leader and are determined not to let Patrick pull away. Defending event champion Brian Gahm, a two time IHRA World Champion, sits back a few spots in the points but is ready to make his charge. Patrick came away with the win at Grand Bend, defeating dark horse Doug Kirk.




IHRA: 10 Most Recent Entries [ top ]

May 15- IHRA Summit SuperSeries Championship is Underway at Member Tracks
May 15- Xtreme Raceway Park Ready to Host IHRA Summit Sportsman Spectacular
May 15- Cordova International Raceway Summit SuperSeries Champions Honored
May 15- Saskatchewan International Raceway Joins IHRA
May 15- IRG Sports + Entertainment Expands Leadership Team
Apr 24- Racers Receive Prizes at IHRA Summit Sportsman Spectacular Opener
Apr 24- Comeaux, Hughes Make History at IHRA Summit Sportsman Spectacular
Mar 21- 2018 IHRA Summit Sportsman Spectacular Series on April 20-22
Feb 26- Weather-Related Construction Delays Postpone IHRA Xtreme Raceway Park Opener
Feb 16- IHRA Summit Sportsman Spectacular Schedule Announced