Thu, 23 Jun 2005, 11:47 AM



A Winner from Day One



By Jim Luikens


Photo copyright 2005 BME Photography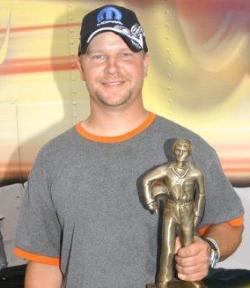 Jeremy McCormick
Jeremy McCormick earned a top five finish in the IHRA Top Dragster points chase last season. That's pretty impressive for someone that was following the IHRA national tour for the very first time after two decades of racing locally. How, you might ask, can a 33-year-old racer already have two decades of experience? This is the story of Jeremy McCormick who began his drag racing career by racing motorcycles at age 12.
Not only was Jeremy a racer at age 12, he was a winner. Way too young for a driver's license, he began his racing career by piloting a Honda Trail 70 at Northern Michigan Dragway in Kaleva, Michigan. In fact, he won Super Pro Eliminator, and its $500 winner's check, the very first time he ever competed. Although he admits today that he was really too young to understand the significance of what he had accomplished it seemed like a big deal to everyone else at the time.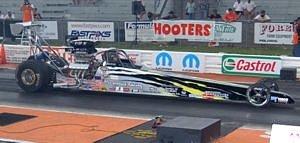 McCormick launches.
>From Kaleva, Jeremy advanced to Central Michigan Dragway's (now Mid Michigan Motorplex) Jr. Eliminator. This eliminator saw 15 to 20 competitors every week, all on motorcycles and all under 16 years old. Other standouts from Central's Jr. Eliminator of that era (which predates Jr. Dragsters) were Mike and Jeff Ledford, two other young racers that would go on to achieve a fair amount of renown in their later years.
At age 16, and with four years of drag racing experience already under his belt, Jeremy moved up to his first four-wheeled racing vehicle, a '32 Austin Bantam. Using a 468 cubic inch big block Chevrolet that he obtained from his father (Jerry McCormick) Jeremy recalls that he won a few races in the Bantam and finished third in his first season of chasing points at the local track. He also recalls that he turned elapsed times in the five-second bracket at Kaleva, which by now had been shortened to 1000 feet for safety.
After two seasons in the Bantam he purchased his first dragster, a rolling chassis that had been raced by local hero Jerry Arnold. Now racing on the 1/4-mile tracks at Stanton and Martin, Jeremy recorded elapsed times in the high seven-second range using just a 355 CID small block Chevrolet for power. He raced this car for three seasons, racking up quite a few local wins along the way.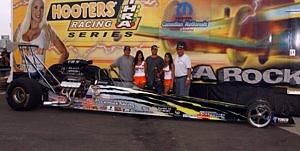 McCormick celebrates win.
Desiring to continue his ascent in the world of drag racing he next purchased a used dragster from South Carolina. However, this wasn't just any old dragster. It was the world championship car of Bennie Ulmer. Jeremy raced this car locally for two years with a 500 cubic inch Chevrolet engine. It was primarily used for bracket racing with the occasional foray into Top Dragster.
Eventually the car was upgraded to use nitrous and its debut run was 7.11 seconds at 190 miles-per-hour, a remarkable achievement in Jeremy's eyes considering how little he actually knew about using nitrous. This was also the first car that Jeremy took on the road, hitting an occasional IHRA event that was close to his home.
After that car came Jeremy's first-ever new dragster chassis, built by Gary Mauer's Kustoms Chassis in Grand Ledge, Michigan. With this car Jeremy continued his plan of racing locally with a few IHRA events thrown for good measure. By now he was using a 515 big block with electronic fuel injection. Tuned for consistency and reliability the car typically ran in the 7.60 range and could do it repeatedly.
Jeremy is sold on the benefits of EFI and has used it exclusively since 1998. He uses the FAST system and likes how easy it is to make tuning or timing changes. In 2003 he purchased the car that he races to this day. It is a 2002 Undercover chassis that was never raced prior to his purchase. Still loyal to the concept of EFI, his FAST system now sits on top of a 598 CID big block Chevrolet.
After getting to know the car in 2003, Jeremy made the decision to seriously chase the IHRA Top Dragster World Championship in 2004. While he didn't win the title in his first try, consistent late round finishes propelled him to a great fifth place in the final 2004 points standings. Hoping to improve on his fine finish of a year ago Jeremy is following the IHRA trail again in 2005.
The 2005 season has brought a mixed bag of results for the McCormick team so far. At the Tri-State Points meet in Hamilton, Ohio Jeremy won the Top Dragster/Top Sportsman Shootout that is conducted on Saturday night but bowed out in the second round on Sunday. Moving on to Cordova, and a double points opportunity, he went down to the final six cars in Saturday's Shootout but lost in the first round on Sunday. Considering the double points that were available, there couldn't have been a worse time to be a first round runner-up.
Next up was the US 131 Divisional and here he was victorious on Saturday night only to lose in the first round on Sunday. A trend was developing and it wasn't a good one if he was to going to be a factor in the 2005 title chase. Fortunately the next event on his schedule was the Mopar Canadian Nationals in Grand Bend, Ontario, his first IHRA national event of the year. He returned to last year's form there, notching his first victory of the 2005 season.
At the divisional event in Milan, Michigan the team suffered some rare (for them) parts breakage when their transmission failed in the second round. While 2005 hasn't shaped up like a championship year to-date Jeremy has had just enough good finishes to remain optimistic. He also notes that he has nearly a full compliment of nationals yet to run.
Jeremy is grateful for the support that his parents, Jerry and Marcia, provide along with that of his girl friend Kristina. In fact it is not uncommon for his father to work on the car by himself during the week if Jeremy is tied with sports for Kaitlyn or Madisyn, his daughters. And while he wouldn't mind racing Pro Stock some day, just as his father once did, Jeremy is content to stay in Top Dragster. After all he has made some great friends in that class and there's still a T/D World Championship to be won.




IHRA: 10 Most Recent Entries [ top ]

Mar 21- 2018 IHRA Summit Sportsman Spectacular Series on April 20-22
Feb 26- Weather-Related Construction Delays Postpone IHRA Xtreme Raceway Park Opener
Feb 16- IHRA Summit Sportsman Spectacular Schedule Announced
Feb 15- New York Track Finds Value for Racers with IHRA Agreement
Feb 15- IHRA Summit Sportsman Spectacular Debut Only One Month Away Now is the Time to Pre-Enter
Feb 15- Summit Texas Location is a Racers' Paradise
Feb 15- Canadian Track Makes Large Commitment to IHRA Drag Racing
Jan 27- Mid-Michigan Destination Joins IHRA Family
Jan 27- Mississippi Track Reaches Sanctioning Agreement
Jan 16- Michigan Track to Host IHRA Summit Sportsman Spectacular