Wed, 15 Jun 2005, 06:15 PM



'55s Forever



By Jim Luikens


Photo copyright 2005 BME Photography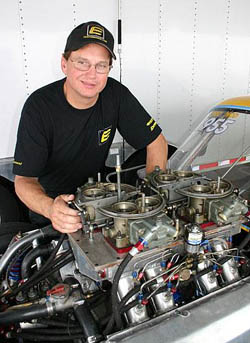 Charles Carpenter
Many seasoned racing veterans drove a Tri-Five (1955, 1956 or 1957) Chevrolet in the early days of their racing careers. But for one drag racer it's always been yesterday once more. This is the story of Charles Carpenter who has raced just one type of car during his entire 31-year racing career.
For more than three decades Charles has used a succession of 1955 Chevrolets to race exclusively. Even though he is passionate about this type of car to the exclusion of all others, his devotion evolved simply enough. As a youngster he would accompany his much older brother Bobby to the races and Bobby raced a '55 Chevrolet in D/G. Ironically, Charles recalls running from the noise of the race car in his early days at the track.
Despite originally recoiling from the noise he eventually grew to love that car and drag racing itself. In 1974 he took over Bobby's car and began to race it himself. He was just 15 years old at the time and still too young to legally drive on the street.
Even though this period of time saw the start of the bracket racing era in drag racing, Charles remained true to his car's heritage and raced it as a class car. Using a 331 cubic inch Small Block Chevrolet engine for power he was able to record elapsed times that were close to the national record and thus he would qualify at most events.
An untimely wreck (is there ever a good time for a wreck?) at Charlotte's old Shuffletown Dragway spelled the end of Charles' first '55. However, he didn't have to look too long to find its replacement. Ned Cherry, one of the top runners of that time, had just built a '63 Corvette to race and Ned's old '55 Chevrolet was available for purchase. Charles acted quickly and the car was his.
Carpenter's '55
Charles raced that car, his second '55, for ten seasons and during the years that he campaigned the car it followed the evolution of drag racing. After starting out as a full-frame car with a '57 Pontiac rear end it progressed into one that had an Alston chassis with a narrowed Dana rear end under its '55 sheet metal. Likewise the small block eventually gave way to a 494 cubic inch Big Block Chevrolet engine. Even with the 494 engine Charles had been pushed to the back of the Top Sportsman class, the '55s eventual home in drag racing.
All that changed with one of Ron Ratoff's first CompuCar nitrous kits. The addition of nitrous pushed the '55, and Charles, right back to the front of the pack and breathed life back into the concept of competitively racing a '55 Chevrolet. In fact, that style of car was even given its own moniker, the shoebox, to reflect its aerodynamic qualities.
At the time Charles was involved in a furious battle with west coast racer Dave Riolo to record the first seven-second time slip with a '55 Chevrolet. It finally came down to one fateful day when both drivers achieved the long sought-after prize on the very same day. Because Charles actually recorded his run, a 7.94 at Richmond Dragway, earlier in the day (compared to the west coast in real time) he carries the title of the first seven-second shoebox driver.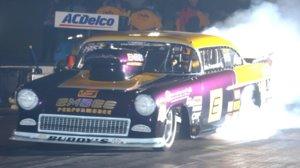 As great as the accomplishment was, this particular '55 had evolved about as far as it could go. Charles next spent a short amount of time driving the (late model) Firebird Top Sportsman racer of Larry Hand while he mulled over his next move. Obviously there could be only one answer and that was to build '55 number three. In 1987 Charles and Tommy Mauney built a "new" '55 at Charles' shop in Charlotte, which is located behind the four-bay auto repair shop that Charles operates as his business. By working night and day they were able to construct the new car in just six weeks.
Its first outing was at the fabled Texas Motorplex where he was booked for a match race against his old west coast rival. Racing a primered and untested car he was able to beat Dave Riolo in the triumphant debut of his new car. Charles went on to race this car from 1987 until 1996, a period that saw the evolution of Top Sportsman into Pro Modified Eliminator. Along the way he was the 1992 champion of the old United States Super Circuit (USSC) and a two-time Super Chevy Series champion. When Super Chevy changed to the Nitro Coupe format for 1997 Charles chose to remain true to his roots and stick with his nitrous engine combination. That choice meant that he could only run smaller, nitrous-only shows from 1997 to 2000.
After deciding to take the 2001 season off, he was lured back into racing by being invited to do the public address color commentary for Pro Modified Eliminator that was debuting at some NHRA events as an exhibition class. When fellow nitrous racer Steve Vick offered to loan Charles his spare engine that was all it took to get Charles out of the tower and back on the track.
Two memorable events took place in 2003 that directly led to guaranteeing that Charles was back in racing to stay. First, Pat Doherty came aboard the Carpenter team as its engine supplier. Secondly, Charles met Deda Clark when she came into his shop for some auto repairs. It turns out that Deda's father, John Dahlberg, is one of the world's great '55 Chevrolet fans. More importantly, he owns Embee Performance. One thing led to another and quicker than you can say major sponsor Charles had one.
Embee's support has reinvigorated Charles and the Carpenter team. Although he will always be a "nitrous guy" and a "55 Chevy guy" Charles can see the day when there might be some changes to his team. He would love to have a new car, another '55 that would incorporate all of the modern day technology that has come along since his current car was built. And he can envision a day when his son Michael might take over the steering wheel of the family car, relegating Charles to crew chief duties.
Whether these events ever come to pass or not is yet to be determined. In the mean time Charles will continue doing what he has done for three decades, racing a '55 Chevy and being grateful that he has such an opportunity.




IHRA: 10 Most Recent Entries [ top ]

Mar 21- 2018 IHRA Summit Sportsman Spectacular Series on April 20-22
Feb 26- Weather-Related Construction Delays Postpone IHRA Xtreme Raceway Park Opener
Feb 16- IHRA Summit Sportsman Spectacular Schedule Announced
Feb 15- New York Track Finds Value for Racers with IHRA Agreement
Feb 15- IHRA Summit Sportsman Spectacular Debut Only One Month Away Now is the Time to Pre-Enter
Feb 15- Summit Texas Location is a Racers' Paradise
Feb 15- Canadian Track Makes Large Commitment to IHRA Drag Racing
Jan 27- Mid-Michigan Destination Joins IHRA Family
Jan 27- Mississippi Track Reaches Sanctioning Agreement
Jan 16- Michigan Track to Host IHRA Summit Sportsman Spectacular