Tue, 14 Jun 2005, 11:53 PM



Notes from Jim Luikens' Reporter's Notebook






Photos copyright BME Photography





at the 6th Annual Mopar Canadian Nationals



GRAND BEND, Ontario --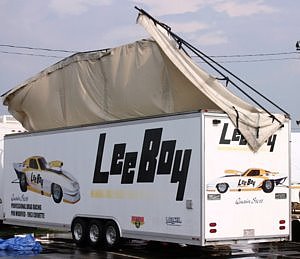 Quain Stott's Problem
This could be considered the event that almost didn't happen. As was documented earlier by Larry Sullivan, a fluke storm passed over the Grand Bend Motorplex on Thursday, dumping nearly five inches of rain on the complex in under an hour. When the temperature soared on Friday the water that remained under the strip began rising to the surface. Where the water pressure was not able to escape it forced the track to deflect as much as three inches. IHRA Director of Field Operations Jim Weinert tried a number of solutions but had no real success. He and his crew finally found something that worked in their last alternative, a series of grooves that they cut into the track that allowed the water to escape. All told his crew worked six hours in very inhospitable conditions to cut, dry, rescrape and reglue the track. The track deflection was so severe at the starting line that the staging beams had to be realigned. Racing at this track, on this weekend, would have been in severe jeopardy If Jim's last fix had not worked.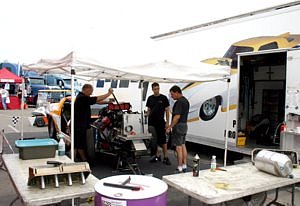 Quain Stott's Solution
One the many racers that lost their awning in the storm was Pro Modified's
Quain Stott
. Fortunately, Quain was able to borrow an EZ-Up style tent from fellow P/M competitor
Keith Baker
in order to get through the weekend. Because the next stop on the IHRA tour, Edmonton, is the longest tow of the season for most racers, the awning damage could not have come at a worse time. For instance, Quain only has three days to service his car once he returns to North Carolina from here before he has to leave for Edmonton. The tight turnaround schedule leaves little time to deal with peripheral items like awnings.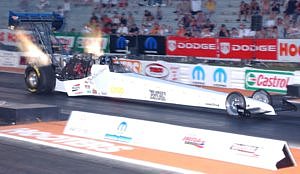 Doc Sipple
The Top Fuel field here consisted of 13 racers competing for one of the eight starting spots.
Jack Ostrander
,
Bob Leverich
and
John Sipple
all attempted to qualify for their first IHRA show of the year. Sadly, none of them made the starting field but the feel good story of the week has to go to John "Doc" Sipple. John experienced heart problems while attempting to qualify for last fall's IHRA World Finals. After convalescing for eight months his doctor finally told John two weeks ago that he was free to race if he so desired. John says he didn't want to waste any time in returning to the track in case his doctor was to have second thoughts.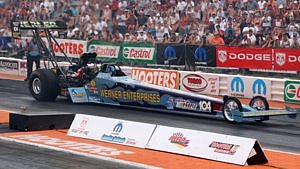 Clay Millican
The big news going into the race weekend was the surprise announcement that
Peter Lehman
had sold his Top Fuel team to an investment group led by NHRA Pro Stock racer
Kenny Koretsky
. Team driver
Clay Millican
and crew chief
Mike Kloeber
also have minority interests in the new operation. According to Clay the transition should be a smooth one since Koretsky has vowed to leave the team's infrastructure in place with few changes. One of the changes should be the team's participation at more NHRA races beginning with the event at Englishtown next weekend.
Five years ago at this track Clay won his very first IHRA Ironman when he defeated Shirley Muldowney in the T/F final. This weekend he earned his 41st Ironman as a driver but his first as a car owner. Clay says that this track, and its Canadian fans, will always hold a special place in his heart. He even has a Canadian flag hanging on the wall in his shop.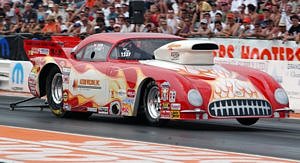 Burton Auxier
The surprise winner in Pro Modified was Dixie, West Virginia's
Burton Auxier
in his '53 Corvette. Burton, who has raced this car for four years, plans on running all of the remaining IHRA races with the exception of Edmonton. After running only IHRA events that were near his home in previous years he made the commitment to step up this year and run all the events on the IHRA tour, sans Edmonton. According to him, he's racing with the best engine he's ever had, a 737 CID Big Block Chevrolet that he purchased used from
Shannon Jenkins
. Burton, along with his crew chief
Jack Foster
and the rest of his crew, worked until 3 am Sunday morning repairing one bank of his engine.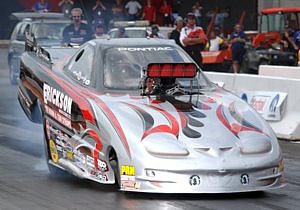 Rob Atchison
The
Rob Atchison
Funny Car team was campaigning two cars here with John Evanchuck driving the second car. In what turned out to be mostly a forgettable weekend for the team Evanchuck failed to qualify when a sprag failed in his transmission which caused his engine's RPM to soar sky high, damaging the engine. Meanwhile, Rob qualified on the F/C pole but lost in the first round when he suffered engine failure and oiled the track.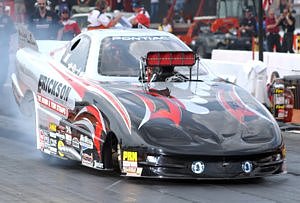 John Evanchuck
As a side note, Rob reports that he has one of the new 2005 Chevrolet Monte Carlo bodies in his shop. The body, serial number two, has already been fitted to his chassis but has not been painted. Currently, Rob plans to save the body for debut at the start of next season.
Rob's wife, Julie Atchison, assisted the Speed Network television team at this event when their normal color commentator, Tiffani Furman, was not able to be here this weekend. Julie, whose day job is being the weather girl for TV station the New PL in nearby London, Ontario, handled the job nicely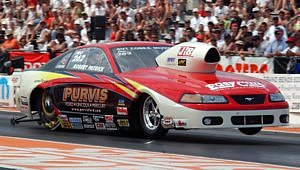 Robert Patrick
Pro Stock winner
Robert Patrick
won his first event of the 2005 season here. The team prepared for here by testing at Budds Creek, Maryland in very hot and humid conditions and admit to having found something while there. They never thought they would be able to use that tune-up here but when they arrived in Canada it was struggling through the very same oppressive heat and humidity that they had left behind in Maryland. Ironically, Robert recorded his best run of the weekend in the final when he went 6.495 seconds, which was also low for the entire class.
This weekend's best t-shirt saying goes to the brand new shirt from the Todd Paton team. It says simply, "What can go wrong in 4 seconds?" The Paton team, who could normally fill several shirts with their responses, had their best weekend ever in Top Fuel when they finally were the recipient of some good luck. Todd was runner-up to Clay Millican in his first T/F final round.




IHRA: 10 Most Recent Entries [ top ]

Mar 21- 2018 IHRA Summit Sportsman Spectacular Series on April 20-22
Feb 26- Weather-Related Construction Delays Postpone IHRA Xtreme Raceway Park Opener
Feb 16- IHRA Summit Sportsman Spectacular Schedule Announced
Feb 15- New York Track Finds Value for Racers with IHRA Agreement
Feb 15- IHRA Summit Sportsman Spectacular Debut Only One Month Away Now is the Time to Pre-Enter
Feb 15- Summit Texas Location is a Racers' Paradise
Feb 15- Canadian Track Makes Large Commitment to IHRA Drag Racing
Jan 27- Mid-Michigan Destination Joins IHRA Family
Jan 27- Mississippi Track Reaches Sanctioning Agreement
Jan 16- Michigan Track to Host IHRA Summit Sportsman Spectacular