Sun, 12 Jun 2005, 09:07 PM



Auxier Gets First Win In Pro Mod



By Mike Perry / IHRA.com


Photo copyright 2005 BME Photography





Millican, Sickles and Patrick Also Notch Wins



GRAND BEND, Ont. --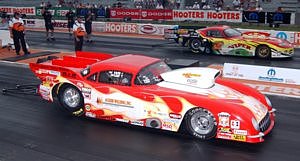 Auxier vs Harper
Burton Auxier came back from the dead Sunday. Not literally, but after losing to defending Torco Pro Mod World Champion Mike Janis in the semifinals of the Fifth annual Mopar Canadian Nationals presented by Castrol, Auxier was on his way to putting the car on his trailer and making the long tow back to West Virginia.
So how did he end up in the Winner's Circle, hoisting the Mopar Canadian Nationals Ironman above his head? Simple, Janis failed fuel check.allowing Auxier into the final against Billy Harper. Then Harper could not make it down the track under power in the final, giving Auxier the first victory of his decade-old IHRA career.
"We were packed up and getting ready to put the car on the trailer," Auxier said. "I hadn't done anything to the clutch or motor. Everybody jumped in and it was like it never happened. Everybody went back to their normal thing and, in 30 minutes, we had the car ready."
Auxier had never qualified for the field before making the show in Virginia two weeks ago. At that event he was able to also collect his first round win. Now he can add an Ironman to his resume.
"This is just awesome," Auxier said. "I really don't know what to say. I had so much help from my crew. The car ran great and we got a lucky break. I really just don't know what else to say."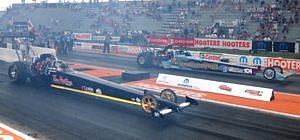 Paton vs Millican
IHRA Top Fuel driver Todd Paton may not have won the Ironman at the Mopar Canadian Nationals in Grand Bend, Ont. He did get a much-needed shot in the arm, however.
After failing to qualify for the Top Fuel show in both San Antonio and Rockingham this season Paton could not afford to tow to Virginia Motorsports Park for the ACDelco Nationals. Thanks to an incredible string of luck and impeccable timing, Paton's racing coffers have some breathing room again. More on that later.
Clay Millican won his fourth consecutive Hooters IHRA national event and 41st career Ironman when he overpowered Paton in the Top Fuel final. This victory was special for Millican because, while it was his 41st victory overall, it was his first as part owner of the racing operation.
Last week Peter Lehman, who has owned the race team since 2000, sold the operation to a group of investors led by Kenny Koretsky. Millican and Crew Chief Mike Kloeber were part of the investment group and now own a portion of the team.now called Kenny Koretsky Racing.
His first victory as a team owner was special for Millican.especially since it came at the same track he won his first Top Fuel race five years ago.
"I have a Canadian flag proudly hanging in the shop and that's no joke," Millican said. "There are a lot of memories at this place. Me and Mike (Kloeber) took a walk down the racetrack the other day and talked about different runs we've made here. I love racing here."
The big story was Paton's incredible string of luck. In the first round of eliminations he faced Doug Foley.currently second in Hooters IHRA World Championship points. As Paton did his burnout and staged the car the Foley/Lewis Race Team frantically attempted to get Foley's dragster started. They ran out of time and Paton idled down the track and into the semifinals.
In the second round he squared off with Louis Allison, the '05 runner up in the season-opening race in San Antonio. Off the line Paton violently smoked his tires, but it did not matter because Allison lit the red-light. This sent Paton into his first-ever Top Fuel final.
"We were banging our heads against the wall," Paton said. "We've definitely made some deposits in the luck bank.this weekend we got to make some withdraws."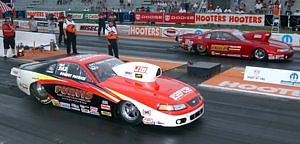 Patrick vs Kirk
In the Torco Pro Stock final, Robert Patrick took the World Championship points lead away from Steve Spiess with his victory over Douk Kirk in the final. Kirk was making his first IHRA national event finals appearance since 1995 when he won the season-opening event in Darlington, but he could not hold Patrick off on the track.
Kirk left first and enjoyed a .013 lead at half-track, but he got out of the groove as Patrick blew past him. It was Patrick's first victory of the season.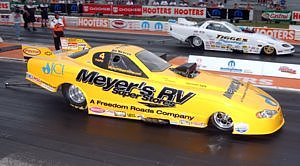 Sickles vs Tigges
"It felt really good," Patrick said of the victory. "It has been a hot three days and the track was really good considering that. It allowed us to be very consistent with the car and we laid down low ET in the final. I needed every bit of it."
Jim Sickles found his way back into the Funny Car Winner's Circle as well. A three-time winner in '04, Sickles and his crew were struggling to figure out their clutch with little success thus far. That all changed in Grand Bend.
Sickles defeated Fred Tigges in the final to claim his fourth career Ironman.
"We felt we could come out this season and do well, but we struggled this season," Sickles said. "We were behind the eight-ball a little bit. We are a team that usually tries not to make any mistakes and that strategy worked this weekend."
GRAND BEND, Ont. -- Sunday's final results from the Sixth annual Mopar Canadian Nationals presented by Castrol at Grand Bend Motorplex. The $1.1 million race is the fourth of 12 in the 2005 Hooters IHRA Drag Racing Series:
Top Fuel -- Clay Millican, 4.681 seconds, 309.98 mph def. Todd Paton, 5.574 seconds, 179.90 mph.
Pro Modified -- Burton Auxier, Chevy Corvette, 6.322, 222.55 def. Billy Harper, Dodge Viper, 9.584, 95.12.
Funny Car -- Jim Sickles, Chevy Monte Carlo, 5.932, 239.31 def. Frederick Tigges, Chevy Camaro, 8.093, 115.23.
Pro Stock -- Robert Patrick, Ford Cobra, 6.495, 213.98 def. Doug Kirk, Ford Mustang, 6.573, 210.80.
Top Sportsman -- Scott Wasko, Chevy Lumina, 7.643, 181.11 def. Glen Maine, Chevy Nova, 7.129, 192.47.
Top Dragster -- Jeremy McCormick, Dragster, 7.288, 176.97 def. Jeff Brown, Dragster, 7.506, 179.21.
Quick Rod -- Steve Hoyt, Dragster, 8.979, 157.52 def. Jerry Mosher, Dragster, 8.890, 145.48.
Super Rod -- Mike Siegert, Chevy Monte Carlo, 9.926, 136.58 def. Alan Kenny, Chevy Corvette, 9.905, 141.86.
Hot Rod -- R.L. Koontz, Chevy Beretta, 10.869, 137.51 def. Jon Jablonski, Chevy Chevelle, 10.868, 136.00.
Super Stock -- Chuck Nagy, GMC Sonoma, 10.392, 126.30 def. Anthony Bertozzi, Pontiac Grand Am, 9.350, 144.00.
Stock -- Wes McCracken, Chevy Camaro, 10.695, 116.09 def. John Ulinskas, Buick Gran Sport, 11.814, 110.59.
ET No Box -- Andrew Stirk, Ford Mustang, 11.699, 110.82 def. Mark Gubinski, Ford Gran Torino, 10.738, 126.14.
ET Box -- Jeff Moser, Dragster, 7.947, 167.36 def. Jamie Bridge, Dragster, 7.752, 169.68.




IHRA: 10 Most Recent Entries [ top ]

Mar 21- 2018 IHRA Summit Sportsman Spectacular Series on April 20-22
Feb 26- Weather-Related Construction Delays Postpone IHRA Xtreme Raceway Park Opener
Feb 16- IHRA Summit Sportsman Spectacular Schedule Announced
Feb 15- New York Track Finds Value for Racers with IHRA Agreement
Feb 15- IHRA Summit Sportsman Spectacular Debut Only One Month Away Now is the Time to Pre-Enter
Feb 15- Summit Texas Location is a Racers' Paradise
Feb 15- Canadian Track Makes Large Commitment to IHRA Drag Racing
Jan 27- Mid-Michigan Destination Joins IHRA Family
Jan 27- Mississippi Track Reaches Sanctioning Agreement
Jan 16- Michigan Track to Host IHRA Summit Sportsman Spectacular