Sat, 11 Jun 2005, 10:43 PM



Mopar Canadian Nationals Qualifying Fields Set In Sizzling Conditions



By Mike Perry / IHRA.com


Photos copyright 2005 BME Photography





Are You Sure This Is Canada?



GRAND BEND, Ontario --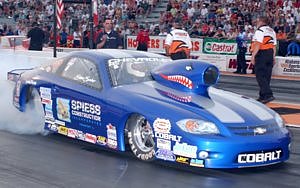 Steve Spiess
Steve Spiess and Ontario resident Rob Atchison headlined the #1 qualifiers at the Mopar Canadian Nationals Saturday in Grand Bend, but the mid-summer weather conditions were the big story on the shores of Lake Huron.
With the temperature hovering near the 100 degree mark and humidity at 70%, with over 20,000 fans in the stands, the drivers had to fight through the most brutal weather conditions they have seen this 2005 IHRA season.
Steve Spiess (Manhattan, Ill) set the Torco Pro Stock track speed record with a 214.24 mph pass, but it was only good enough to secure the #2 qualifying spot as Robert Patrick (6.506/213.54) posted a better ET. Patrick, from Fredericksburg, VA, claimed the top qualifying position for the third time in four races this season.
Daniel Seamon (Bellvue, OH), Richard Penland (Gastonia, NC) and Dewayne Rice (Grove City, OH) saved their best for last as the three jumped into the field in their final qualifying attempt.
In the sweltering heat and high humidity, Patrick wanted to make sure he put together a decent run during the day before he went for the top slot when the sun started going down.
"When it is that hot and the track temperature is 140 degrees you just want to make sure you get down," Patrick said. "It cooled off to about 100 tonight so we got after it a little bit. We were going for the pole. We were either not going to get down or were going to be on the pole."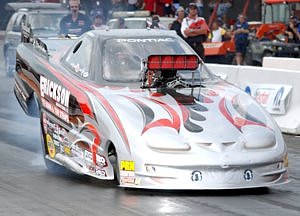 Rob Atchison
In front of his home crowd, London, Ontario resident Rob Atchison claimed the #1 qualifying spot in Funny Car. Atchison's 5.844/238.98 barely topped Holbrook, Mass. Resident Fred Tigges, who posted a 5.887 with a faster 240.08 mph.
"It is great to come home," Atchison said. "We have a lot of our fans and sponsors here. You generate your own pressure because I have a lot of people here and want to do well in front of the hometown fans. But there is not any more pressure race to race because I want to win them all."
Chris Foster (Davenport, IA) rounded out the top three Funny Car qualifiers with a 5.927/237.13. Mark Thomas (Louisville, OH), Larry Dobbs (Wellend, ONT), Thomas Carter (Cuero, TX) and Terry McMillen (Elkhart, IN) completed the Funny Car field.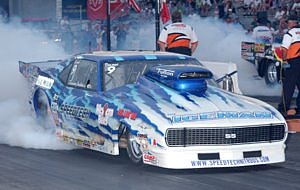 Shannon Jenkins
Shannon Jenkins (Tuscaloosa, AL) paced the Torco Pro Modified qualifying field as he laid down a 6.191 pass at 227.11 mph. The big mover of the final qualifying session was Al Billes, who went from the bottom of the unqualified drivers to the #2 position when he tripped the beams in 6.240. Canadian Carl Spiering claimed the #3 position with a 6.248 pass at 228.96 mph.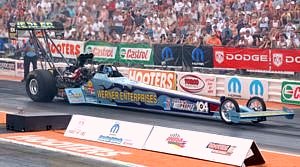 Clay Millican
Clay Millican (Drummonds, TN), the current Top Fuel points leader, was the pole-sitter after the final Top Fuel qualifying session. Millican's Friday evening 4.748 pass stood up after the evening session while Doug Foley (Sewell, NJ) laid claim to the #2 post at 4.779. Louis Allison (Denver, CO) came from outside the field to the #3 position with his Saturday evening 4.809 pass.
Bruce Litton (Indianapolis, IN), Chris Karamasenis (Chicago, IL), Rick Cooper (Boise, ID), Todd Paton (Paris, Ont) and Paul Athey (Uncasville, CT) rounded out the Top Fuel qualifying field.




IHRA: 10 Most Recent Entries [ top ]

Mar 21- 2018 IHRA Summit Sportsman Spectacular Series on April 20-22
Feb 26- Weather-Related Construction Delays Postpone IHRA Xtreme Raceway Park Opener
Feb 16- IHRA Summit Sportsman Spectacular Schedule Announced
Feb 15- New York Track Finds Value for Racers with IHRA Agreement
Feb 15- IHRA Summit Sportsman Spectacular Debut Only One Month Away Now is the Time to Pre-Enter
Feb 15- Summit Texas Location is a Racers' Paradise
Feb 15- Canadian Track Makes Large Commitment to IHRA Drag Racing
Jan 27- Mid-Michigan Destination Joins IHRA Family
Jan 27- Mississippi Track Reaches Sanctioning Agreement
Jan 16- Michigan Track to Host IHRA Summit Sportsman Spectacular