Thu, 9 Jun 2005, 06:25 PM



Winds and Rain Greet Racers at Grand Bend



By Larry Sullivan


Photo copyright 2005 FastNews Network





If It Wasn't Tied Down, It's Gone



GRAND BEND, Ont. -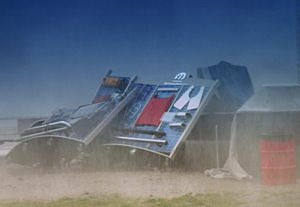 Wind & Rain Rearrange Mopar Display
A monsoon-like squall line ripped through the Grand Bend Motorplex Thursday afternoon, giving racers arriving for the Sixth annual Mopar Parts Canadian Nationals a rude welcome.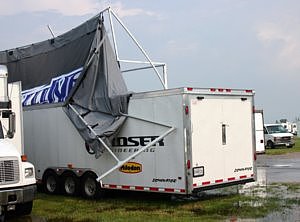 Moser Engineering Awning
Torrential rains and strong straight-line winds roared through the pits around 4 p,m., upending tents and wrapping awnings back over the tops of trailers.







The rain stopped after about 45 minutes, presenting race crews with yet another set of challenges beyond those they face most race weekends.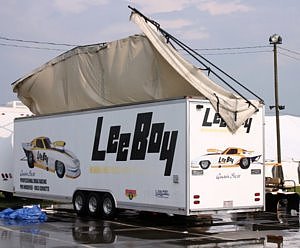 Quain Stott's Awning
There were no injuries reported and the damage appeared to be limited to things that presented large sail areas to the wind, mainly awnings and pop-up canopies.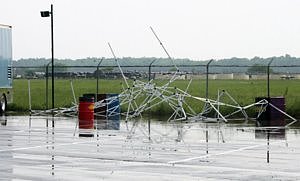 Pop-Up Canopy For Sale, Cheap!
Racing is still scheduled to start at 9 a.m. Friday, but the weather forecasts for the weekend hint that more of the same kind of weather could return any of the three days of the event.




IHRA: 10 Most Recent Entries [ top ]

Feb 26- Weather-Related Construction Delays Postpone IHRA Xtreme Raceway Park Opener
Feb 16- IHRA Summit Sportsman Spectacular Schedule Announced
Feb 15- New York Track Finds Value for Racers with IHRA Agreement
Feb 15- IHRA Summit Sportsman Spectacular Debut Only One Month Away Now is the Time to Pre-Enter
Feb 15- Summit Texas Location is a Racers' Paradise
Feb 15- Canadian Track Makes Large Commitment to IHRA Drag Racing
Jan 27- Mid-Michigan Destination Joins IHRA Family
Jan 27- Mississippi Track Reaches Sanctioning Agreement
Jan 16- Michigan Track to Host IHRA Summit Sportsman Spectacular
Jan 16- Canadian Track Signs Multi-Year Agreement with IHRA