Wed, 13 Apr 2005, 11:05 PM



The Phoenix



By Jim Luikens



Perhaps you've heard the old saying, if they didn't have bad luck they wouldn't have any luck at all. For most racers that holds true at some point in their career. However, for one racer it has been a way of life for the past few years. This is the story of Tim Stevens, who later this month will debut his second new race car in the last two years.
Like many people, Tim got his start in drag racing using a dual-purpose vehicle that served as his daily driver as well as race car. The car in question was a 1969 Chevrolet Chevelle. With it Tim achieved a fair measure of success in the bracket racing program at US 131 Motorsports Park near Martin, Michigan.
Buoyed by his accomplishments he then home built a 1981 Camaro with the intention of ratcheting up his racing program another notch. Like his Chevelle, the Camaro was still capable of being street driven but it was much quicker and faster. Powered by a 377 cid small block Chevrolet engine the Camaro was capable of performances in the mid ten-second zone.
Eventually Tim had the car running 9.30s, albeit now with a big block Chevrolet engine for power. Tim and his Camaro parted company one weekend when he was competing at the Super Chevy Show at Martin. On Saturday he was approached by some Chicago street racers who wanted to know how much it would take to purchase his car.
On Sunday they returned with money in hand to purchase his Camaro. In the intervening 24 hours they had returned to Chicago. Not only had they picked up the necessary funds to purchase the car but they had been successful in booking a high-dollar street race for a car they didn't even own yet.
Acting wisely, Tim used the proceeds from his Camaro to found Straight Line Design, his own chassis building company and a company that exists to this day. As his own first customer he built a Super Pro dragster that was capable of running 8.30s with a 406 cid small block. Once again success came quickly as this dragster won the first event (and $4100) that it competed at. Later he built a 522 cid big block engine that was injected on alcohol and it propelled him and his dragster into the 7.70-second range.
Tim continued his winning ways, winning car shows and drag racing events alike with this car. In fact, one year at the Martin Super Chevy Show it won the event and was chosen Best Engineered as well. Unfortunately the motor was sabotaged when someone threw metal parts into the injector that caused internal engine damage.
Since he was forced to rebuild his engine he decided to try and make it even quicker. The next year he added nitrous and reworked the chassis to accept a four link kit. Tim was rewarded with time slips that now read in the 7.30 range. Even though he loved the performance that nitrous added, using nitrous was a hassle so he made the decision to remove the nitrous and add a 871 supercharger instead.
Like usual for him up to that point, success came quickly as the car won the second event that it ever ran in this configuration. Its evolution continued as he competed in the Top Dragster and Pro Outlaw classes. The car was now using a 1471 supercharger on alcohol with a Powerglide. He continued to do pretty well with this car right up to the time that IHRA pulled the plug on the Pro Outlaw class.
Near the end of the 2003 season he was heading for an outlaw dragster event that was to be contested at Grand Bend Dragway in Ontario, Canada. Just one mile from the Canadian border he was alerted that his trailer was on fire. Unfortunately the fire could not be extinguished and Tim lost nearly everything he owned including his trailer, race car, tools and spare parts.
Needless to say he was depressed and ready to quit racing entirely. Additionally, it was about this time that he and his new wife, Tari, discovered that she was pregnant. To make things even more interesting the doctor was predicting twins. Normally this is where we see the former racer exit stage right, never to be seen or heard from again.
But Tari was not just any wife and she already had seen how much racing meant to Tim. She encouraged him not to quit but to build a new car instead. While Tari was in favor of another dragster, Tim looked around and saw that funny cars offered more options for competition. As a result he was in favor of building a funny car if they were to come back to racing, which they eventually did.
The Steven's Torco Terror Camaro funny car debuted at last year's Martin US 131 IHRA national event. Unlike many first-timers, Tim was successful in qualifying for the Martin show in his first ever F/C outing. Two weeks later he went all the way to the finals at the World Series of Drag Racing in Cordova, Illinois. The Camaro earned its first runner-up finish there, almost one year to the day from the devastating trailer fire that would have spelled the end for most teams.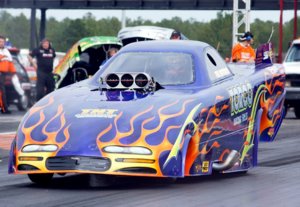 Stevens at Rockingham
Feeling positive about their new car the Stevens' Team then chose the season-ending IHRA World Finals in Rockingham, North Carolina for their final outing of the 2004 season. Tim was forced to abort his first qualifying attempt on Friday night when the throttle hung up on the burnout. Trying again on Saturday afternoon to make the field Tim instead ended up taking the ride of his life.
After starting in the left lane, he hit the right side wall after his supercharger blew about 800 feet into the run, knocking his car out of control. Luckily for him the Camaro body departed upon impact with the wall. Tim and the chassis slid another 2000 feet, finally coming to rest in the far end of the shut down area. Due to the track drop off after the finish line at Rockingham all that was visible from the tower was a rising plume of smoke.
Little did anyone know that Tim's chassis, with him in it, had finally come to rest on its side some distance away from the burning body. Tim was cut from his chassis with the Jaws of Life and transferred by helicopter to the UNC Hospital at Chapel Hill, North Carolina. Despite the very grave appearance of the accident he was released from the hospital the next day.
Tim would especially like to thank those that helped him in his time of need, especially Jay Prosch-Jensen, Brian Pfeiffer, Terry and Ronda McMillen, the IHRA officials on-site and the doctors at the track. For several weeks after the accident Tim was particularly quiet. Eventually his wife, Tari, again brought up a return to racing.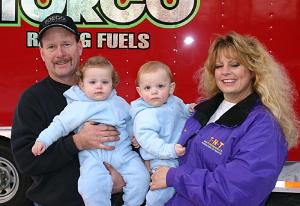 Stevens and family.
By now their twin sons, Wyatt and Kolton, were one year old and Tari was not willing to give up on racing just yet. Looking around Tim was able to find a Dodge Avenger that had been raced by the ParkerTech team. It was available from the Parkers because it had been replaced by a new Murf McKinney-built Dodge Stratus. Negotiations soon brought the car to Western Michigan and Tim began preparing it for the 2005 IHRA season.
The Avenger's debut was pushed back from San Antonio to Rockingham when some badly needed parts were delivered late. Thanks to Torco's enhanced support the current plan is to start at Rockingham and run the rest of the IHRA races this year assuming that no catastrophe strikes the team.
Tim likes experimenting and is looking forward to achieving the same level of success that his earlier cars had. He feels that in order raise your game you need to compete at good tracks against good teams. After what he and his wife have been through the last few years the fact that they are even on the track at all should be considered a miracle.




IHRA: 10 Most Recent Entries [ top ]

Dec 03- Historic Mo-Kan Dragway Reaches Multi-Year Agreement with IHRA
Oct 24- Summit SuperSeries Champions Crowned at IHRA Summit SuperSeries World Finals
Oct 24- Summit Racing Equipment Renews Commitment to IHRA Summit SuperSeries in 2020
Oct 08- Beacon Dragway Chosen as IHRA Division 2 Track of the Year
Oct 08- London Dragway Emerges With Win at IHRA Division 2 Summit Team Finals
Oct 08- Xtreme Raceway Park Named IHRA Division 4 Track of the Year
Oct 07- Pine Valley Raceway Captures IHRA Division 4 Summit Team Finals Win
Oct 03- Beaver Springs Dragway Named IHRA Division 3 (North Stars) Track of the Year
Oct 03- Dragway 42 Repeats as IHRA Division 3 (North Stars) Champions
Sep 19- Muncie Ends US 131 Winning Streak at IHRA Division 5 Summit Team Finals