Tue, 12 Apr 2005, 07:13 PM



Matt Hartford Looking to Set High Standard with GM High Feature V6



Courtesy of Jeff Romack


Photo copyright 2005 Dave DeAngelis





Summit Racing Chevy Cavalier Driver Taking Aim at Pro RWD Championship



LAS VEGAS --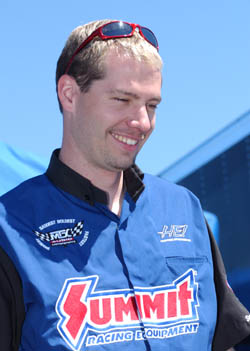 Matt Hartford
Matt Hartford arrived in West Palm Beach for the NHRA Southeast Sport Compact Nationals on April 2 looking to establish a solid foundation in his quest for the 2005 Pro RWD title. Over the winter, crew chief Mylon Keasler focused on improving the performance and reliability of the twin-turbo, GM High Feature V6 engine. Now Hartford's Chevy Cavalier appears to be on pace for a run at this year's Summit Racing Equipment Sport Compact championship. During the third and final round of qualifying for the Southeast Nationals, Hartford posted a career-best e.t. and speed stopping the clocks with an astounding 6.554 second run at 212.71 mph. That provided the 33-year-old Phoenix resident with his first NHRA top qualifying spot of the season and a solid beachhead heading into this weekend's SummitRacing.com Nationals at Las Vegas Motor Speedway. The question now becomes, just how quick and fast can Hartford's Chevrolet go?
This is Hartford's fourth year in the NHRA Sport Compact series. In 2002 he won the series championship in the former Modified category after winning national events at Woodburn (Ore.), Sonoma (Calif.), and Englishtown (N.J.), collecting a runner-up at Pomona (Calif.) and earning low qualifying honors twice. Hartford entered the Pro RWD category in 2003, and competed with a four-cylinder engine in a predominately six-cylinder class. He captured a victory at Sonoma and posted a runner-up at Atco (N.J.) for a sixth-place points finish. The move in 2004 to the new GM High Feature V6 began paying dividends in the late summer when Hartford defeated Abel Ibarra in the finals at Dallas, and with Stephan Papadakis, Hartford was part of the first sub-6.60-second Pro RWD side-by-side pass at Englishtown.
Hartford in West Palm.
The performance of the Summit Racing Chevrolet and the GM High Feature V6 during the last year has improved significantly.
"There are parallels with what we're doing with the GM High-Feature V6 and what was done 50 years ago when guys were trying to race the small-block Chevy. Today you can put together a small-block Chevy that will produce a thousand horsepower and run for 100,000 miles. But back in 1955, and the first couple of years that it came out, it wasn't that way because the knowledge level wasn't there yet, the parts availability wasn't there and there was still work to find its full potential. With the GM High-Feature V6, it's only been three years since it was just a design on a sheet of paper. Obviously, we're stressing this engine considerably more than the GM engineers who built the production model ever thought possible. We're making over 1700 horsepower with 202 cubic inches and we're using so many factory parts that unfortunately we've pushed them beyond their limits. When we do, the GM engineers either make us a better part or we go to an aftermarket part, and this all takes time. It takes trial and error, and the only way to find the next weak link is to stress the engine even more. Now we're running consistent 6.50s at about any track we go to regardless of the surface condition. We ran 6.50s at Phoenix and we ran 6.50s at Moroso. We feel we have abundant, consistent power and now we're looking to improve reliability, and that's what we'll be working on this year."
GM Powertrain and their involvement in making the High-Feature V6 the state-of-the-art engine in Pro RWD. "We're on the phone with GM no less than three hours a day, seven days a week. It is an ongoing conversation about what we're working on, what they're working on and how we can best apply what we've learned. Brent Ingraham from GM is at every race for on-site assistance. Their involvement and commitment has been tremendous and will go a long way toward making the GM High Feature V6 a great race engine."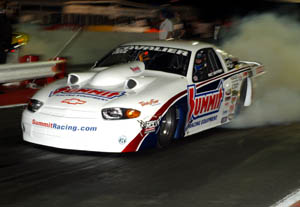 Hartford does burnout.
The way the Summit Racing Chevrolet has run at the first two races must have you very excited about the rest of the season.
"We certainly feel we have one of the most competitive teams in Pro RWD just from the standpoint that we know we can make horsepower. We also don't mind working 23 hours a day if that's what it takes to be successful. We don't have any qualms about staying up all night working on our stuff, and if we need to do an engine change between rounds, or at midnight following a final Saturday qualifying session like we did at West Palm, then that's what we do. I guess we don't know any better. We don't know that at seven o'clock or eight o'clock you're supposed to pack up and go have dinner, that's not the way we think. We can back our car down to run 6.70s and not hurt parts, but we're not going to the track to run 6.70s. We're either going to win the race, learn something in the process or both. We learned something in West Palm Beach. We had a failure, we know what it was and we're confident it won't happen again. Our car was on a solid 6.50 pass when we had an issue in the first round of eliminations. It's discouraging, it is heartbreaking, but we learned something from it. It also showed everybody else that along with the horsepower, we know how to adapt and that will serve us well throughout the season."
How long have you been with Total Seal? "About seven and a half years. Total Seal supplies about 95 percent of the high-end race programs including 41 of the 43 Nextel Cup Cars, almost all of the NHRA Pro Stock teams run our product, all of the IRL teams and a lot of F1 teams. I have a nuclear engineering degree of all things, but my position at Total Seal is to handle all of the new product development and serve as the contact person for all of the professional race teams. My job is to work with the racers and supply them with what they need. I spend a week in Charlotte about once a month. I love my job so much that I wouldn't give it up even to go racing. The nice thing is that if I have a question about gear ratios, or this or that, or something in the engine, I have an unlimited amount of phone numbers I can call at nine o'clock at night. We may not have all the answers, but we know people who do and that really helps us. There are very few people out there who have the encyclopedia of knowledge that it takes to be successful, and it helps to have resources that you can pull from."
Hartford and team.
Any special prep for the SummitRacing.com Nationals?
"It doesn't matter if we go to 4-11 Dragway in Tennessee on a Wednesday night, and the only people there besides us are the ambulance driver and the starter, or if we're at Las Vegas Motor Speedway in front of 30,000 people. We focus on racing the same way, as hard as we can, pass after pass. When you try and change your approach you fail to focus on the right stuff. Don't get me wrong, we want to win the SummitRacing.com Nationals and set the world record, but we try to run as fast as we can, and win wherever we race regardless of the venue or how many people are watching. We want to do as well when we test as when we go to Las Vegas. We're learning what our car likes repetitively, and once you figure out what works, you have to do things the same every time. However, there will be some opportunities racing on a track as meticulously prepared as Las Vegas Motor Speedway. We were the first car into the 6.60s, we were the first car into the 6.50s. We want the Summit Racing Chevrolet to be the first car into the 6.40s. We're learning every minute of the day. Thank God we have great sponsors like Summit Racing Equipment, MTX Audio, GM, because if it weren't for them we couldn't do this."
What kind of performance potential do you see coming from the Summit Racing Chevrolet this year? "We want to have a car that is capable of running 6.40s. If we can run a 6.50 at Phoenix and Moroso, we know we can run a 6.50 anywhere. Our opponents know that if we get off the starting line we're probably going to put a 'fifty' on the board so your stuff better be tuned-up and ready to go. Our goal is to win the NHRA Pro RWD championship for Summit Racing and GM and to have that No. 1 on our car at the end of the year. With this new GM High-Feature V6 program, it was nice to have the whole winter to work on it and focus on some things that we didn't have time for last year."
Do you think a Pro RWD category with twin turbo V6 engines could fit somewhere in the POWERade series?
"Someday, I'd like to see the Pro RWD class race at about 10 or 12 races a year like the AMS Pro Mod Series, and maybe compete here and there at some match races as well."
What are your long-term goals beyond 2005? "My goals have been pretty simple from the first day I saw Lee Shepherd go down the track. I want to win an NHRA Pro Stock championship, plain and simple, but right now I'm going to do what my budget allows me to do. Our focus right now, is winning a championship in Pro RWD."
What has Mylon Keasler meant to your program? "I've known Mylon for a long, long time and I probably wouldn't go racing without him. Mylon and I, we just click and we have that bond where I trust him completely. When I'm in the car, whatever he tells me on that radio, I don't argue. We'll have some discussions on the phone, or when we're at the track on what to do with the clutch, or something like that, but ultimately, there's never been a time in the last six years, there's never been a harsh word between us and there won't be in the next six years. We have a great deal of respect for each other, and even though he's not related to me, Mylon is part of my family. We keep our race shop in Maryville, Tenn., which is right by the Knoxville Airport. For the last five years that's where I've had all my stuff with the exception of the year I was with John (Lingenfelter). It works best for us to have everything in Tennessee and Mylon's shop is dedicated entirely to our program."




NHRA: 10 Most Recent Entries [ top ]

Mar 19- GAINESVILLE - Lucas Oil Drag Racing Series Wrap Up
Mar 19- GAINESVILLE - Top Fuel Harley Wrap Up
Mar 19- GAINESVILLE - Pro Mod Wrap Up
Mar 18- GAINESVILLE - Sunday Video
Mar 17- GAINESVILLE - Sunday Wrap Up
Mar 17- GAINESVILLE - Factory Stock Showdown Championship Points
Mar 17- GAINESVILLE - Mickey Thompson Top Fuel Harley Series Championship Points
Mar 17- GAINESVILLE - Bonus Points
Mar 17- GAINESVILLE - Pro Mod Championship Points
Mar 17- GAINESVILLE - Championship Points