Wed, 29 Dec 2004, 09:23 PM



Just Some Random Stuff



By Bob Frey


Photo copyright 2004 NHRA & Auto Imagery, Inc.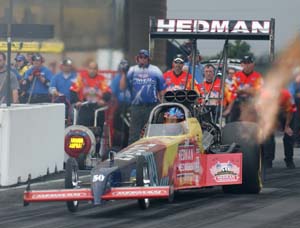 Bob Vandergriff
As I mentioned last week there hasn't been a lot of "official" news during this off-season, just a lot of speculation about what might happen and nothing significant has happened to change that over the last week. There are a couple of things that should break any day now, among them the new driver for
John Force
(which won't be a surprise but should be announced soon), a potential new and very interesting sponsor for
Bob Vandergriff
(that I mentioned last September), the
Brut Racing
deal (also mentioned last fall) and also not a real surprise except for the fact that it's not official yet and a few new Pro Stock teams. Other than that…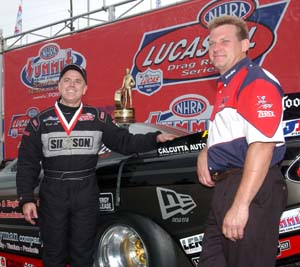 Lee and McGaffic
When people ask where all of the new blood will come from in the fuel classes I always point to the alcohol ranks because that's where a lot of them come from and that's where we'll find another new team in 2005.
Paul Lee
, who had such a great season with
Jeff
and
Bonnie McGaffic's
alcohol car in 2004 will be behind the wheel of a Fuel Funny Car in '05. The team, which worked so well together last year, has purchased a complete car, spare body, spare parts and other stuff from
Don Prudhomme
and after some testing and license runs they will make their first national event appearance at Gainesville. Paul Lee, like so many people in the sport, has wanted to drive a fuel car since he was about ten years old and he'll get his chance next year. Plus, he will still drive the alky car at selected races which should make for a very busy season for the team. Good luck to them all…Still in the alky ranks, the current Top Alcohol Dragster champion,
Mitch Myers
, has told me (and others) that he will not race in 2005, at least not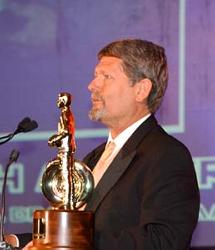 Mitch Myers
in drag racing. "I may go off-road racing, sand racing on I might even go to Pike's Peak," Mitch told me. "But I'm not happy with the changes and I had to make a decision about what to do next year and I decided not to drag race." If you want to buy the world's quickest A/F car all of Mitch's stuff is up for sale, but I'd make that call real soon if I were you because it won't be sitting around for long. Mitch did tell me that he's not unhappy with the decision to go to 96 percent nitro for the A/F cars. "NHRA has to make the decisions that they think are best for the entire class and they did. I, as the owner, then have to make a decision based on what's best for my team and I did." Now let's see….Mitch isn't racing and that means that his crew chief,
Steve Boggs,
is out of work for now. Paul Lee is running a fuel car with an owner from the Division 3 area, Steve's neck of the woods and Steve has always wanted to be the crew chief on a fuel car. Like I often say, you do the math….By the way, rules changes, weight breaks, disparity between cars in the same class, all of these have been part of NHRA for as long as there has been an NHRA and they'll continue to be a part of it in the future. Think back to the old Top Gas cars and the difference between the single engine and the twin engine cars. Think about the early Pro Stock class and the different weight breaks between a small block and a big block. And just why do you think that
Wayne Gapp
and
Jack Roush
built a four door car, because they liked the way it looked? And didn't
Bob Glidden
run a 1970 Mustang in 1975? Why, because he liked the style of a five year old car? And more recently, in the days of the Pro Comp class, the dragsters and funny cars never could get together on a weight break that made everyone happy. When these decisions come down they are made with the best interest of the entire class and, while they often affect some more than others, the intent is always to level the playing field. Mitch was the first to admit that he thinks his car could, eventually, run in the mid-teens under the new rules, but he didn't want to go through the efforts of changing over and then, possibly, have the rules change again and so he made his decision. It's tough when you're the "5.10" car in the group, but it was tough if you had a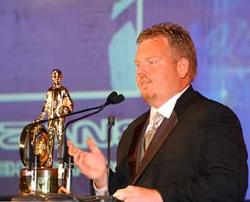 Lee Zane
single engine gas dragster, too. Get my point?......In another story involving a current
Lucas Oil World Champion
,
Lee Zane
has good news on two different fronts. First of all, he's engaged. Lee and
Lisa Van Poppel
will tie the knot somewhere down the road (probably in the winter if I know a drag racer's mentality) and second, Lee is going to add a Competition Eliminator car to his racing schedule next year. Lee will drive the very competitive L/AA that is owned by
Professor Dave Ring
. The car will have an engine from the talented
Al Ackerman
shop and should be a threat to be the top qualifier at every event that the team attends. As usual, Lee will be the guy getting the head start most of the time but remember where you heard it first, this team will make a serious run for the championship in 2005. Like a lot of teams, Lee and the Professor are looking for sponsors so if you'd like to get on board with a team that will get a lot of press next year, check out this newest entry into the Competition Eliminator ranks. Good luck to Lee, Lisa, the "Professor" and all the Comp teams that will have to race them next year.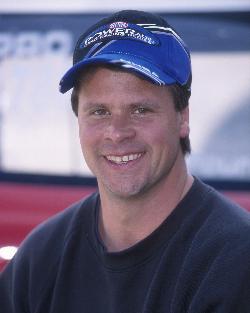 Vince Fourcade
Dick Sherman
, one of the great car owners in NHRA history, will team up with
Vince
Fourcade
next year to field what I think will be a pretty competitive Pro Stock car. Dick's cars always seem to be competitive and with a
Ron Krisher
motor in 2005 that trend should continue. Dick's main problem over the last few years has been continuity and with Vince starting the year, and with the team debuting at Pomona, they could be a factor right from the start. Now don't get me wrong, I'm not saying that they'll compete with
Greg Anderson
, but then who did this year? Rumor also has it that Vince, who ran four races last year and has a win over
Warren Johnson
to his credit, will also take over the driving chores for the second
Titan Motorsports
Toyota Celica team in 2005. It will be a very busy year for the former bracket racer from the east coast and good luck to him in both ventures….And look for
Rickie Smith
to run a full IHRA schedule in his Pro Mod Corvette next year with backing from
Richard Maskin
at DART. Hmmm, shouldn't there be more to that modest announcement? Maybe, maybe not….




NHRA: 10 Most Recent Entries [ top ]

May 21- Second JEGS SPORTSnationals Added, to be held in mid-August in New England
May 20- DENSO Sponsors NHRA Champs' Shelter-in-Place Dachshund Race
May 14- To Our Racing Community-From Racers for Christ
May 13- The Name Game Part I
May 12- Morgan Lucas, Son of Forrest and Charlotte Lucas, Appointed President of Lucas Oil Products, Inc.
May 05- Cancellation of the 14th Annual Summit Racing Equipment NHRA Nationals
May 04- NHRA Announces Revised Plan to Restart 2020 Mello Yello Drag Racing Series
Apr 29- DSR Drivers Join Global Superstars in Fight for COVID-19 Relief
Apr 02- NHRA National Dragster will Temporarily Shift to a Free-to-All Digital Magazine
Apr 02- NHRA Announces Revised E3 Spark Plugs Pro Mod Drag Racing Series Schedule