Tue, 28 Dec 2004, 07:43 AM



Thirty-Year Redux



By Jim Luikens


Photo copyright 2004 Jim Luikens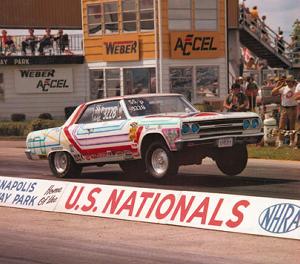 Roger Rosebush at IRP in 1974
To mark her husband's milestone 50th birthday Deb Rosebush enlisted the help of Fred Militello to arrange a surprise birthday party for Roger Rosebush. Unlike most surprise birthday parties held in the summer this one did not take place at a restaurant, on a boat, or even a back yard patio. Instead Deb and Fred chose a location they knew would mean the most to Roger, a dragstrip.
At the party Roger was able to race his 1965 Chevrolet Chevelle just like he had in the past. Thirty years ago this exact Chevelle had been a "killer" on the NHRA circuit, setting records and winning events repeatedly, with him behind the wheel. It didn't take Roger long to realize that a part of his life had been missing for the past three decades, a part that he enjoyed immensely.
Freshly bitten by the racing bug, and recalling the glory days of his Chevelle, Roger decided that he would like to attempt to recreate his earlier accomplishments while introducing his coming-of-age son to motorsports. He set goals for both him and the Chevelle that included the establishment of a NHRA national record, a feat that he had accomplished six times in the past, as well as winning his class at the biggest drag race of the year, NHRA's US Nationals at Indianapolis Raceway Park.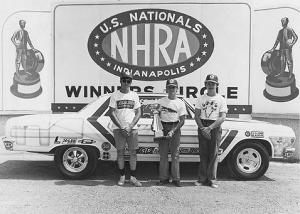 Roger, center, in the 1974 Winner's Circle with his
brothers Terry, left, and Richard, right.
As a result of his rekindled passion he made a laundry list of things that would need to be updated on his Chevelle to achieve these goals. To begin with he would need to make the Chevelle competitive with the race cars of today. He also wanted to take advantage of the safety improvements that had occurred since he last raced the car seriously. Surveying his options, he realized that the chassis shop of Mike Pustelny, in nearby Almont, Michigan, would be the ideal choice for the chassis updating that needed to be done.
With the chassis work underway Roger began to look for who could supply the necessary power needed to accomplish the twin goals he had set. Remembering the last time he raced seriously he recalled a fellow Chevelle racer named Jimmy Bridges who had been a fierce competitor at the time. A little digging uncovered the fact that Jimmy, from Nashville, Tennessee had never stopped racing and, in fact, had kept up on the latest engine technology in the intervening years.
As a bonus Jimmy had since replaced his Chevelle with a Corvette, which meant that he would no longer be a head-to head competitor of Roger's for class honors. He therefore could give Roger the latest in engine refinements without fear. Even better, Jimmy knew of a fellow Tennessean named Mike Cates who would make the ideal crew chief for the newly resurrected Rosebush Racing Chevelle.
Racing a limited schedule in 2003 confirmed that every thing was on the right track and just a little more seat time was all that would be needed for an all-out assault in 2004. After running a few shakedown events early in the 2004 season, Roger began to prepare for the granddaddy of all drag racing events by participating in a test session at Bowling Green, Kentucky as well as the Division 3 Lucas Oil Drag Racing Series event at the same track.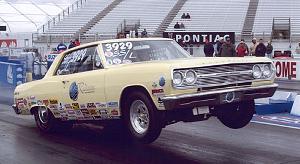 Roger Rosebush at IRP in 2004
The fact that 2004 was the golden anniversary of the US Nationals only gilded the lilly and meant that any winner would earn a unique footnote in history as a winner of the 50th annual event. Two days of time trials and qualifying set the stage for class eliminations on Friday. After an intense day of class racing Roger emerged as the SS/L class winner with his Chevelle while Mike Cates claimed the SS/M trophy using the team's 1964 Mercury Comet.
Due to the enormity of the US Nationals not every Super Stock class winner is forced to tear down their engine. But, as luck would have it, Roger was one of the class winners that got to verify his legality by disassembling his engine for inspection. With a high rejection rate preceding him in the tear down room, Roger was relieved when his car successfully passed inspection.
With his legality confirmed, next up were the celebratory pictures in front of the giant 50th anniversary winner's sign. The entire extended Be Cool Racing Team joined Roger and Mike in victory lane as they each received their class championship trophies. Despite an early exit from eliminations Roger was happy with his results. Leaving Indy he realized that not only had he completed half of his quest but also that he had done it in the golden anniversary year of drag racing's biggest event. Now all that was left was to set the national record.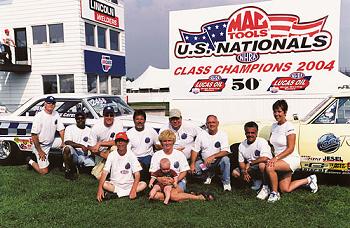 SS/M Winner Cates, fourth from left, and SS/L Winner Rosebush,
third from right, share victory lane with team members.
To do that he knew he would have to wait for the cooler late-season weather. For the past several years the track at Montgomery, Alabama had provided optimum conditions for record-setting and its Thanksgiving weekend date on the racing calendar normally ensures ideal conditions. Unfortunately things were a little too wet this year as an all-day rain washed out the first attempt at the event and forced it to be rescheduled for December 4 & 5.
Unfortunately the make-up date chosen conflicted with the PRI Show, an industry trade show that is vital to any manufacturer in the performance parts industry. As president of Be Cool Radiators Roger knew the PRI Show was an important part of his company's yearly marketing efforts. Faced with the tough challenge of being in two places at one time, Roger was able to return to Alabama when his brother, Richard, offered to cover the final day of the show for him.
Back in Alabama and racing under great conditions Roger set the SS/M national record at 10.745 seconds on his very first run, but his Chevelle was found to be five pounds light when it crossed the scales so the run was disqualified. Believing the scale reading to be an anomaly, Roger returned to his pit area where he added 10 pounds to his car just to be safe.
Returning for another record attempt, Roger actually went quicker, at 10.732, than he had on the first run despite now carrying the extra weight. This time there was no discrepancy at the scales and he was cleared to make an attempt at backing-up his potential new national record. On the back-up run he went quicker again at 10.715 seconds with that becoming the new record and his earlier 10.732 serving as the required back-up.
All that remained for the record to be certified was for the car to be declared legal by tearing it down for inspection. Once again all components passed muster and the SS/M record was his. In a span of ninety days he had won his class at Indy and set the national record, two major accomplishments that he achieved with relative ease thanks to good components, good suppliers and a good support system.
Looking ahead to 2005 Roger sees a new paint scheme for his venerable Chevelle with new sheet metal underneath the new paint. Currently the car is at the Gary Jennings Chassis Shop having its underpinnings updated yet again. Upon its return new goals will be set for the new season. No matter what is accomplished in 2005 it will be hard to top the milestones recorded in 2004.




NHRA: 10 Most Recent Entries [ top ]

May 21- Second JEGS SPORTSnationals Added, to be held in mid-August in New England
May 20- DENSO Sponsors NHRA Champs' Shelter-in-Place Dachshund Race
May 14- To Our Racing Community-From Racers for Christ
May 13- The Name Game Part I
May 12- Morgan Lucas, Son of Forrest and Charlotte Lucas, Appointed President of Lucas Oil Products, Inc.
May 05- Cancellation of the 14th Annual Summit Racing Equipment NHRA Nationals
May 04- NHRA Announces Revised Plan to Restart 2020 Mello Yello Drag Racing Series
Apr 29- DSR Drivers Join Global Superstars in Fight for COVID-19 Relief
Apr 02- NHRA National Dragster will Temporarily Shift to a Free-to-All Digital Magazine
Apr 02- NHRA Announces Revised E3 Spark Plugs Pro Mod Drag Racing Series Schedule