Sun, 26 Dec 2004, 01:05 PM



Hey, Who Was That Guy In That Great Looking Mustang?



By Bob Frey


Photo copyright 2004 Auto Imagery, Inc.





Kevin Hale
Now I know that there aren't a lot of folks who were at the Division 4 Summit Racing Series E/T finals in Dallas who were also at the national championship finals in Pomona, but go with me on this. If you were at Dallas and you saw Kevin Hale win the Sportsman title in his 1980 Mustang, and then you saw the D-4 representative at Pomona you probably thought that Kevin couldn't make the trip so they brought in a substitute. The reason for that would be because the car that won in Dallas was just in primer paint with wacky wheels on it, while the car that showed up in Pomona was painted a really nice red color, had great looking wheels and was sporting the name of "Eddie's Body Shop" on the side. But fear not Kevin Hale fans, it was the same guy just with a new look. "After I won in Dallas (Division 4 director) Craig Hutchinson came to me and told me that I needed to get the car painted before Pomona," Kevin said. "I told him that I've raced with it like this for years and didn't see why I had to change now. He just looked at me and said that I should get it painted." So Kevin did what so many racers did, he went networking. "A friend of mine knew a guy at the body shop and we got together and he said that he'd paint it in exchange for having his name on the side so that's what we did." And now, Eddie's Body Shop can proudly say that they have painted the Summit Racing Series Sportsman Eliminator national champion. Way to go, Eddie.
Kevin Hale had been racing almost on a weekly basis for the past ten years, mostly at his home track, Twin City Dragway in Monroe, Louisiana. This year however, between the demands of his farming job and his desire to spend more time with his wife and children, he says that he had only raced about ten times all year. "I farm and grow corn, soybeans and cotton and that kept me really busy this year. Plus my daughters, Hannah and Ashley and my son, Will, are getting older and I wanted to spend more time with them." So, along with his wife, Amy, they decided to cut back on his racing but it didn't appear to have any effect on him at the divisional race. "I went in there and felt pretty confident, just like I did when I went to California. I guess it's just because I hadn't raced that much this year and there was no real pressure to do well." Well, he did well in Dallas and then he "Eddie's Body Shop" Mustang were headed west and he did well there, too.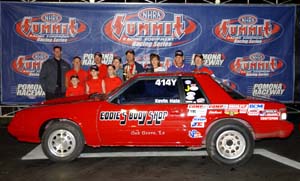 Hale celebrates win.
The drive from Louisiana to California can be a long one but it's a little bit easier when you have some friends along for the ride. It's also nice when you can network, again, to get the proper vehicle to make that long tow. "One friend had an enclosed trailer and my cousin had a truck and that made the ride a lot easier." Together with Donnie Hough and Charles Carr, the D-4 rep headed west, and other than a flat tire about one hundred miles into the trip it went rather well. "My wife and kids flew out and that wasn't too bad, but they had a rough flight home," Kevin said. "In fact, if the ride out had been that bumpy I'm pretty sure that they would have joined Donnie, Charles and me in the truck on the way home." Once everyone got to Pomona Kevin had to get used to the L.E.D. lights that are in use at the national event tracks. "I hadn't raced with them much and it was quite an adjustment," he said. "I missed the tree badly on the first two runs but then sort of figured it out and I felt comfortable the rest of the way." Ironically, after red lighting on his first two time runs, Kevin made some adjustments to the car, things like changing the r.p.m's on the line and shutting off part of the carburetor and the car became much more consistent. Still, when I asked him if he thought that he would win with a "6-under" run in the final he said, "I didn't even think I could go six under. With all the stuff I did to the car I was really surprised that happened. But the weather got really cool and the car picked up. I was pretty lucky to win with that run in the finals." Fortunately for Kevin, his final round opponent, Tim Larson from Division 5, had an "092" reaction time which meant that Kevin, with an "066" reaction time, the better of the two on the line, L.E.D. lights and all. "I knew he had to break out to beat me and he did, but I didn't expect to run out by as much as I did. I guess I got a little lucky on that run."
Like all of the racers who participated in the Summit Racing national championships in Pomona, Kevin Hale said that it was a great experience for him and his family. "The people at Summit, Kirk and all of those guys, treated us really well. It was quite a weekend. I'm just a little country boy going to the big city and I had a great time." Kevin also enjoyed the special dinner that Summit had for the competitors on Wednesday night and he especially got a thrill out of meeting Greg Anderson and Dan Fletcher. "They were all so nice and such down to earth guys," he said. Then he said that winning was nice and he'd like to be able to repeat next year. "I would love to know that I could do it again, but I know how tough it is. I was very blessed by the Lord this year and we'll see what he has in store for me next year." For now, Kevin and his family are getting ready for a really nice holiday before he gets back to work on his farm. "I don't know how much I'll do next year but I'll always have this to remember," he said. And he'll have that really neat paint job, too, thanks to the folks at Eddie's.




NHRA: 10 Most Recent Entries [ top ]

Jun 30- Lucas Oil to Sponsor Summernationals at Indianapolis
Jun 25- Tickets on Sale for 2020 Southern Nationals
Jun 25- Houston Raceway Park to Transform into Drive-In Theater for First NHRA Race Since Lockdown
Jun 25- NHRA Northwest Nationals Canceled Due to State and County Restrictions
Jun 25- Toyota to Serve as Associate Sponsor of Tony Schumacher in Indianapolis
Jun 25- Wally Parks NHRA Motorsports Museum to Reopen July 1
Jun 24- E3 Spark Plugs Named Title Sponsor of July 11-12 NHRA Indianapolis Event
Jun 24- Cory McClenathan to Return for NHRA Indy Double-Header with DSR
Jun 22- AAA Texas Fall Nationals Expects Championship Field In October
Jun 22- Crew Chief Doug Kuch Returning to Foley Lewis Racing