Wed, 22 Dec 2004, 09:41 AM



Itís Been Pretty Quiet, Hasnít It?



By Bob Frey


Photo copyright 2004 NHRA & Auto Imagery, Inc.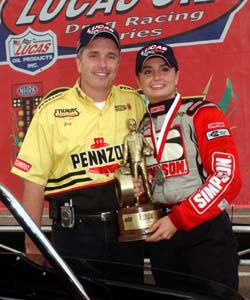 Erica with her Dad Greg.
With the exception of the Pro Stock cars in Bradenton and
†
the
Erica Enders
incident there really hasnít been much to report during this off season.
Mike Dunn
re-signed with ESPN but that wasnít a shock since I donít believe there were any real driving offers out there for Mike. I also think that itís a very good thing having him back since he does such a nice job on the TV shows. Sure he would like to be behind the wheel but as weíve seen in the recent years the trend has been away from the big name drivers in exchange for a driver who may bring some sponsorship with him to a team. Having said that, there also havenít been a lot of those deals around lately and I sure hope that changes soon. Whether itís a veteran driver with a new team or a younger person we need some new blood out there to freshen up the ranks a little bit, donít you think? By the way, for all the folks who say that a guy like Mike deserves a shot before some young gun with money, think about it. If it were your team and the choice was between a Mike Dunn (just for example), a guy whom you would have to pay a substantial amount of money, and a younger driver, letís use
Rod Fuller
for example, who may bring dollars to your team, which way would you go? Now be honest and if you are itís not the easy choice that most people think it is. It should come as no surprise that Rod may be the next young gun to get a ride and Iíll be surprised if something along that isnít announced in the very near future. Of course, to be honest, Iím surprised that the next big dragster deal that I said would be announced by Indy hasnít been done yet, but it will beÖand soon. The worst kept secret in drag racing, the new
Don Schumacher
Funny Car, its crew chief and driver, should be announced the week between Christmas and New Yearís. Letís hope soÖ.There is a new deal, sort of, that involves the Pro Stock Bike class and that word should be coming down soon, too. It involves a
Frank Manzo
current team owner and his sponsor but it also includes a very talented rider whom we havenít seen on the NHRA tour in several years. This team should be an immediate force in the class, enough so that I think they will be able to challenge for the championship in 2005. ReallyÖ.And any word that
Frank Manzo
will not be racing next year is absolutely untrue. Frank will not be flying the
Kendall
colors in 2005 but he will be racing and winning. While he is currently without a major sponsor Frank told me the other day that itís full speed ahead for 2005 and he intends to compete at as many, if not more races, in 2005 than he did this season. The Kendall folks will still be involved with the sport and thatís a good thing and you should hear more about that fairly soon. But Frankís not going anywhere, except possibly back to the top of the class, and if youíre involved with a company thatís looking for a great investment, you canít do much better than Frank Manzo, so hop on board!!....There is and has been a huge rumor that a former fuel champion may join forces with a current multi-car team in 2005. Mind you, itís just a rumor but if it happened it would be big, as in really BIGÖ..And as of this time the story about two female drivers returning to action next year is just that, a story, although one or both of the deals could be finalized before the new year if theyíre going to be done at all, and thatís a BIG if.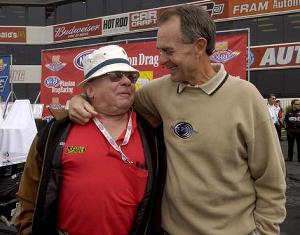 Jenkins and Glidden
After my column about the Pro Stock class a few weeks ago a fan sent me an e-mail to tell me that not only was there a big difference between the top half and the bottom half of the field when
Bob Glidden
was dominating the class but that the gap was even wider when
Bill Jenkins
was at the top of his game. I checked it out and you know what, he was right. For example, at one race in his great 1972 season the ďGrumpĒ was a full two tenths of a second ahead of the number two qualifier. Now thatís dominating. All of those things just take me back to the fact that for
Greg Anderson
to do what heís done over the past two years in an extremely competitive atmosphere is just unbelievable. Anyway, I thank the fans for pointing these things out to me. In the interest of fair reporting it should be pointed out that at some of those races the Chrysler factory-backed teams either didnít show up or were racing in the sportsman ranks because Chrysler didnít like the weight breaks that NHRA had assigned to the hemi cars. Seems some folks at the factory thought that the Chevrolets were getting some favored treatment from the folks at NHRA. Imagine that! It should also be noted that at a lot of the races when the ďGrumpĒ was dominating he had to make his way through thirty-two car fields and that made it even tougher to win, but it didnít stop William Tyler Jenkins, did it?
Did you know
that 1975 was the last time that NHRA ran a thirty-two car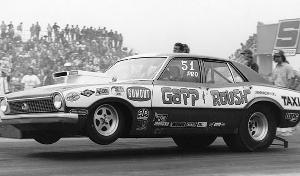 Gapp won Indy.
field in the Pro Stock class? At the U.S. Nationals in í75
Wayne Gapp
won the race over
Richie Zul
while
Wally Booth
was the top qualifier (8.752),
Don Nicholson
set top speed (155.32) and
Charlie Castaldo
was on the bump at 9.22. Believe it or not, there were two drivers in that 1975 Indy field who qualified for Pro Stock races this past year, do you know who they are? One of Ďem is easy,
Warren Johnson,
but it might surprise you to know that the other one was
Jerry Haas
Ö.With
Steve Johnsí
departure from the ďGrumpís shop after twenty-three years, Bill will continue to do the engines for
Mike Dzurilla
and the ďBulletĒ team which means that
Dave Connolly
will be strong again in 2005. The ďGrumpĒ told me that he took some rťsumťs to fill Steveís spot while he was at the P.R.I. show in Indy, so if you are a good machinist, I mean a really good machinist, and youíd like to work with a legend, you might want to give Bill a call at his shop in Pennsylvania.
†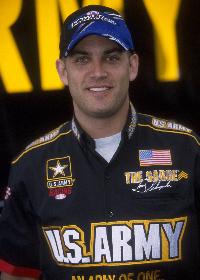 Tony Schumacher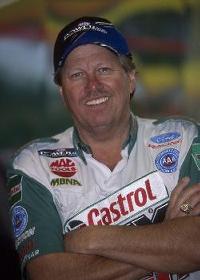 John Force
Congratulations to
Tony Schumacher
and
John Force
for being named to the first team all stars by the American Auto Racing Writers and Broadcasters Association this year. Both will be honored at a banquet in January along with the rest of the first team which reads like a ďWhoís WhoĒ of auto racing. Still I have to wonder what a guy has to do to get on that team since Greg Anderson didnít make it. Greg was named, along with
Clay Millican,
to the second team which must leave Greg wondering what a guy has to do to make the first team? I believe that itís like every other award that is done subjectively and that is, itís more of a popularity contest than anything else and your reputation has a lot to do with it. Now donít get me wrong, John and Tony deserve to be honored but when you look at Gregís year I think he certainly deserved to be on that first team. But then
Thiago Madeiros
made the first team so who am I to argue? I guess I should just be happy that drag racing got the exposure that it did and I know Tony and John will represent our sport extremely well at the ceremony in January. The sport will get more major exposure next year when
Joe Amato
and
Bob Glidden
are inducted into the International Motorsports Hall of Fame in Talladega. Way to go Joe and Bob and way to go drag racing.




NHRA: 10 Most Recent Entries [ top ]

May 21- Second JEGS SPORTSnationals Added, to be held in mid-August in New England
May 20- DENSO Sponsors NHRA Champs' Shelter-in-Place Dachshund Race
May 14- To Our Racing Community-From Racers for Christ
May 13- The Name Game Part I
May 12- Morgan Lucas, Son of Forrest and Charlotte Lucas, Appointed President of Lucas Oil Products, Inc.
May 05- Cancellation of the 14th Annual Summit Racing Equipment NHRA Nationals
May 04- NHRA Announces Revised Plan to Restart 2020 Mello Yello Drag Racing Series
Apr 29- DSR Drivers Join Global Superstars in Fight for COVID-19 Relief
Apr 02- NHRA National Dragster will Temporarily Shift to a Free-to-All Digital Magazine
Apr 02- NHRA Announces Revised E3 Spark Plugs Pro Mod Drag Racing Series Schedule