Sun, 19 Dec 2004, 11:15 AM



It's A Jeep King



By Bob Frey


Photo copyright 2004 Auto Imagery, Inc.





In a class that included a 1966 Dodge Coronet, an '80 Malibu, a 1967 Chevrolet Nova, two vintage Mopar's including a Barracuda and a Plymouth Valiant, and two Camaro's the last man standing in the Summit Racing Equipment Pro Eliminator at Pomona was driving a Jeep. That's right, a Jeep. Sure it had a 468 cubic inch Chevrolet big block engine but to the casual observer it was still a Jeep. And when Kelly King drove it past the Camaro of Jimmie Barrett and the Barracuda of Jason Novacek I'm sure they were thinking, "I can't believe that I just got beat by a Jeep." Or something like that.
Kelly King
Kelly King admits that he got a big break when he was the top qualifier for the seven car Pro Eliminator field which meant that he would get the much coveted bye run in the first round. "That was big because it meant that I was already down to just four cars. The other guys didn't get that extra time run that I did." That's ironic in itself because Kelly says that he usually only makes one time run when he runs his car at his home track, Montgomery Motorsports Park. "To be honest, I'd be happy if they said there were no time runs and went right into eliminations," Kelly said. While not many racers would subscribe to that theory it has worked well for Kelly who began his racing career back in 1986 and who has been winning on a regular basis. "I race a lot and I run a lot of the big bracket races and I've had some success, "he said. "But winning the Summit series at Pomona has to be the most prestigious win of my life." And he did it in a Jeep.
The car that he ran and the layout for the race aren't exactly what Kelly is used to. He has another car, a 1977 Chevrolet Vega, that he used to win the Division 2 championship earlier this year. He also won that race on an eight-mile track, the same kind of surface where Kelly does most of his racing. "Other than running a D.O.T. car at a couple of Super Chevy races I probably haven't raced competitively on a quarter-mile track in about two years. In fact, I was kind of surprised when I learned that most of the other divisions run quarter-mile races for their championships." Well, if the car and the added length were any problem, it sure didn't show at Pomona. Ironically, this wasn't the first time that Kelly had won his way to the last race of the year. "Back in 1990 a friend of mine and I were racing and a radio station had a promotion and we won it. You had to be running the right car and be in the right class and we were so we won a trip for two to Pomona." While Kelly and his pal flew to Pomona for that race it was a little different this year. "My partner Chris Phillips and I drove out to Pomona together. It was about thirty-seven hours in a single cab, 1971 GMC truck and it went pretty well." It better, that's a long time in close proximity for any two people, don't you think? And if you want to know how much these two guys love drag racing, they didn't leave for the west coast until after a three day race at Montgomery Motorsports Park ended on Sunday night. "I was racing and Chris was working so we couldn't leave until it was all over." Chris, by the way, is the co-owner and co-operator of Montgomery Motorsports Park so he knows a little about racing. "He had to finish up all the paperwork before we could go," Kelly said. "Once we got on the road it was pretty smooth."
Once Kelly got to Pomona he prepared for the race and then waited for his wife, Dawn, and daughter, Victoria, to fly in, and together they all got to see a little bit of Southern California. "The girls went to Disneyland and Universal Studios and then we all went to the wax museum and did some other tourist-type things. It was pretty nice and you can see a lot of interesting things out there." But then it was back to the track and the whole Summit Racing Series experience. "It was great. Summit treated us really nice, the banquet was good and we got great parking spaces at the track. They came around and told us when we were going to run each time. They had it down to a really nice system and it was great. For a regular racer you couldn' t be treated any nicer." Kelly then treated himself to the number one spot in qualifying and then he went out and won his two rounds over the weekend to be crowned the Pro Eliminator champion. "From my first run I knew that I was in pretty good shape. The track was awesome and my car handled it pretty well." That car, the Jeep, has been around for a long while. The late Dave Edwards, who was one of the great bracket and "90" racers in the early 1990's, built in and won some races with it and he also nailed down the 1991 Division 2 Super Street title in it. His huge wheelstand at Rockingham in 1992 was the stuff that legends are made of. "It's funny you mentioned that," Kelly said. "Believe it or not the car still has the scrape marks on the bumper from the wheelstand." The car was then sold and was the property of Joe Smith for a while before Kelly got it in a trade. "Some guy called and asked if he had the Jeep would I trade him my dragster for it and I said yes. Then I thought about it for a while and next thing you know he's calling me back saying that he has the Jeep and he's coming over for the dragster. I couldn't back out so that's how I became the owner of the Jeep." When the car made it's first run at Pomona you could see the crowd's reaction and you knew that this was their sentimental favorite, after all, in the long, storied history of Pomona, how many Jeep's have ever gone down the track? Kelly then went out and beat Barrett by virtue of a better reaction time (his .047 to Jimmie's .091) and then he stopped the 'Cuda by going closer to his dial on a double break out and the Jeep was king.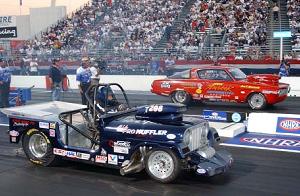 King near lane.
Kelly King would like to thank his wife and daughter for their support. "My wife works with me at the business and she makes things a lot easier for me all around. I couldn't do it without her." That business is a garage door company that Kelly has worked at for a long while. "My dad owned it and ran it and then after he died a few years ago I took it over. We have a couple of really good employees who have been with the company for a long time and they're great. Plus Dawn runs the office and she keeps an eye on everything. Business is good and I still get time to race." He also wanted to thank his partner, Chris Phillips, for all of the support, Summit for giving the local racers the opportunity to run at a national event, and Division 2 for participating in the series. "I'm kind of quiet when I'm at the races, I keep to myself, but that doesn't mean that I don't get excited when I win. And I was excited after winning in Pomona." So were the Jeep fans all over the world.




NHRA: 10 Most Recent Entries [ top ]

Jun 05- NHRA Announces Revised Schedules for Pro Mod, Top Fuel Harley, Factory Stock Showdown, and Mountain Motor Pro Stock
Jun 03- NHRA Sonoma Nationals Event at Sonoma Raceway Cancelled
Jun 03- NHRA Mello Yello Drag Racing Returns Beginning with Two Indianapolis Events in July
Jun 03- A Message From Summit Motorsports Park President Bill Bader Jr.
May 21- Second JEGS SPORTSnationals Added, to be held in mid-August in New England
May 20- DENSO Sponsors NHRA Champs' Shelter-in-Place Dachshund Race
May 14- To Our Racing Community-From Racers for Christ
May 13- The Name Game Part I
May 12- Morgan Lucas, Son of Forrest and Charlotte Lucas, Appointed President of Lucas Oil Products, Inc.
May 05- Cancellation of the 14th Annual Summit Racing Equipment NHRA Nationals