Thu, 16 Dec 2004, 03:43 PM



Zizzo Racing Partners with Torco Racing Fuels



Courtesy of George Castaneda


Photo copyright 2004 Auto Imagery, Inc.





LINCOLNSHIRE, Ill. --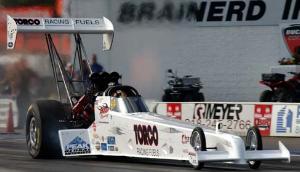 T.J. Zizzo
The Zizzo Racing Top Fuel team has signed Torco Racing Fuels as a major associated marketing partner for the 2005 NHRA POWERade Drag Racing Series. The marketing partnership will mark the first full year that the two organizations will be teamed together. Torco Racing Fuels are located in North Decatur Michigan and is the manufacturer of more than 21 high performance-racing fuels and other power products.
"I could not ask for a more supportive group in Torco Racing Fuels, they are a great group to work with," said Top Fuel Driver T.J. Zizzo. "We would not be looking forward to the 2005 racing season if it were not for their support. I think it is pretty cool that we use Torco's methanol as the 15% fuel mixture in our hot rod. As a team member and a driver it makes my job easier knowing that we have them on our side."
"We have a great working relationship with Evan Knoll of Torco Racing Fuels," added team owner Tony Zizzo Sr. "Ever since we signed them in the middle of last year, they have been very supportive of our racing operations. Evan has been involved with racing for many years and understands the support required to put together a competitive race team. Rest assured we will do our best to pick up where we left off at the start of the 2005 racing season."




NHRA: 10 Most Recent Entries [ top ]

Jun 30- Lucas Oil to Sponsor Summernationals at Indianapolis
Jun 25- Tickets on Sale for 2020 Southern Nationals
Jun 25- Houston Raceway Park to Transform into Drive-In Theater for First NHRA Race Since Lockdown
Jun 25- NHRA Northwest Nationals Canceled Due to State and County Restrictions
Jun 25- Toyota to Serve as Associate Sponsor of Tony Schumacher in Indianapolis
Jun 25- Wally Parks NHRA Motorsports Museum to Reopen July 1
Jun 24- E3 Spark Plugs Named Title Sponsor of July 11-12 NHRA Indianapolis Event
Jun 24- Cory McClenathan to Return for NHRA Indy Double-Header with DSR
Jun 22- AAA Texas Fall Nationals Expects Championship Field In October
Jun 22- Crew Chief Doug Kuch Returning to Foley Lewis Racing