Thu, 16 Dec 2004, 03:11 PM



Savoie and Brown Survive Mini Basic Combat Training



Courtesy of Chris Dirato


Photo copyright 2004 Auto Imagery, Inc. & NHRA





FORT JACKSON, S.C. --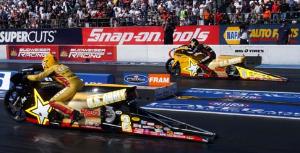 Savoie vs Brown
U.S. Army Pro Stock Bike drivers, Angelle Savoie and Antron Brown, have experienced a lot in the short amount of time they have been partnered with the United States Army, but nothing can be compared to a recent Mini Basic Combat Training program here at Fort Jackson.
Not long after wrapping up the 2004 NHRA POWERade Drag Racing Series season, Savoie and Brown traveled to South Carolina to take part in a two day program that included plenty of mental and physical challenges.
"What an opportunity," said Savoie, who finished second in the '04 Pro Stock Bike point standings. "I had plenty of respect for our soldiers before we went through this program, but I definitely have a greater appreciation now for all that they do."
"It was a tremendous hands-on experience," added Brown, who ended up third in the final driver standings. "It's something to see how the Army transforms civilians to soldiers."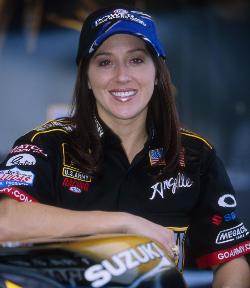 Angelle Savoie
Albeit over just two days, Savoie and Brown endured what every soldier goes through as related to basic training. They "heard" from drill sergeants, learned bayonet assault techniques, had camouflage instruction, went through physical training, shot rifles and even had to master the famed Victory Tower.
"I can tell you the Victory Tower was extremely challenging," offered Savoie, a three-time Pro Stock Bike world champion. "The ropes course was real hard. It put a lot of pressure on my arms. I was dead tired after doing it."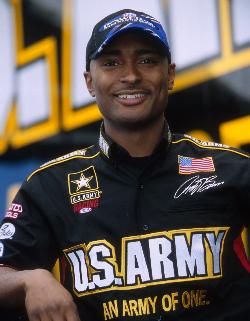 Antron Brown
"It's non-stop," related Brown. "We were really pushed the entire time we were there. By the end of each day, we were beat up and tired. I can tell you that we received a lot of 'tough love.'
"The whole thing was quite remarkable. I know it made me a better person as a result. Honestly, it was all positive from start to finish. Everything is always I can - never I can't. That's a refreshing approach to have in life, in general."
Given the experience, both drivers agreed that they will now see soldiers in an even clearer light.
"You really get a good feel for what these young men and women go through," said Savoie. "They're constantly giving everything they have. I'm proud to have them protecting our way of life."
"I feel the same exact way," added Brown. "To see what they're going through to defend our freedom is simply overwhelming."




NHRA: 10 Most Recent Entries [ top ]

May 21- Second JEGS SPORTSnationals Added, to be held in mid-August in New England
May 20- DENSO Sponsors NHRA Champs' Shelter-in-Place Dachshund Race
May 14- To Our Racing Community-From Racers for Christ
May 13- The Name Game Part I
May 12- Morgan Lucas, Son of Forrest and Charlotte Lucas, Appointed President of Lucas Oil Products, Inc.
May 05- Cancellation of the 14th Annual Summit Racing Equipment NHRA Nationals
May 04- NHRA Announces Revised Plan to Restart 2020 Mello Yello Drag Racing Series
Apr 29- DSR Drivers Join Global Superstars in Fight for COVID-19 Relief
Apr 02- NHRA National Dragster will Temporarily Shift to a Free-to-All Digital Magazine
Apr 02- NHRA Announces Revised E3 Spark Plugs Pro Mod Drag Racing Series Schedule