Thu, 16 Dec 2004, 01:57 PM



Weis Racing Signs Barrett



Courtesy of John Loeffler


Photo copyright 2004 NHRA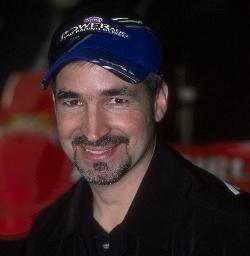 Scott Weis
The 2005 NHRA POWERade season looks very bright for Scott Weis. After several years of being supported by loyal sponsor RaceGirl International, Scott Weis has signed Barrett Enterprises, a large employer of Union carpenters in Illinois.
"I couldn't be happier to partner with Barrett Enterprises," said Weis, pilot of the new RaceGirl /Barrett Enterprises/Lobster Gram Top Fueler.
"I'm ready to head to Pomona tomorrow! This year is going be phenomenal. Union Carpenters, RaceGirls and a bunch of lobsters; if we could sign a beer company we'd have the wildest hospitality area in all of drag racing, mused Weis. All kidding aside, our whole program is changing. For starters we'll have a paid full-time crew on the road, in years past we only had fly-in guys. We're not changing personnel though, the crew we'll have this season will be virtually the same crew we started racing Top Fuel with three years ago. I think that speaks volumes about the commitment of our crew. There is team with big payrolls that don't have the crew retention that we have." Major infrastructure improvements are in store for Weis Racing as they prepare for the upcoming NHRA POWERade season. "We'll have a 12,000 square foot Midwest race shop in addition to our Richmond shop, said, Weis. The Midwest shop and the full-time road crew should really improve our program. Last season our only shop was in Richmond, so we'd only see the car and hauler back once or twice during the race season. This year we'll have a road crew and a place to stop and service the car in-between races. Instead of trying to cram a week's worth of maintenance into Friday at the track we'll be able to bring a car that's ready to run. That'll let the team concentrate on race setups, rather than service details. I'm quite sure the guys were getting tired of those twenty-hour days, which happened to us more than once last season."
The changes won't stop with pay and race shops, Weis plans to update the current chassis with a new Attic Race cars chassis this new chassis will have more experimental tweaks than the hugely successful first Attac chassis campaigned first by Weis then adopted by the Kalitta teams mid-season last year. Gradually, over the 2005 season the team plans to phase in new technologies like the setback blower and six-disc clutch setup. This news should horrify the competition, because all those low 4.50s last year came from three-year-old parts and pieces.
The pilot of the RaceGirl/Barrett Enterprises/Lobster Gram Top Fueler Scott Weis will have more duties on and off the track this year. " I've got more appearances scheduled already this year than I had the last three years, said Weis. For example, at the Chicago event alone we're expecting over 2,000 guests of Barrett Enterprises. I'm looking forward to meeting with the fans. I've felt bad in the past, because I'd be repairing cylinder heads or blowers and wouldn't be able to meet with the fans as much as I would've liked. Our family has always believed that you can never have too many friends and I make a new friend every time I get to shake a fan's hand or sign an autograph. It still amazes me people want my autograph, after all I'm just the guy who drives his family's car around! Don't think I'm retiring my wrench though. I've worked on every car I've driven and there is no way they'll be able to keep me from jumping in and thrashing on the motor." In addition to the aggressive public relations program, Weis Racing and its marketing partners are finalizing plans for an elaborate pit –side hospitality area for 2005 that'll likely include a Lobster Gram lobster tank!
Weis reflects on the last three years with primary sponsor RaceGirl International and looks to the future." Robert Chestnunt of RaceGirl International has sacrificed over the last three seasons to make sure we could field a good competitive team, said Weis. If it hadn't for been for RaceGirl 's involvement we could never have achieved our top ten finish this season and attracted strong major sponsors like Barrett Enterprises and Lobster Gram. RaceGirl has been the catalyst of our success the last three years. Needless to say, Robert will (Robert Chestnunt of RaceGirl International) be back with us in 2005."
Scott Weis and his family owned and operated team welcome their new marketing partner Barrett Enterprises to NHRA POWERade Top Fuel Racing. Bill Barrett is a fifth generation carpenter with 35 years experience. Barrett launched Barrett Enterprises in 1986 and has grown from a humble one man and a hammer operation to a construction empire that knows no equal. Barrett Enterprises has earned industry admiration for pioneering construction processes that are taught all around the world. Barrett Enterprises has an almost mythical reputation for getting projects done with zero mistakes and ahead of schedule. Through his partnership with Weis Racing, Barrett hopes to attract skilled non-union tradesman from across the nation to Barrett Enterprises so they can enjoy successful careers as part of his ever-growing construction juggernaut.
"My wife Patti and I are as excited as a kids on Christmas morning. We can't wait to see Barrett Enterprises represented by such a terrific racing family. The Weis family has an impeccable reputation and we feel honored to contribute to the team's future success. The level of professionalism they display is phenomenal. We got involved with NHRA POWERade drag racing for business reasons, but you if visit with us you'll soon discover that we're fans, big fans! We plan on being more than just a sponsor of the team. We're going to take the same principals that have led to our success in the construction industry and apply them to Drag Racing. We are going to take a proactive role in ensuring that Scott has what he needs to be a championship contender. This year is just the start of what we believe will be a long and successful relationship with the Weis family. We're absolutely dedicated to the success of Scott and the team."




NHRA: 10 Most Recent Entries [ top ]

May 21- Second JEGS SPORTSnationals Added, to be held in mid-August in New England
May 20- DENSO Sponsors NHRA Champs' Shelter-in-Place Dachshund Race
May 14- To Our Racing Community-From Racers for Christ
May 13- The Name Game Part I
May 12- Morgan Lucas, Son of Forrest and Charlotte Lucas, Appointed President of Lucas Oil Products, Inc.
May 05- Cancellation of the 14th Annual Summit Racing Equipment NHRA Nationals
May 04- NHRA Announces Revised Plan to Restart 2020 Mello Yello Drag Racing Series
Apr 29- DSR Drivers Join Global Superstars in Fight for COVID-19 Relief
Apr 02- NHRA National Dragster will Temporarily Shift to a Free-to-All Digital Magazine
Apr 02- NHRA Announces Revised E3 Spark Plugs Pro Mod Drag Racing Series Schedule