Thu, 16 Dec 2004, 01:05 PM



The Pro Stock Bike Class…Bigger & Better Than Ever



By Bob Frey


Photo copyright 2004 Auto Imagery, Inc.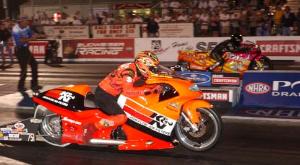 Steve Johnson picked up first win.
2004 may have been the best year in the history of the Pro Stock Bike class or motorcycle drag racing in any class. I base that statement on the participation that we saw, the competitiveness of the teams who raced and the overall strength, from top to bottom, of the class. Several times this year we had over thirty bikes entered for the races and I think that of those thirty at least twenty five had a real shot at qualifying for the event. Once a driver was in the field he or she had a good chance to go rounds and win races. There were several "firsts" this year that made it interesting, like
Connie Cohen
qualifying for her first race,
Steve Johnson
winning his first race,
Karen Stoffer
doing the same, a Buell taking the number one qualifying spot at Indy and then winning in Las Vegas and the Harley-Davidsons winning just about everything in sight including the
POWERade
championship. Of course I have to admit that
Andrew Hines
did look like he put on about forty pounds over the course of the year or is that just me? With a truly diverse mix of drivers, including male and female, young and old, veteran and rookie everyone had someone to cheer for and cheer they did. Like I've said many times, the bikes give their sponsors a lot of exposure and the only thing holding them back from even more is the fact that they don't participate at all twenty-three races on the tour. It would be interesting to survey the teams and see if they would like to race at every event. If I had to guess I would say that the majority of the teams like it just the way that it is and that's good because the schedule isn't going to change significantly in the near future…if ever.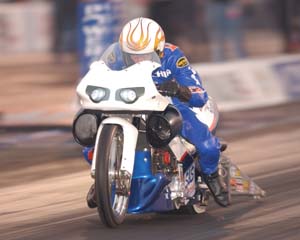 Chip Ellis
While the Pro Stock Bike class is relatively new to the NHRA ranks, motorcycles have been a part of the drag racing scene for a long while. In the formative years of the sport some of the quickest and fastest machines around where motorcycles, and as early as 1970 bikes were racing at some of the premier events on the tour. In 1970, the first year that they ran the bikes at Indy,
Larry Welch
won the Top Fuel class when he beat the legendary
Boris Murray
in the final round.
Larry, who would gain a certain level of notoriety a few years later for riding a rocket-powered bike at Atco Dragway, much to the chagrin of the New Jersey State Police, won that Indy battle with a 9.34 to Murray's trailing 9.14. The speeds in the class were right around the 160 mph mark and while that may not seem like a lot by today's standards, especially for a fuel bike, you have to remember that
Don Schumacher
won the Funny Car title at that same race over a field that had a bump spot of 7.24, a time that wouldn't have qualified for every Pro Stock Bike show this year.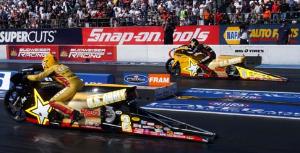 The Army bike team.
Over the next few years Welch, Murray and others gave drag racing fans a lot to cheer about as they competed at selected events on the schedule. They would be joined in the mid-'70's by some other legends, like the great
T.C. Christensen
and his
"Hog Slayer," Joe Smith, Marion
Owens
and more. Pro Stock Bikes wouldn't come on the scene until the late 1970's and the first time they ever raced at an NHRA event was in 1979 when
Wayne Buckler
beat
Bob Carpenter
at Gainesville. That eight-bike Gatornationals' field included six Kawasaki's and two Suzuki's, with one of the Suzuki's being driven by a young kid from California by the name of
Terry Vance
. Terry beat
Hamp Osburn
in the first round before falling to Carpenter's 9.50 pass in round two. While Carpenter would go on to seven more final rounds in his career, I'm not sure what eventually became of Hamp, but I do know that that Vance kid would be heard from again…and often. As a mater of fact, at the very next bike race on the schedule, the Cajun Nationals, Terry would make it to the final round where he would meet up with Mr. Buckler. Wayne won the race although Terry came away with low elapsed time for the event with a stunning 9.16 at 145 mph. As fate would have it, those two races were the only ones that Wayne Buckler, and his partner
Carl Nyberg
, ever won while Mr. Vance would go on to fame and fortune in the two-wheeled world. As a matter of fact, just a few years later, Terry would win races in Top Fuel, Funnybike and Pro Stock all in the same season. A case certainly could be made that Terry Vance was the best bike rider in the history of the class and you won't get an argument from me. OK, so there was that one time when he fell of his bike at about 120 mph, but then who hasn't done that?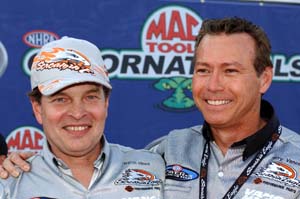 Byron Hines and Tery Vance
Terry Vance would go on to become one of the first big stars in drag racing, let alone in the motorcycle world. He was very popular at the track, he was young, good looking, well spoken and he even had his own television commercials. He would later team up with
Byron Hines
and together they would operate the
Vance & Hines
company which grew into one of the biggest parts and accessory businesses in the world. And all the time they raced what they sold and they almost always won. In addition to Terry's success, his partner Byron Hines did something that no one, not even Terry, has ever done in the sport, he won a Pro Stock Bike race on a Yamaha. That's why it's no secret that when they teamed up with Harley-Davidson to build and race a Pro Stock Bike, it was only a matter of time before they were competitive, before they were winning and before they were winning the championship. And while Byron will tell you that it was a lot tougher in the beginning than even he thought it would be, everyone knew that the
Vance & Hines Screamin'
Eagle
Pro Stock Bike would, eventually, be a force to be reckoned with. A title force.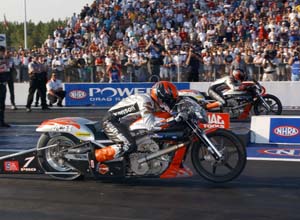 The Harleys in the final.
When you look at what Andrew Hines did this year you have to be impressed, but then when you're blessed with the genes that he has I guess you're almost expected to be a world champ. His brother won three national championships and thirty national events while his dad had his hands in the bike class for almost its entire existence. Put Terry Vance in that mix and you have a team that has to be counted among the best in the history of the sport and I'm not just talking motorcycles.
George Bryce
, who has fielded champions with
John Myers
and
Angelle Savoie
, and who got that Buell running pretty well this year, and who has raced with and against the V & H teams for over twenty years, isn't too far down the scale, either. Of course the late
Dave Schultz
, who won on both Kawasaki's and Suzuki's and who won six championships will always be regarded as one of the best riders and one of the classiest guys in the sport. There are others, not quite as famous, like
"Pizza" John Mafaro, Bob Carpenter, Rick Stetson, Phil Tannery
and others who all have their place in the history and evolution of the Pro Stock Bike class. Today's lineup, which includes Andrew and Angelle along with the real veteran in the class
Steve Johnson
, the extremely talented
Antron Brown
,
Craig Treble
, the former champion
Geno Scali, Shawn Gann
and others is as talented and as deep as we have ever seen. Throw in
Chip Ellis
, the latest driver for George Bryce and you'll notice that eight different teams won races this year and that speaks volumes for the strength of the class. It can honestly be said that anyone can win a race and I'm not sure that can be said of any other time in the history of the class. Case in point, I don't think Hamp Osburn was a real threat at Gainesville in 1979.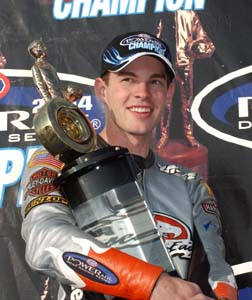 Hines with the POWERade trophy.
We will go into the 2005 season with a new champ, the youngest in the history of the sport in a professional class and with the weight breaks evened out, although I'm sure the folks at Screamin' Eagle may argue that point. We will also begin the year with a lot of good and interesting personalities in the bike category and all of that should make for a very exciting year. Now if we could just
get the folks from Kawasaki to support a team it would be almost perfect, but then I guess that will happen right after Ford gets into the Pro Stock car class. In other words…never!! OK, so I shouldn't say never, but when you look at the money that some manufacturers spend on other forms of two-wheel racing, it's a shame that we can't get some of that for our sport. Harley-Davidson did well this year and they use their teams to promote the brand and that seems to be working out rather well for all concerned. The Army includes Antron and Angelle in their ads when they win a race and that's the kind of support that the class and the sport need to increase awareness and make drag racing a little more mainstream. We've come a long way since Wayne Buckler won that first race and since
Ed Ryan
qualified with his Pro Stock Harley back in 1980 but we still have a long way to go. Thank goodness the class is alive and well and growing and I look for '05 to be the best season ever. Wait, didn't I just say that about 2004?




NHRA: 10 Most Recent Entries [ top ]

Jun 30- Lucas Oil to Sponsor Summernationals at Indianapolis
Jun 25- Tickets on Sale for 2020 Southern Nationals
Jun 25- Houston Raceway Park to Transform into Drive-In Theater for First NHRA Race Since Lockdown
Jun 25- NHRA Northwest Nationals Canceled Due to State and County Restrictions
Jun 25- Toyota to Serve as Associate Sponsor of Tony Schumacher in Indianapolis
Jun 25- Wally Parks NHRA Motorsports Museum to Reopen July 1
Jun 24- E3 Spark Plugs Named Title Sponsor of July 11-12 NHRA Indianapolis Event
Jun 24- Cory McClenathan to Return for NHRA Indy Double-Header with DSR
Jun 22- AAA Texas Fall Nationals Expects Championship Field In October
Jun 22- Crew Chief Doug Kuch Returning to Foley Lewis Racing