Thu, 16 Dec 2004, 12:57 PM



Burkart "Back in Blue," Returns to Team CSK for 2005 Season



Courtesy of Bob Wilber


Photo copyright 2004 NRA & Auto Imagery, Inc.





ANAHEIM, Calif. --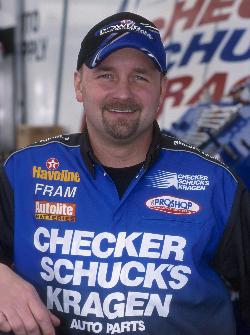 Phil Burkart
Phil Burkart Jr., who drove the Checker, Schuck's, Kragen blue car to two race wins and a POWERade Top Ten finish in 2004, will return to the team in 2005 to drive for co-crew chiefs Marc Denner and Chris Cunningham. Though he's been driving nitro funny cars since 1998, Burkart enjoyed his first full season behind the wheel in 2004, and he made the most of it by completely rewriting his personal record book.
Burkart joined Worsham Racing in late 2003, taking over the seat in the team's third car after Arnie Karp was injured and unable to continue. Two races later, after Johnny Gray resigned as driver of the blue CSK car, Burkart was shifted within the organization and named blue team driver. After a successful 2004 campaign, during which he compiled a 21-21 round record while also establishing himself as a popular pro, Burkart will remain with the team for the 2005 campaign.
"I'm very excited to get back to racing in the blue Checker, Schuck's, Kragen Monte Carlo," Burkart said. "My first full season as a professional was a great experience, in terms of the positive things we did and some of the things we learned the hard way. All those lessons were valuable, because I think you need to experience these things first hand. As a team, we felt the thrills of standing in the winner's circle, and we felt the disappointment of losing in round one. All of the things we learned made us a better team."
Burkart's support group will stay mainly unchanged for 2005, with Denner and Cunningham returning for their third season as co-crew chiefs. Only one new crew member will join the team in the new year, keeping the core group in place.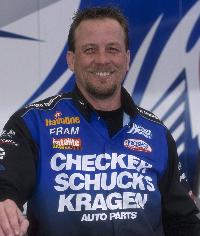 Chris Cunningham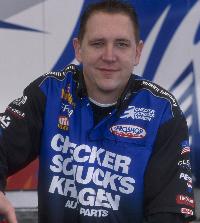 Marc Denner
"It's really an advantage when you not only have a good talented team, but you also keep them together from season to season," Burkart said. "Experienced crew guys know how to put the parts and pieces together and make sure everything is tight, but they have to learn how to work with each other and that just comes through time and good chemistry. It's like a football team, because just learning the plays is only part of the challenge. The key part is learning each other, knowing where the other guys will be and how they work. This group got better all year, and we'll hit the ground running in January."
Co-crew chief Denner agreed with his driver about the value of consistency, and sees the same value in maintaining the man at the controls.
"Phil's been around long enough that people think of him as a veteran," Denner said. "The truth is, he really didn't have that much seat time until he joined our program. He was only attending six or eight races a year, so he actually raced in more rounds this past year than he had his whole career put together up until this season. He did a great job for us, and now he's learning some of the subtle things that separate good drivers from great ones.
"Just like that football team analogy he was using, I think being an NHRA funny car driver is like being an NFL quarterback," Denner continued. "They say it takes five or six seasons for those guys to really figure it out and understand the game. I don't know if it takes that long here, but it certainly takes a few full seasons for a driver to get beyond the basic task of cutting a good light and getting the car to the other end. Once you've mastered that, you move on to feeling the car, anticipating what it's going to do, and being in charge. Phil is in that stage right now, and it's been great to watch him develop."
Burkart himself recognizes the course of his development, and points across his team's pit area to his greatest source of knowledge and skill. Teammate Del Worsham is roundly regarded as one of the best in the business, so Burkart reaps the reward of learning from an expert.
"Del is unbelievable," Burkart said. "Most fans probably see things like hole shots and back-pedaling as examples of what great drivers can bring to the team, and those are important things to master. But there's so much more that Del does, and most of it probably goes unnoticed by anyone other than his crew and, maybe, other drivers. To have the chance to race with him has been great for me, and great for my career. You can learn so much just watching what he does and how he does it. He's a pro, and I think he's the best."
Looking forward to 2005, Burkart is confident his team is ready to move up the ladder within the POWERade Top Ten, and he looks forward to additional trips to the winner's circle. Though 2004 was a career year by any method of evaluation, Burkart sees '05 as the year he and his team will move to an even higher level.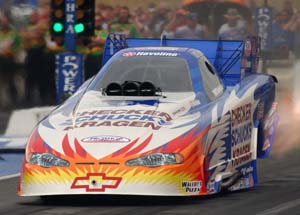 Header Goes Here
"One thing we need to improve upon the most is consistency," he said. "We have a fast car and we have the ability to put four great rounds together on Sunday. What we weren't able to do last year was string four or five great races together. The next step for us is to move up to the middle of the top ten. To do that, you need to get past the first round almost every week. We look back on 11 first round losses in 2004, and we know that's where we have to get better.
"As a two-car program sharing the same great sponsor, Team CSK is one unit and both crews are here to help the other. Del has to be one of the absolute favorites to unseat John Force for the championship, but he'll have a tough time doing that if we don't step up and take some people out for him. We have a responsibility to contribute to the overall Team CSK mission, and we showed in 2004 that we can beat guys like Force, Scelzi, Bazemore, Medlen, and many of the other great teams in the class. We have to do even better this year. We have to pull our weight, and when we do that we're going to be successful and Del is going to be successful."
Burkart also made a mark for himself outside the cockpit in 2004. In today's landscape, being a professional sponsor representative is as critical for a driver to master as quick reaction times and win lights. Burkart not only developed further as a driver in '04, he also spent his first full year with a major sponsor, and he earned the respect of both his boss and his team's corporate backers.
"Phil does a fantastic job with our sponsors," Del Worsham said. "He's a total pro and he's very down-to-earth, and those are things the people at Checker, Schuck's, Kragen really appreciate. There's no ego, no attitude, and no pretense. He's great with the fans, great with the media, and great with all of our sponsors, from CSK right down the list to our parts suppliers. He's a real asset to this program, and we're thrilled to have him back again in 2005. It's going to be a great year for him and the blue team."
For Burkart, improving on his 21-21 round record, two race victories, and 10th place finish will go a long way toward making it a great year. And when that happens, it's liable to be a great year for Team CSK as a whole. Burkart is "back in blue" and Team CSK is ready to rock.




NHRA: 10 Most Recent Entries [ top ]

Dec 03- Megan Meyer Wins Second Consecutive Top Alcohol Dragster World Championship
Dec 02- Stevie "Fast" Jackson Wins Second Consecutive Pro Mod Championship Title
Nov 16- Torrence Wins Camping World Title
Nov 11- NHRA Announces Complete 2021 Class Schedule
Nov 10- Don Prudhomme Shares Life Story On and Off the Track
Nov 10- Justin Ashley Wins 2020 NHRA Rookie of the Year
Nov 10- Matt Hagan Crowned 2020 NHRA Funny Car World Champion
Nov 09- LAS VEGAS - Enders Claims Her Fourth Pro Stock World Championship
Nov 05- LAS VEGAS SN - Super Stock Final, Round 7 Eliminations
Nov 05- LAS VEGAS SN - Stock Eliminator Final, Round 7 Eliminations