Thu, 16 Dec 2004, 12:57 PM



Haddock Comes to a Detour in His Funny Car Career



Courtesy of Joanne Dawson


Photo copyright 2004 NHRA





Terry Haddock has announced that he will be temporarily parking his race operation, putting his "Only in America" tour on hold. Haddock, known as the kid from New Jersey struggling to live out his lifelong dream of driving a Funny Car got a tremendous boost when Bill and Patti Barrett of Barrett Enterprises came on board as major sponsors of Haddock's team this year. But with the news of Barrett Enterprises moving to another team for 2005, Haddock needs some time to regroup.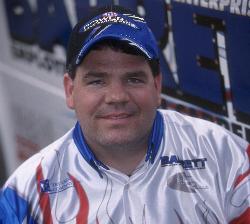 Terry Haddock
"I sincerely want to thank Bill and Patti for all they did this year," said Haddock. "I also want to thank Wheel Vintiques, Speed Logistics, Lucas Oil, The United Brotherhood of Carpenters, The Chicago and Northeast Illinois District Council of Carpenters, Werner Ladder, Industrial Ladder, Urie and Blanton, and my longtime friend, Vinnie Ferrone. And I certainly can't say enough about my crew, led by Terry Manzer. They are a great group of guys and did a terrific job week after week. We had a rough ride this year but I'm glad and thankful that I had all these great people along for the ride with me."
As one of the youngest Funny Car pilots on the circuit, the 34-year-old Haddock has a 15-year racing career. At age 19 he began racing stock cars, stepping up to drag racing five years later. In 1998, Haddock earned his Funny Car competition license becoming a member of the elite professional ranks of the NHRA.
"From the first day the Barrett's showed up at the races I know other teams were trying to lure them away;" said Haddock, "that's just part of life at the racetrack. And I know that the rumors are flying, but they're not important. The only thing that's important is that in my heart I know that my team and I did our very best. I hope Bill and Patti had fun and leave us with fond memories of our year together. And I am grateful to them for believing in me and what I am trying to accomplish, and for having been an important part of my dream."
Haddock, who had to move both his shop and his home from the Chicagoland area, has now settled in the Seattle, Wash. area.
"You haven't seen the last of me," said a determined Haddock. "This isn't going to stop me from fulfilling my dream. I'm not ready to park the car in the garage yet. I look at this as a detour and there's a way around every detour. I've got great people helping me find sponsor support, so it's just a matter of time and I'll be back; because only in America can a regular kid live out his dream of driving a Funny Car."




NHRA: 10 Most Recent Entries [ top ]

Jun 30- Lucas Oil to Sponsor Summernationals at Indianapolis
Jun 25- Tickets on Sale for 2020 Southern Nationals
Jun 25- Houston Raceway Park to Transform into Drive-In Theater for First NHRA Race Since Lockdown
Jun 25- NHRA Northwest Nationals Canceled Due to State and County Restrictions
Jun 25- Toyota to Serve as Associate Sponsor of Tony Schumacher in Indianapolis
Jun 25- Wally Parks NHRA Motorsports Museum to Reopen July 1
Jun 24- E3 Spark Plugs Named Title Sponsor of July 11-12 NHRA Indianapolis Event
Jun 24- Cory McClenathan to Return for NHRA Indy Double-Header with DSR
Jun 22- AAA Texas Fall Nationals Expects Championship Field In October
Jun 22- Crew Chief Doug Kuch Returning to Foley Lewis Racing