Tue, 14 Dec 2004, 08:01 PM



News from the PRI Show



By Jim Luikens


Photo copyright 2004 Jim Luikens





Each December for the past seventeen years the automotive racing parts industry has gathered for the Performance Racing Industry (PRI) trade show. Any time you assemble 1300 racing parts manufacturers, 3100 booths and 40,000 racers in the same building there's no doubt that more than a little racing news is going to come out of it. This is the story of this year's PRI Show and some of the drag racing related news and tidbits that I was able to uncover.
The PRI Show originally got its start as an alternative to the familiar SEMA Show after that show expanded its scope to all things aftermarket and not just the hard core racing parts that it had featured in its early years. The PRI Show is now the 65th largest trade show in the USA and the world's largest auto racing trade show. Continued growth is expected next year when a new, larger venue will provide additional exhibit space.
After humbly beginning in Louisville, Kentucky the PRI Show has successively outgrown convention centers in Nashville, Cincinnati, Columbus and now Indianapolis. For the past several years the PRI Show has filled every nook, cranny, hallway and broom closet in the Indiana Convention Center as well as the adjourning RCA Dome despite turning away potential new exhibiters and prohibiting existing exhibiters from expanding their booths.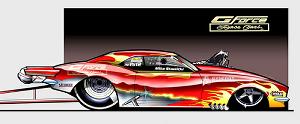 Rendering of Stawicki's '67 Camaro.
Next year, for the first time ever, the PRI Show will leave behind its traditional upper midwest location for Orlando, Florida and the promise of 1 million square feet of display space, 300,000 square feet more than the combined 700,000 square feet that has been available for use in Indianapolis. Based on the promise of more space being available in the future, show promoter Steve Lewis has promised to return the show to Indianapolis in 2010.
The center of the drag racing universe at this year's PRI Show could be found in a corner of the RCA Dome, far away from the prime real estate of the main exhibit hall. It was there that Mike Stawicki's "new" 1967 Camaro Pro Mod race car was on display in the Percy's booth. The car uses the first "Murray Anderson" style carbon fiber body made in North America and is still under construction by G-Force Race Cars. Even in its partially-completed state it was easy to see that this is going to be a magnificent race car.
Tim Hodgins is now marketing the Camaro body through his Cynergy Composites Company and he was on hand to answer questions from interested racers. If the body shape looks familiar it's probably because this is the same Camaro body that Jay Payne used in the USA last year as well as the one that Lucky Belleri used to set the Australian Top Door Slammer speed record at 239.86 miles-per-hour.

Snyder Rendering
Other racers that have already ordered a body from Tim include Derek Menholt of Billings, Montana (fiberglass for sportsman racing), Andy Rankin of Pickerington, Ontario (fiberglass for NSCA Outlaw Street) and the Montana Brothers from New York (ultra light carbon fiber version for NHRA Sportsman). Monday morning after the show, chassis builder Tommy Mauney followed up on his visit at the show by sending a deposit for two bodies. One is for Steve Cossis from Queens, New York and the other is going to Sal Germano from Farmington, Connecticut who has sold his NSCA Pro Street equipment and is going IHRA racing. Tim also reported that the Barklage family was very interested in what it would take to make a 1967 Firebird out of his Camaro body shell.
Across from the Percy's booth was the Lenco booth. On display there was the Lencodrive-equipped Alcohol Funny Car of Mick Snyder. Mick had a fine year in 2004, winning the Division 3 A/FC title and finishing a great 7th in points nationally. For 2005 Mick has added Torco Racing Fuels to his list of sponsors. Although the car on display in the Lenco booth still carried his 2004 paint scheme a nice rendering was available that depicted what it will look like in 2005.
Fidanza Booth
Not far from the Lenco booth was chassis-buillder Rick Jones. This year his booth did not feature a race car but instead showcased chassis components from his Quarter Max Company. Rick reports that he is nearing completion on a new Dodge Stratus for Alan Johnson. Following the Stratus will be a string of new Chevy Cobalts, which is the Pro Stock replacement for the Chevrolet Cavalier. Among the Cobalts he currently has under construction are new cars for John Montecalvo and Steve Spiess as well one for himself. That's right, despite being one of only two Mopar Pro Stock racers on the IHRA trail for the past several years, Rick is switching to the bowtie brigade for 2005.
Directly across from the Quarter Max booth was the Fidanza booth. On Thursday, Titan Motorsports owner Nero Deliwala debuted his newest race car there, a Toyota Celica that had been built by Rick Jones and his RJ Race Cars firm that featured major sponsorship from Fidanza. The new Celica will compete in the Summit Compact Drag Racing Series as well as the NOPI Drag Racing Series. Titan's other Celica could be found in the main hall holding down the Fluidyne booth, its major sponsor.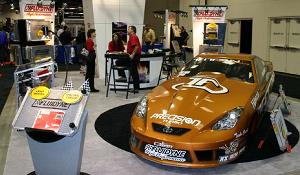 Fluidyne Booth
Directly across from Fluidyne was the RCI Safety Equipment booth. It featured the Foley & Lewis IHRA Top Fueler of Doug Foley, which was fresh from a match race the previous weekend in Florida against Bobby Lagana. The car proudly carried a number 3 on its rear wing, indicative of the fine third place finish that Doug earned this past season in IHRA competition. The Foley & Lewis team have had a closed loop DVD made that outlines their team's capabilities for potential sponsors and it played throughout the weekend on a big screen TV in the RCI booth.
On Friday, Jeg Coughlin, Jr. was introduced as the newest driver for mega team owner Don Schumacher. Friday night a number of race-related shops in nearby Brownsburg, Indiana had an after-hours open house for visitors that were in town for the PRI Show. At the Roo Man shop the new Fuel Funny Car of Dale Creasy, Jr. held center stage. Roo Man himself is fitting the carbon fiber Chevrolet Monte Carlo body and its debut is tentatively scheduled for the Gatornationals.




IHRA: 10 Most Recent Entries [ top ]

Dec 03- Historic Mo-Kan Dragway Reaches Multi-Year Agreement with IHRA
Oct 24- Summit SuperSeries Champions Crowned at IHRA Summit SuperSeries World Finals
Oct 24- Summit Racing Equipment Renews Commitment to IHRA Summit SuperSeries in 2020
Oct 08- Beacon Dragway Chosen as IHRA Division 2 Track of the Year
Oct 08- London Dragway Emerges With Win at IHRA Division 2 Summit Team Finals
Oct 08- Xtreme Raceway Park Named IHRA Division 4 Track of the Year
Oct 07- Pine Valley Raceway Captures IHRA Division 4 Summit Team Finals Win
Oct 03- Beaver Springs Dragway Named IHRA Division 3 (North Stars) Track of the Year
Oct 03- Dragway 42 Repeats as IHRA Division 3 (North Stars) Champions
Sep 19- Muncie Ends US 131 Winning Streak at IHRA Division 5 Summit Team Finals