Tue, 14 Dec 2004, 12:07 PM



Arend Releases 2005 Paint Scheme for the CMKXtreme Machine Funny Car



Courtesy of Bill Walters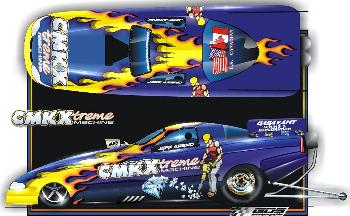 Rendering of Arend's Monte Carlo.
Veteran Funny Car driver Jeff Arend has released the preliminary renderings of the new Chevrolet Monte Carlo that he will be driving during the 23-race NHRA POWERade Drag Racing series schedule in 2005.
Arend, a former NHRA Funny Car national event champion, will officially unveil the striking new CMKX Monte Carlo at the season-opening CARQUEST Auto Parts Winternationals Feb. 10-13. Arend has also been fitted for a new Murf McKinney chassis and the team plans to test the new car prior to the beginning of the season.
Arend's extensive background in drag racing includes driving in a variety of different classes as well as serving as an instructor at Frank Hawley's Drag Racing School in California. Arend competed in 19 events last season, qualifying for 16 races and finishing the year 16th in the final point standings, ahead of several teams who raced the full schedule.
The 2005 POWERade Drag Racing season will be Arend's first full season on the NHRA tour and the native Canadian, who now resides in California, is eager to get back to racing. NHRA Southeast Division Hall-of-Fame driver and crew chief, Paul Smith, will once again be calling the tuning shots on the new Monte Carlo and Arend is looking forward to a successful season.
"The new paint scheme is absolutely stunning and I'm sure it will draw plenty of attention with its striking graphics," said Arend. " We will also have a matching paint scheme on the transporter so I'm sure we'll turn some heads as we travel across the country this year."
Arend's new McKinney chassis is the first Funny Car specifically designed for his exact physical specifications. " I'm very eager to begin the 2005 season," stated a busy Arend from his San Dimas, Calif., home. "The new Monte Carlo body should make a significant difference in our performance and having a new Murf McKinney chassis that has been designed specifically for me will definitely increase my comfort and confidence behind the wheel. We plan to be a major contender with the CMKXtreme Machine Funny Car beginning with the very first lap in Pomona and we expect to be a significant factor in the fight for the Funny Car championship all season long."




NHRA: 10 Most Recent Entries [ top ]

Jun 30- Lucas Oil to Sponsor Summernationals at Indianapolis
Jun 25- Tickets on Sale for 2020 Southern Nationals
Jun 25- Houston Raceway Park to Transform into Drive-In Theater for First NHRA Race Since Lockdown
Jun 25- NHRA Northwest Nationals Canceled Due to State and County Restrictions
Jun 25- Toyota to Serve as Associate Sponsor of Tony Schumacher in Indianapolis
Jun 25- Wally Parks NHRA Motorsports Museum to Reopen July 1
Jun 24- E3 Spark Plugs Named Title Sponsor of July 11-12 NHRA Indianapolis Event
Jun 24- Cory McClenathan to Return for NHRA Indy Double-Header with DSR
Jun 22- AAA Texas Fall Nationals Expects Championship Field In October
Jun 22- Crew Chief Doug Kuch Returning to Foley Lewis Racing