Fri, 10 Dec 2004, 10:29 AM



Mark Griffith…Super Pro Champion



By Bob Frey


Photo copyright 2004 Auto Imagery, Inc.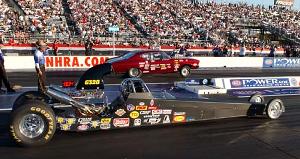 Griffith in near lane.
"I've been racing every weekend since 1981 and this is the best thing that's ever happened to me," said Mark Griffith, the 2005 Summit Racing Series Super Pro champion after his win at Pomona a few weeks ago. Mark, running out of Edgewater Sports Park in Ohio, came to Pomona riding a late season surge that had him brimming with confidence. "I struggled a bit in the first part of the season," said the reigning Edgewater track champion. "I had three guys in a row beat me with "500" lights and there wasn't much I could do about that." But things turned around for Mark about a week before the bracket finals and he put up back-to-back wins going into the Division 3 championship event. "That race was long, nine rounds, but they broke it up with two rounds on Saturday and then Sunday was just like a normal day." Yeah, a normal day when you have to win seven rounds to be the champ and that's exactly what Mark did.
When Mark began racing over twenty years ago he did it at Kil-Kare Dragway in Xenia, Ohio and he did it in a street driven Buick Skylark. Like many racers he eventually moved up in class and today he races a 2000 model Undercover chassis dragster with a 511 cubic inch engine. While he mainly races in the Super Pro category Mark does have another car that he occasionally runs in Super Comp. "I enjoy the Super Pro racing and we have some pretty good competition at home," he said. That competition, plus a little practice on the tree prepared this forty-one year old father of two for the big trip out west. "I'd never raced using the L.E.D. lights before I got to Pomona so I got some bulbs and put them in my practice tree at home," he said. "That was a big help and once I got to Pomona and made my first practice run I felt like I was right where I needed to be."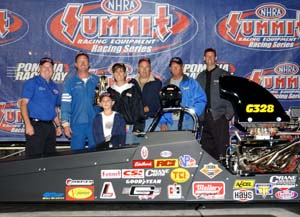 Griffith celebrates win.
In order to get to Pomona Mark had to enlist his dad and his brother-in-law, Robert Dodgen, to drive the truck and trailer to the west coast. "I work as a mechanic for the city of Huber Heights and I had some time off but not enough to drive out and back. Robert is a truck driver but he'd never been out west and he was really looking forward to the trip. He and my dad made the trip in about thirty six hours and they didn't have any problems which was good." Mark said that his brother-in-law enjoyed the experience so much that "he's ready to go back today." That spirit and enthusiasm were shared by Mark who said that the entire event couldn't have been any nicer. "I was so overwhelmed at the way we were treated," he said. "From the dinner at the museum, to the way we got parked and the way the event was run was so nice. Everything went off right on schedule and the folks at Summit really did it up right and I want to thank them for a great weekend. It was a great experience for me and my family and for any local racer."
Mark has been married to his wife, Jacqui, for fourteen years and they have two boys, Carson and Braden. "My wife and Carson came out with me and they had a great time, too, and to win it with them there was really nice." Mark's win came over the Division 4 champ, Larry Thomason and it came after he had already stopped the Division 2 representative, Margie Richardson, which he followed up with a win over the Division 6 rep, Jeff Thompson. Ironically, in the fast world of Super Pro, Mark was driving one of only two dragsters that were in the field. The final round was decided right on the line when Thomason, who was driving a really nice 1962 Plymouth, fouled out by the slimmest of margins, one thousandth of a second. "I saw his red light as soon as I left the line and what a great feeling that was."
As hard as is it to believe, Mark had never raced on a national event track prior to his trip to California. "I really didn't know what to expect from the track and I didn't know anything about how the prepared the tracks so it was all kind of new to me," he said. And, in order to learn a little bit more about what he might face, Mark went right to the top, to Summit Racing's own Dan Fletcher. "He's one of the best and since I knew that he races all over and that he's raced a dragster I decided to ask him about the track." What he learned from Dan was that the car would probably react a little differently in the first sixty feet but after that it would be pretty much like normal. "He was a big help and even though I'd never spoken to him before, he couldn't have been nicer. And then after I made my time runs and saw that the car did just what he said I was pretty confident going into the race."
Mark wanted to thank all of the folks at Summit Racing for such a great opportunity for the local racers. "Where else can a guy like me get a chance to make three runs for $5,000 and all the contingency money that goes with it? Like I said, the entire experience is something that I' ll never forget." Mark also wanted to thank his wife and family for their support along with all of the people at his home track. "Dick Weinle and T.J. at Edgewater have had a car in the Summit finals every year since they started this program and each time they put some money towards the expenses and that's really nice of them. I'd also like to thank Mr. Gasket for sponsoring me this year as the track champion." And just what does a guy do after he's won the biggest race of his life, well, if you're Mark Griffith you go right back to where it all started. "The week I got home I went back to Edgewater and got into the Super Pro eliminator and made it down to the final five cars before the rains came and finished the night. Some of the guys were saying, 'Is he going to do it again?' It was pretty neat." Almost as neat as being the 2005 Summit Racing Series Super Pro Champion.




NHRA: 10 Most Recent Entries [ top ]

May 21- Second JEGS SPORTSnationals Added, to be held in mid-August in New England
May 20- DENSO Sponsors NHRA Champs' Shelter-in-Place Dachshund Race
May 14- To Our Racing Community-From Racers for Christ
May 13- The Name Game Part I
May 12- Morgan Lucas, Son of Forrest and Charlotte Lucas, Appointed President of Lucas Oil Products, Inc.
May 05- Cancellation of the 14th Annual Summit Racing Equipment NHRA Nationals
May 04- NHRA Announces Revised Plan to Restart 2020 Mello Yello Drag Racing Series
Apr 29- DSR Drivers Join Global Superstars in Fight for COVID-19 Relief
Apr 02- NHRA National Dragster will Temporarily Shift to a Free-to-All Digital Magazine
Apr 02- NHRA Announces Revised E3 Spark Plugs Pro Mod Drag Racing Series Schedule