Tue, 7 Dec 2004, 08:45 PM



Greg Anderson and Other Pro Stock Stuff



By Bob Frey


Photo copyright 2004 Auto Imagery, Inc.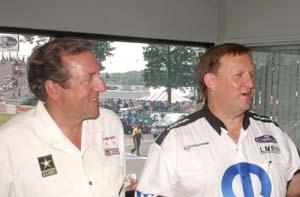 Schumacher and Morgan in Englishtown.
Before I take a look back at
Greg Anderson's
record breaking season I thought I'd take a quick look ahead at some of the news in the Pro Stock world. One of the biggest stories of this past year was the on-again, off-again relationship between
Don Schumacher
and
Larry Morgan
. After announcing at Englishtown that Don had purchased Larry's entire operation, some snags apparently developed and the two parties actually wound up in litigation over who owned what and who owed whom how much. Well I am glad to say that Don and Larry have come to an agreement, they have shaken hands and are both headed their separate ways and that's good for both of them and for the class in general. Larry told me that he is now proceeding with his plans to run his Mopar car next year (with some financial help from Mopar) and he intends to provide engines for
V. Gaines
and
Ken Koretsky
like he did last year. At least that's his plan as of this moment, but he is moving full speed ahead with his program for 2005. Don, meanwhile, may announce as early as the weekend who the driver of his second Pro Stock Dodge will be and that could come at the P.R.I. show although it's not a guarantee that we will know by the end of the weekend. Schumacher Racing will have two Pro Stock cars for the entire season and they will run a third car on a test basis at selected races.
Bob Glidden
will be the engine builder for the team that Don says he hopes will be "able to be very competitive and challenge for the championship next year."
And as hard as it may be to believe, some of the Pro Stock teams will actually begin testing as early as next week in Florida. Hard to believe that it's already been a year since V. Gaines made that 210 mph run in testing isn't it? Wait, that's another story altogether…Still on the subject of Don Schumacher, his new building is coming right along and he will, indeed, run three Funny Cars next year along with his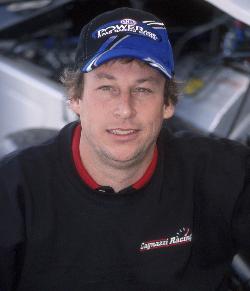 Steve Johns
complement of Pro Stock cars and bikes and the
POWERade
championship winning dragster. It doesn't look like
Johnny Gray
is in those plans and the full scope of the third team will be made known within a week, if not before. Two thirds of that FC team will be announced in the very near future…like today, maybe…. One of the other big stories in the Pro Stock world centers around
Victor Cagnazzi
,
Erica Enders
and that team. Besides the fact that the team tested recently in Rockingham and made some very good runs, I mean very good runs, the big news is that they will be running their own engine program in 2005.
Steve Johns
, who drove the car last year and who has been with
Bill Jenkins
for a number of years, will be moving to the Mooresville, North Carolina area and he will be heading up
the engine program.
Tommy Lee
and
Tommy Utt
who were with the team last year will return as central figures in the team and a couple of the team members who worked for Jeg last season will also join the program. I reiterate what I've said all along, Erica can be a real force in the field and in the sport next year and the sooner some company decides to join that program the better it will be for everyone. The team will make their debut at the Winternationals and they could be one of the big stories in the sport in 2005.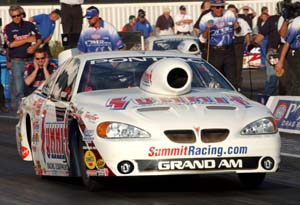 Greg Anderson
Now for Greg Anderson….what can you say that hasn't already been said? Greg's year is the stuff that legends are made of and the thing that makes it even more impressive is the fact that he dominated over the closest fields in NHRA Pro Stock history. Let me give you a quick example…
Did you know
that the biggest spread between the number one and the number sixteen qualifier in Pro Stock for the entire season was just nine hundredths of a second? Now that's amazing. A lot of the fields were grouped within four or five hundredths and for one driver to be able to win so many rounds and races when the fields are that tight is impressive. It means that Greg and his team just didn't make any mistakes during the year. Like
Jeg Coughlin
when he won his titles, Greg hardly ever made a bad run and when he did his opponents couldn't take advantage of it…or him. By comparison, and just for the sake of argument, when
Bob Glidden
won his first title back in 1974 the average spread between the top guy (usually Bob) and the sixteenth qualifier was about three tenths of a second and by today's standards that's a blowout. When
Warren Johnson
won his first title in '92 it was still almost a tenth and a half that separated a lot of the fields. Sure, some were closer than that, but on the average it was well over a tenth from top to bottom and even the "Professor" never had a year like Greg did. When it's only a few hundredths between the top and the bottom of the field you would think that someone, sometime, somewhere would pull a big upset and knock off the top guy but that hardly ever happened the entire season. In fact it hasn't really happened in the "Anderson era."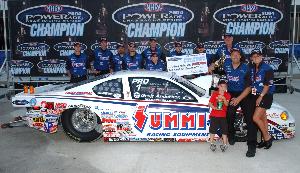 Anderson and team celebrate championship.
In the early days of Pro Stock it would often be a round and sometimes two before the top dogs started facing any serious competition. Back in the mid-1970's when they still ran thirty-two car Pro Stock fields at Indy, the guys in the bottom half of the field were nothing more than cannon fodder for the top guys and only a red light, a broken part or the very rare holeshot would advance any of the bottom half drivers into the next round. Today the chances of an upset seem so much greater because the fields are so much tighter and yet Greg still dominated and that's the sign of a true champion. From his car owner,
Ken Black
, to the folks at
Summit Racing
who sponsored him, to
Rob Downing
and
Jeff Perley, Jason Line
and everyone else on the team, Greg had all the tools that you need to win a championship this year and he did it in fine fashion. He had the power, the car and the team that it took to win in the most competitive class in the sport, and when he needed to be he was very good off the line. Now I don't know what anyone would consider good but
did you know
that, in the runs where there was a green light start, Greg left with or ahead of his opponents a full fifty percent of the time. And when you have the best car in the field the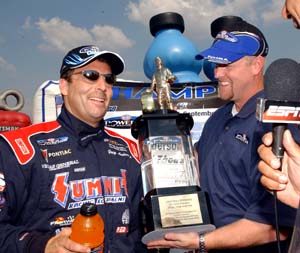 Anderson recieves POWERade trophy.
tendency might be to lay back and not push the tree, but apparently nobody told Greg that. In the interest of fair reporting it should be noted that
Dave Connolly
gave Greg fits on the line.
Did you know
that the
"Bullet"
team driver was first off the line in five of his eight "green light" meetings with Greg?
With the announcement that Jeg Coughlin is going to drive for Don Schumacher and that Bob Glidden will be building the engines for the team, you have to think that the yellow and black should be very competitive next year. Jeg, who went the entire 2004 year without a win for the first time in his Pro Stock career, should be in Florida testing before too long and it will be very interesting to see what kind of progress they make with that team. Warren Johnson, ready for the "School's Out" tour in 2005, vows to be back with a good car, one that can run right with the top echelon in the class and I believe him. And if Warren has more power, so will his son, Kurt. The key for any of the Pro Stock teams will be to hit the ground running in '05, that is, don't let Greg get out on you early in the season or it could be a long year for the class…again.




NHRA: 10 Most Recent Entries [ top ]

Jun 30- Lucas Oil to Sponsor Summernationals at Indianapolis
Jun 25- Tickets on Sale for 2020 Southern Nationals
Jun 25- Houston Raceway Park to Transform into Drive-In Theater for First NHRA Race Since Lockdown
Jun 25- NHRA Northwest Nationals Canceled Due to State and County Restrictions
Jun 25- Toyota to Serve as Associate Sponsor of Tony Schumacher in Indianapolis
Jun 25- Wally Parks NHRA Motorsports Museum to Reopen July 1
Jun 24- E3 Spark Plugs Named Title Sponsor of July 11-12 NHRA Indianapolis Event
Jun 24- Cory McClenathan to Return for NHRA Indy Double-Header with DSR
Jun 22- AAA Texas Fall Nationals Expects Championship Field In October
Jun 22- Crew Chief Doug Kuch Returning to Foley Lewis Racing