Tue, 7 Dec 2004, 07:25 PM



D. Baca Plans for 2005 Season



Courtesy of Mickey Schultz



BRENTWOOD, Calif. --
Coming off a sophomore season that began with high expectations, followed by disappointment, then ended with a show of great potential for 2005, David Baca announced plans for next year for Baca Motorsports.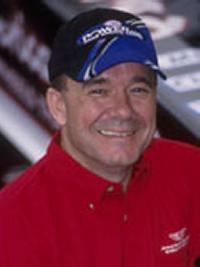 David Baca
After a respectable showing during his rookie season in 2003, a season which saw the Brentwood, Calif., driver nominated for the Automobile Club of Southern California Road to the Future Award and finish No. 7 in the NHRA POWERade point standings, Baca felt he could contend with the well financed teams in 2004. But early exits from events in the spring, coupled with pressing business commitments forced Baca to leave the 2004 NHRA POWERade Drag Racing Series at Topeka, Kan.
During the self-imposed hiatus, the Baca family, including his father Dennis, a former drag racer, got together and decided to reincarnate the previous racing program, this time as a family racing operation. Thus was born the D. Baca & Family Top Fuel Dragster, which made its debut at Seattle and ran a limited schedule the remainder of the season.
After a short learning curve and an adjustment to the new 85 percent nitro rule, the team came on strong, especially during the final two races of last year.
"Yes, we were disappointed that we had such a bad beginning to 2004," said Baca. "We regrouped after the middle of the year and for the balance of the back half of the season we were in test mode. It took us a while to understand the new fuel rules. But tuner Rick Henkelman stayed with it and we began to show that our performance had come back. I think in the last three or four races you saw the potential of our team."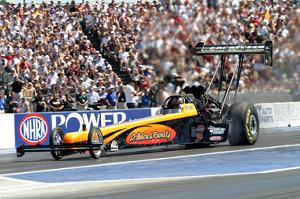 D. Baca & Family Dragster
At Las Vegas in October, the D. Baca & Family Dragster ran it best time of the season when it covered The Strip at Las Vegas Motor Speedway quarter-mile in 4.526 seconds at over 325 mph.
Then at Pomona, site of the season-ending Auto Club of Southern California Finals, Baca ran a career best elapsed time of 4.487 seconds down Pomona Raceway in the opening round of qualifying on Thursday to earn the third spot on the qualifying ladder. He then advanced to the semifinals before a malfunctioning mag ended his day.
"We're very excited about going into the '05 season. My father and I have decided to run the entire 23-race POWERade schedule. We'll continue to run as a private enterprise but we would like to believe that we are going to get the help that is needed financially and enable us to contend for the championship," said Baca.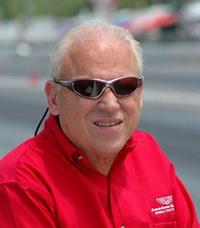 Rick Henkelman
"With the rigorous schedule and demands of running a Top Fuel dragster, my longtime friend Rick Henkelman has elected to spend some time at home taking care of personal business. Rick and I go back to the 80s together. We raced against each other in both the alcohol funny car and dragster classes. If it wasn't for Rick, I probably wouldn't be in Top Fuel today. I wish him and his wife Linda the best in their so called retirement, but my guess is he'll be back at the track before too much longer."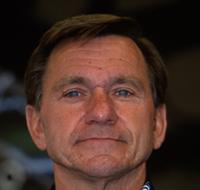 Larry Meyer
"We'll miss Rick, but in his absence Larry Meyer, who joined the team in 2004, and my Dad, an icon in the sport of drag racing, will handle the tuning duties. An unsung hero and jack-of-all-trades, Kevin Poynter, will continue as crew chief. Kevin, who is currently undergoing his licensing procedures for his Top Fuel license, will also handle the testing duties. In addition, Kevin and I will be in charge of all administrative duties."
Baca pointed out that his program continues to evolve and feels that the changes will strengthen the team in 2005.
"Since my father has got involved with our program it has evolved quite rapidly. I think you can see some of the results by our performance over the final races of 2004. For 2005, I think we're in great hands. Dennis Baca and Larry Meyer will do just fine. Our performance will continue on an upward path. And I can't say enough good things about Kevin Poynter; he has been a gem overseeing the mechanical end of our program since we moved forward in the middle of 2004," concluded Baca.
D. Baca & Family thanks American Racing, Champion Spark Plugs, Don Steves Chevrolet (La Habra, Calif.), Goodyear, Lucas Oil and Mac Tools for their marketing support during 2004.




NHRA: 10 Most Recent Entries [ top ]

May 21- Second JEGS SPORTSnationals Added, to be held in mid-August in New England
May 20- DENSO Sponsors NHRA Champs' Shelter-in-Place Dachshund Race
May 14- To Our Racing Community-From Racers for Christ
May 13- The Name Game Part I
May 12- Morgan Lucas, Son of Forrest and Charlotte Lucas, Appointed President of Lucas Oil Products, Inc.
May 05- Cancellation of the 14th Annual Summit Racing Equipment NHRA Nationals
May 04- NHRA Announces Revised Plan to Restart 2020 Mello Yello Drag Racing Series
Apr 29- DSR Drivers Join Global Superstars in Fight for COVID-19 Relief
Apr 02- NHRA National Dragster will Temporarily Shift to a Free-to-All Digital Magazine
Apr 02- NHRA Announces Revised E3 Spark Plugs Pro Mod Drag Racing Series Schedule