Fri, 3 Dec 2004, 07:15 PM



It Was Very Good Sportsman Year



By Bob Frey


Photo copyright 2004 Auto Imagery, Inc.





Jonathan Womack
I just got my new copy of National Dragster, the one with the profiles to the 2004 Lucas Oil sportsman champions and I have to say that Iím very impressed. First of all, the guys all look so nice in their Lucas Oil shirts and the pictures, which were taken by Teresa Long and Richard Wong, are wonderful and are something that everyone should be proud of. The pictures were taken right before the awards ceremony the day after the last race of the year and each driver looks happy, relieved, thankful, proud, really glad that itís all over and all of the above. And the articles on the drivers are, as always, very well done. The writers, Kevin McKenna, Todd Veney, John Jodauga and Duke Ritenhouse captured the essence of what the drivers felt like after a long, grueling season and you can feel the pressure that they faced as the season came to a close. One driver needed to win five rounds in Pomona, another one had to win three and they did just that. Of course, within the space limitations, you canít tell about every round and every race but after reading the stories you certainly get the idea that these racers are richly deserving of their titles.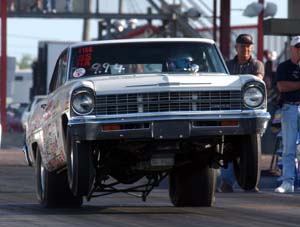 Larry Stewart
As good as our sport is, and it is a very good sport, the one thing thatís always hard to explain to people is why we have so many different winner at one race. The press department has a tough time reporting on a Top Fuel, Funny Car and Pro Stock winner at an event not to mention what itís like when the bikes are racing.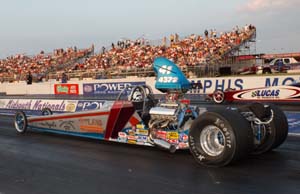 Lyndon Rutland
Throw in anywhere from five to eight different sportsman winners, depending on the event, and it really gets tough to get noticed and thatís why itís nice when National Dragster gets a moment to acknowledge the sportsman champions. Itís nice to know, for example, that Jonathan Womack is doing the two things that he always wanted to do in life, drag racing and being a barber. And in case there are any Pro Stock team owners out there who are looking for the next Greg Anderson (or fill in the name of your favorite PS driver), itís also nice to know that Jonathan wants to race in Pro Stock someday. I would think that winning a Lucas Oil national championship should look good on Jonathanís rťsumť, wonít it? Itís also nice to know that Larry Stewart sees the importance of putting his family first, and when he decided he may have to cut back on his racing, his wife, Kala, gave him the few words of encouragement and the support that he needed. Of course a call to four-time World Champion Greg Stanfield didnít hurt either, after all, if you have to get some driving advice, Gregís as good as anyone to give it.
Lee Zane makes a few interesting points, like what kind of goals do you set for yourself after youíve won Indy, the divisional title and the national championship? Gee, maybe he should call Mr. Stanfield, too. But he is quick to say that he wouldnít trade places with any of the
Lee Zane
thousand or so other Stock Eliminator racers out there. Heís also quick to point out how important it is to get off to a quick start each year. Lee rolled up a bunch of points in the early weeks of the season and that made it tough on anybody who wanted to contend for the championship. Still, he had to wait until Jeff Hefler either passed him or went out at the last race of the year and Lee is not afraid to say that he had tears in his eyes when he saw Jeff lose. Lyndon Rutlandís story is one that almost never happened. He broke his car in Las Vegas, almost couldnít get his sonís car to run at Pomona and then had to beat Todd Stewart in the fifth round to claim the title. With all of that behind him he then deep-staged and fouled out in the very next round. Meanwhile, poor Doug Doll, the points leader coming into Pomona, could only sit idly by and watch the title slip away. Iíll bet if one of the Dragster writers talked to Doug on Monday after the race he would have said, ďWhy couldnít Lyndon have deep-staged one round earlier?Ē Why? Fate, maybe? Divine intervention? Thatís drag racing? It just wasnít your turn? I donít know and Iím not sure that anyone knows why certain things happen, they just do.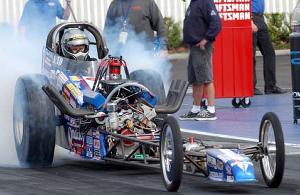 Dean Carter
With the tremendous number of sportsman racers in the country itís always amazing that we get this whole points thing sorted out by the end of the year. As confusing as it is to have so many champions at one race, itís ever harder to keep track of the points in the sportsman classes during the season. Jonathan Womack, for example, wasnít even a blip on the radar screen until very late in the season, while Lyndon never led the points until the last day of the year at a race that he almost skipped. Thank goodness for Cy Chesterman and Dean Cater who put their titles to rest before we headed back to California. But then there was that alcohol dragster class with three possible winners and two of them with names that sounded alike, now that was confusing. But, in the end, itís as good a system as youíll find when you have that many racers spread out all over the country who all have one goal in mind, win the championship. And now that I think about it, I kind of like it this way because it sure keeps things interesting, doesnít it?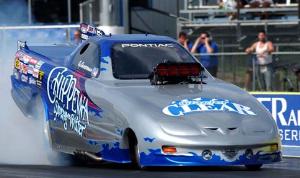 Cy Chesterman
There were a lot of great runs this year and it would be impossible to pick the best of the entire season. Mitch Myersí record-setting pass at Pomona, Dan Fletcherís perfect run in the semi-finals at Indy, Jay Payneís sweep of the alky funny car class at Pomona and Dean Carterís repeat win in Competition Eliminator have to rank among the top accomplishments for the year. Of course anytime someone other than Frank Manzo wins the Alcohol Funny Car championship that, in itself, is news. Cy Chesterman has been close before but his perfect season on the D-5 level and his strong showings at the national events propelled him to the championship while Frank was going through a sub-par (for him) year. That statement alone will tell you how good Frank has been over the years, because in 2004 he won one national event and five divisional races and it was his worst season in a long while. Most guys would call that a career year, but not Frank, and you can bet that heíll be back bigger, stronger, thinner (thatís what he said) and meaner than ever next year. So if you think it will be hard for Lee Zane to repeat, what about Cy?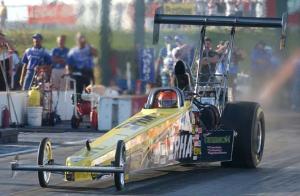 Mitch Myers
At the awards ceremony NHRA President Tom Compton reiterated how important the sportsman racers are to the NHRA family and he mentioned that there may be an additional Sportsnationals event in 2005. You can be assured that it will happen and it will be at a very nice track that most of the Division 3 racers know and love. Canít tell you where, but you can probably figure it out. And itís not Indy. And just yesterday NHRA announced a few changes that should make things even better for the sportsmen racers next year while Forest Lucas announced at the awards ceremony that his company is standing behind the sportsman program for another five years and probably beyond. So congrats to all of the champions and good luck to every sportsman racer next year. May you all win your first five races and put the championship out of reach by April, and that goes especially for Tom Stalba.




NHRA: 10 Most Recent Entries [ top ]

Jun 30- Lucas Oil to Sponsor Summernationals at Indianapolis
Jun 25- Tickets on Sale for 2020 Southern Nationals
Jun 25- Houston Raceway Park to Transform into Drive-In Theater for First NHRA Race Since Lockdown
Jun 25- NHRA Northwest Nationals Canceled Due to State and County Restrictions
Jun 25- Toyota to Serve as Associate Sponsor of Tony Schumacher in Indianapolis
Jun 25- Wally Parks NHRA Motorsports Museum to Reopen July 1
Jun 24- E3 Spark Plugs Named Title Sponsor of July 11-12 NHRA Indianapolis Event
Jun 24- Cory McClenathan to Return for NHRA Indy Double-Header with DSR
Jun 22- AAA Texas Fall Nationals Expects Championship Field In October
Jun 22- Crew Chief Doug Kuch Returning to Foley Lewis Racing