Wed, 1 Dec 2004, 10:43 PM



Lucky #13!!



By Bob Frey


Photo copyright 2004 Auto Imagery, Inc.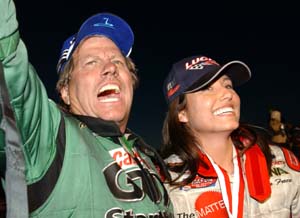 John and Ashley
I will admit right up front that I thought, predicted, said and told him to his face earlier this year that I didn't think
John Force
would win the Funny Car championship in 2004. There were several reasons for my thought process, although most seem seriously flawed right about now, and they included the new driver lineup, the defection of
Tony Pedregon,
the uncertainty about the future of
Gary Densham
with the team and the attention that John would be focusing on his daughter, Ashley. Of all of those, the one he shouldn't have worried about was Ashley since she was in the capable hands of
Jerry Darien
and
Ken Meadows
and you knew that they would take good care of her. Still, she is his daughter and, being a parent myself, I know that you never stop worrying about your daughters so I understand where John was coming from. By the way, didn't Ashley look spectacular at the award's ceremony? But I digress….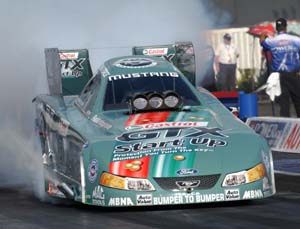 John Force
As the '04
POWERade
season got underway it appeared that my prediction might come true. John certainly didn't come out of the blocks very well and he was in fifth place after the first race of the season. Of course a first or second round loss at the opener can drop you way down in the standings but it certainly isn't anything to worry about. Still, when John followed up his round two loss in Pomona with an opening round loss in Arizona the champ suddenly found himself in eight place, and even after Houston he was still in fourth place and wasn't showing any signs of being the dominant driver or team that we have all come to know and expect. A win at Bristol over one of his toughest challengers,
Whit Bazemore
, moved him up to second place and the rest of the class could hear footsteps, great big, giant footsteps and they were coming fast. By the time the tour headed west for the famous "Western Swing," John had put back-to-back final rounds on the board at Englishtown and St. Louis and he was now the points leader and he would never look back. But it wasn't the two final rounds that made the difference, no, the turning point for John Force in 2004 came a few weeks earlier in Chicago. There, after beating
Phil Burkart
in round one, John's car had problems, real problems, and for the first time in a long while it looked like he might not even make it to the starting line for his next round, a round that featured a match with Tony Pedregon. But he did make it to the line and just in time, too. Although the car was there, something about it didn't look right and it certainly didn't sound right when it started up. In fact, I remember thinking it sounded so bad that it sounded like I tuned it up. Sorry, Austin. It was belching and popping all the way through the burnout, if you could call what John did a burnout, and when it limped into the beams it was just a matter of how long before it self-destructed, and with it possibly John's title hopes. Well, as has happened so many times before, fate or divine intervention or whatever stepped in and pushed Tony Pedregon across the center line and he was disqualified. Good thing for the champ, too, because he was barely going the legal speed limit as he made his way down the track and into the next round. In my humble opinion, that one round was the turning point of the entire season for John and his team.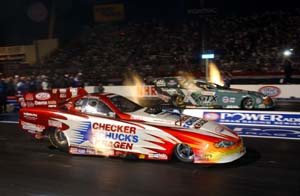 Worsham vs Force
As I mentioned last week with
Tony Schumacher
, a big key for John or any champion is to beat the top guys, or at least stay even with them and John did that in 2004. Against the top drivers, including
Del Worsham
,
Gary Scelzi
, Whit Bazemore and the two "Team Force" drivers, Gary Densham and
Eric Medlen
, John had a record of 18 – 11 and that's pretty good. Anytime you can be seven rounds better that the best cars in your class you are going to win a lot of races and a whole pile of championships. A whole pile. Plus, not losing in the first round is a big thing for any championship contender John is no exception.
Did you know
that John only dropped two opening round encounters this year?
Did you know
that the same guy beat John in both of his round one losses this year? As I already mentioned, Phil Burkart, driver of the
Checker, Schuck's
and
Kragen
"blue car" stopped John in the first round at Phoenix and he did it again in Atlanta and no other driver beat him at all in the first round this year. By comparison, Del lost six times in the first round, Gary Scelzi lost five times and Whit was beaten ten times in the opening stanza. Again, like I said last week, you do the math. Granted, four of Whit's losses came in the last four races of the season when first place was out of reach and team was trying stuff for the '05 season but that's still a very telling number.
Force and Coil
After the
A.C. Delco Nationals
in Las Vegas this year I stayed in town for a couple of days to work at a seminar at which John Force was scheduled to be the main speaker. The subject of the seminar was "How To Put Together A Good Team" or something close to that. Well, nobody knows more about assembling a good team than John Force, after all, how many teams or drivers can say that they have had the same crew chief for twenty
years? The answer is probably none. After struggling through the first couple years of his Funny Car career, a career that included driving some really nasty machines including one rear-engine car, John decided to hire
Austin Coil
and the rest, as they say…In their first year together, 1985, John and Austin more than doubled the number of rounds that John had won the year before and they have continued to get better each and every year since. And I think I can say this without fear of too much contradiction; I don't think there's enough money out there to take Austin away from John. Even if a new owner came in with a brazillion dollars, and that's a lot of dollars, Austin Coil would stay put. Like John, Austin also realizes the importance of having good people surround him and that's why
Bernie Fedderly
is on the team and is listed as the co-crew chief. I'm not sure there's enough money out there to attract Bernie to another team, either. I say that because both Austin and Bernie realize that there is more to this life than just money and I firmly believe that they are happy with their positions on the team and comfortable with their situations. By the way, when all the talk of a fuel team looking for a new crew chief comes up when was the last time you heard Bernie's name mentioned? Not often and I think that's because everyone knows that Bernie isn't going anywhere. They didn't call John's team the "Untouchables" years ago just for fun. Anyway, Austin and Bernie are just the start of a great team but there are more talented people who helped John this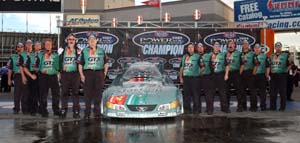 Team Force
year and among them are
Dean "Guido" Antonelli
, the chief mechanic and GTX team leader and
Chris Boudreau
the clutch specialist. Also on the squad are
Russell Stift
who works on the fuel pumps,
Matt Archer
the piston and rod guy and
Brandon "Nacho" Denning
the top end assembly person. The crew is rounded out with rookie
Levi Brubaker
,
Steve Warwick
who maintains the superchargers,
Lew Arrington
who works on the bottom end of the motor and builds the short blocks and the veteran
Kevin McCarthy
who takes care of the cylinder heads. By the way,
did you
know
that in 1985, the first year of the John Force / Austin Coil partnership, John never qualified number one? What's so remarkable about that, well it's the only year that John didn't grab a top spot since Austin has been one his side. I rest my case. By the way, in addition to all of other people that John has working on his team,
Dave Densmore
is his public relations person and they don't come any better than Dave. Whenever I want to check a John Force stat, he's the guy I go to, and whenever I want a really good drag racing story, I call "Dens." Thanks…
The 2005 season will be another interesting one in the Funny Car ranks and I guess you have to make John the favorite but it won't be easy for him to repeat. Del, Gary and a host of other teams and drivers will be right there just like they were this year, only they'll have to make fewer mistakes and take advantage of every opportunity to beat John when they can. Ron Capps is going to settle somewhere and I'm sure that will be a good team because you don't leave Don Prudhomme's team to take a "B" ride if you know what I mean. But John will still have the situation of breaking in another new driver although he seems to have taken a lot of the pressure off by almost naming Robert Hight, his son-in-law as the guy. Then there's always that top fuel car hanging around. By the way, speaking of that, has anyone heard what Mike Dunn is doing next year? Just thought I'd ask.




NHRA: 10 Most Recent Entries [ top ]

Dec 03- Megan Meyer Wins Second Consecutive Top Alcohol Dragster World Championship
Dec 02- Stevie "Fast" Jackson Wins Second Consecutive Pro Mod Championship Title
Nov 16- Torrence Wins Camping World Title
Nov 11- NHRA Announces Complete 2021 Class Schedule
Nov 10- Don Prudhomme Shares Life Story On and Off the Track
Nov 10- Justin Ashley Wins 2020 NHRA Rookie of the Year
Nov 10- Matt Hagan Crowned 2020 NHRA Funny Car World Champion
Nov 09- LAS VEGAS - Enders Claims Her Fourth Pro Stock World Championship
Nov 05- LAS VEGAS SN - Super Stock Final, Round 7 Eliminations
Nov 05- LAS VEGAS SN - Stock Eliminator Final, Round 7 Eliminations