Mon, 22 Nov 2004, 04:33 PM



Some Final Thoughts



By Bob Frey


Photo copyright 2004 Auto Imagery, Inc.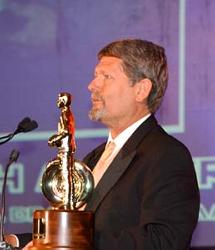 Mitch Myers
While a lot of the attention in the drag racing world was focused on the POWERade award's ceremony this past Monday, earlier in the day the center of attention were the seven Lucas Oil champions who were awarded for their efforts this year. It's interesting to note that there were six new champs this year and, as you probably know by now, several of the titles weren't decided until the final day of the season.
Mitch Myers, who made those historic runs of 5.109 and 5.118 at the AAA Finals was crowned as the Top Alcohol Dragster champion after he broke the three-way tie with Bill Reichert and Randy Meyer. Actually it wasn't a tie, but going into Pomona all three had a shot at winning the title and it looked for a while like Mitch and Bill would settle it all in a semi-final match, but Duane Shields made sure that didn't happen when he beat Bill in their round two encounter. Both Duane and Mitch made glowing comments about Bill after the race and rightfully so because Bill Reichert, his wife and son are among the nicest, classiest people in the sport. Even though he didn't win the title Bill had a great year and his sponsors, Bar's Leaks, have a lot to be proud of. Randy, too, has nothing to be ashamed of, after all, how many guys can say they had their car win the championship one year and then almost duplicated the feat the next year with another driver? Not many. And Randy has to get credit as one of the best tuners in the class, doesn't he? But in the end it was Mitch, with the help of Steve Boggs, who prevailed and a lot of that had to do with their strategy going into the Las Vegas points race. "Steve said he knew that we had to step up because there would be so many good cars in Vegas, so he changed just about everything on the car and the results speak for themselves," Mitch said. Boggs, who has been doing this for a long time, and who has been with two championship teams before, has to rate some consideration when the top fuel teams start looking for the next, great crew chief, don't you think? …I'd like to give a special nod here to Hillary Will, who ran 5.341 at over 267 miles per hour in Pomona this weekend and certainly emerged as one of the bright young drivers in the sport. Plus the fact that she went to the SEMA show and grabbed David Green's really cool Dodge Magnum for a tow vehicle gives her extra credit. Watch Hillary next year…Ashley Force also gets my undying admiration for what she accomplished this year and for the fact that she still remains a really nice kid and that's even more important than winning races.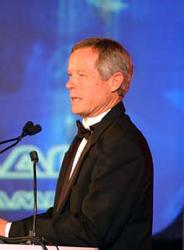 Cy Chesterman
Cy Chesterman became the first guy other than Frank Manzo to win the Top Alcohol Funny Car title since Lucas Oil came on board several years ago and he did it in style. With three national event wins and a perfect divisional schedule Cy outlasted some of the best drivers and teams in the sport to claim his first national championship. There was nothing lucky about Cy's title, either. Along with his longtime friend and crew chief, Dan Hutchmeir, Cy beat just about everyone who got in is way this year and he finally won the title that had eluded him for a couple of years. In the final tally, Jay Payne, who had a great year in his own right, finished second while Frank Manzo finished third. A little tip of the hat also has to go to Dennis Taylor who had a great year with his "Plumbing Concepts" car and his fourth place finish is a testimony to the ability of Dennis to drive and to put together a good team that was led by Ora Vasquez. Way to go, Dennis…..In case you missed it on Friday night, CNN will re-air a segment on Jay Blake and his "Follow A Dream" car and team on Thanksgiving day. As you may know, this is the story of a guy who has overcome a lot of adversity to field a very competitive race car and the piece was nicely done, although I thought it was a little brief. Like all of these pieces, they could spend a little more time on them and truly enhance the story and the personalities, but having said that, it was nice to see drag racing on a major show and being portrayed in a good light. Stay tuned, and congratulations to Jay for a good season and for doing some of the best PR in the sport and not just in the sportsman ranks.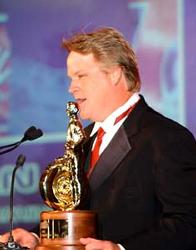 Dean Carter
Dean Carter's back-to-back wins in Competition Eliminator has to go down as one of the really great accomplishments in the class in years. Along with his dad, Dean traveled all over the country to win national events and divisional events in three different division en route to the championship. And while a lot of folks think that things may change next year with some index adjustments, don't bet on it. Along with the folks from Eaton Enterprises, Dean will hit the track in '05 with more power and a firm resolve to win it all again and I don't think I'd bet against him. Tony Stephenson, the winner in Pomona, also had a very good year and his five national event final rounds was pretty impressive and it would normally be enough to win the championship. The "GM Performance Parts" driver started and ended the season in Pomona and won races at tracks on both coasts and was as competitive as any driver on the circuit. Michael Johnson, who finished third, may have had a better shot at the title were it not for a fluke accident that kept him out of several races near the end of the season. Michael tripped over a wheelie bar and the result was that he wasn't able to drive for a couple of weeks. Talk about bad luck!!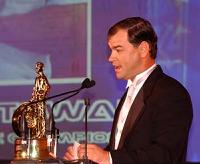 Larry Stewart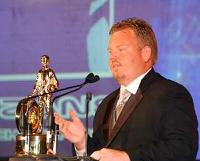 Lee Zane
Larry Stewart's Super Stock title was one of the toughest in the sportsman ranks if for no other reason than the level of competition in the class. Not that there are any easy match ups in any of the classes, but Super Stock always seems to have a plethora of great drivers in really good cars. Across the board, the drivers in Super Stock always seem to be able to climb into any car and be just as competitive as they are in their own. Case in point, Dan Fletcher when he went to the D-4 race in Louisiana a few weeks ago, never missed a beat when it came to reaction times or running the number. OK, so he didn't win the race, but he was more than competitive and he certainly got everyone's attention. But in the end, Larry took his Chevrolet Nova to the title by winning national events in Houston and St. Louis and by going rounds on the divisional level. His win in Gainesville was exactly what he needed to clinch the title and has to be counted as one of the real clutch (pardon the pun) performances of the year…..Lee Zane, the Stock Eliminator national champion, now has accomplished about everything you can in that class. Lee put some points on the board early with his win in Houston (where Myers and Stewart also won) and continued to add to his total throughout the season. A second win at Indianapolis had to move Lee into the ranks of the elite in Stock history and his national title simply verified what everyone knew for a while, that he is one of the best in the class. Running out of the Division 1 area, Lee moved his little Buick Apollo through round after round and when he was in the lanes in Pomona, only a few cars behind Jeff Helfer who had to win the race to pass Lee, it was fun to watch his reaction when Jeff went out in round one. Hefler, by the way, also has to be rated among the best in the class and this year will mark the fifth time in the last seven years that he has finished in the top ten in points, and that includes his national championship in 1998. The fact that he also has two top ten finishes in Super Gas to his career simply solidifies his claim as one of the best sportsman drivers in the sport….By the way, in case you didn't notice, Micci Walter finished in the top ten this year and that's quite an accomplishment for her. Way to go, Micci.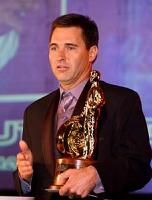 Lyndon Rutland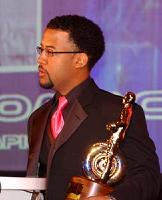 Jonathan Womack
The two winners in the "Super" categories simply amaze me. Coming into Pomona Lyndon Rutland had to go to the sixth round to win the title and Jonathan Womack had to win three rounds to pass Tom Stalba and they both did it. Along the way, Lyndon has five reaction times between .022 and .027 with a .004 thrown in for good measure in the fourth round. Driving his son's car, Lyndon almost didn't come to California after breaking his own car in Las Vegas, but, with support from his D-4 buddies, he did come west and the rest, as they say, is history. Ironically, with all the pressure off, in the round after he secured the title, Lyndon deep staged and was disqualified….For his part, Jonathan Womack came in needing three round wins and he got five. By the numbers, Jonathan put up reaction times from "16" to "29" and he beat some of the best racers in Division 7 in the early rounds, including Greg Ventura, Nick Misserville and Chip Rumis in his three most important rounds of the weekend. A second-generation racer, Jonathan first appeared on the radar screen after his win at the national event in Dallas and he just kept adding points from there including a final round appearance in Florida . His dad, Warren, who raced for years, won a divisional race back in 1992 and was a big support for his son along the way. Tom Stalba, meanwhile, will have to be happy with his second place finish on the national level and you can bet that he'll be in the thick of things again next year.
Congratulations to all of the sportsman winners and to Lucas Oil for their continued support of the sportsman racers. At the award's ceremony it was announced that Lucas Oil has renewed their support of the sportsman program through the year 2009 and that's a good thing for all sportsman racers. So will the new "Sportsnationals" races for next year, but we'll wait for the official announcement of those events.




NHRA: 10 Most Recent Entries [ top ]

Jun 22- NORWALK - Pro Modified Qualifying Notes, Session #1
Jun 22- NORWALK - Track Drying is Underway
Jun 22- NORWALK - Todd Tutterow Hopes to Build on Runner-Up Finish During Norwalk
Jun 22- NORWALK - J&A Service Named Presenting Sponsor For E3 Spark Plugs NHRA Pro Mod Drag Racing Series Event At Norwalk
Jun 22- NORWALK - Competing at Summit Racing Equipment NHRA Nationals Brings Out the Best in Andrew Hines
Jun 22- NORWALK - Rain Delay
Jun 22- NORWALK - Competition Eliminator Round 1 Eliminations
Jun 22- NORWALK - Top Sportsman presented by RacingRVs.com Round 1 Eliminations
Jun 22- NORWALK - Top Alcohol Dragster Qualifying, Session #1 Order
Jun 22- NORWALK - Top Alcohol Dragster Qualifying Notes, Session #1