Sat, 13 Nov 2004, 10:21 PM



Anderson, Kalitta, Force and Ellis Earn No. 1 Qualifying Awards in Pomona



Courtesy of NHRA Communications


Photo copyright 2004 Auto Imagery, Inc.





POMONA, Calif. --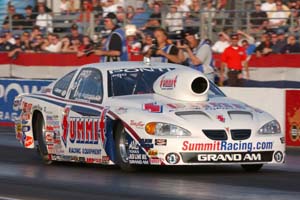 Greg Anderson
Greg Anderson paced the Pro Stock field Saturday at the 40th annual Automobile Club of Southern California NHRA Finals at Pomona Raceway.
Doug Kalitta, John Force and Chip Ellis will also lead their respective categories into Sunday's 11 a.m. (PT) eliminations at the $1.8 million race, the final of 23 events in the $50 million NHRA POWERade Drag Racing Series.
Anderson set the single-season NHRA record for No. 1 qualifying awards by vaulting to the top of the Pro Stock field for the 16th time this season. Anderson powered his Summit Racing Pontiac Grand Am to a track record E.T. of 6.705 at 205.38 mph.
"I think that's the last (record) I'm going to break this year," Anderson said. "I don't think that there's any more for me to break. It feels great to break this record; I'm awfully excited any time I break records, but I think this one means more to me than some of the races I've won this year. It's a pretty serious accomplishment, and it feels even more special because my old boss, Warren Johnson, held the record I broke. "I thought we could go in the 60s here today, but it didn't come on like I thought it would, but no one else got any quicker either and we stayed ahead of the pack."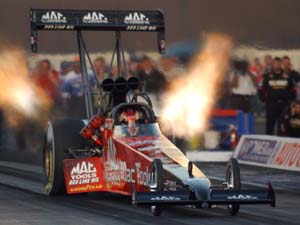 Doug Kalitta
Kalitta captured a category-best seventh No. 1 qualifying award of the Top Fuel season and 23rd of his career with a 4.472 pass at 332.02 in his Mac Tools dragster.
"That was pretty exciting," Kalitta said. "At least it was from where I was sitting. I hope the fans liked it. That was probably the best we could do under those conditions so it was encouraging to back up what we did when there was a bunch of cloud cover Thursday.
"We spent the last few days trying to get ready for race day and I'd have to say we're as prepared as we can be. All three Kalitta cars look strong so we'd like to end the season with a good race day and walk out of here with the trophy."
Force, who clinched the Funny Car championship for the 13th time in his career two weeks ago in Las Vegas, collected his seventh top qualifying award of the season and 124th of his career with a track-record pass of 4.698 at 329.18 in his Castrol GTX Startup Ford Mustang. Force's elapsed time was the third quickest for a Funny Car in NHRA history.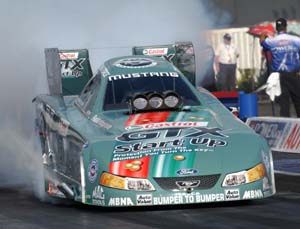 John Force
"Austin (Coil) said that he thought the car could run in the 4.60's," Force said. "I promised my daughter (Ashley) that if she would come and watch me run that we would run a 4.60 for her birthday. I have never made a promise like that before and we were able to do it so we are having a great night."
Ellis took home the top qualifying award for Pro Stock Bike for the second time in four races this season on his G-Squared S&S Star Buell with a track record pass 7.024 at 188.38.
"I was surprised with that 7.02 run," Ellis said. "I was looking for a 7.08 or 7.09. As usual the tune-up was right on and everything went like it was supposed to. It was the best run since I joined the team. Anytime you can be No. 1 is awesome. It doesn't matter whether it's NHRA or Little League, we're happy to get it. Tomorrow we forget about No. 1 and take it one run at a time. I'm going to try to cut good lights. The hope is to go four rounds."
Andrew Hines qualified for the 16-bike elimination round, earning him enough points to clinch his first career season championship in Pro Stock Bike and the first for Harley-Davidson.
"The first thought I have is what an outstanding accomplishment for my dad (Byron) this championship is," said Hines, who at 21 becomes the youngest pro category champion in NHRA history. "He's been in this sport for a long time and he's won a bunch of championships but to take this program with Harley-Davidson and build it up to a championship level this fast is really something.
"I'm so happy that I'm the guy on the seat. I have an outstanding team around me. >From my dad and my brother Matt, to Joe Vanderbrink, Greg Cope, Meredith Schultz, and Ray Veirs, I'd take this group over anyone. There isn't a better team in all of motorsports in my opinion. I'm really just another name on the Vance & Hines roster of champions."




NHRA: 10 Most Recent Entries [ top ]

Mar 20- Strong Stable of Contending Pro Stock Racers Vie for Final Starting Position for K&N Horsepower Challenge
Mar 20- GAINESVILLE - Special Awards
Mar 20- GAINESVILLE - Lucas Oil Drag Racing Series Wrap Up
Mar 19- GAINESVILLE - Sunday Video
Mar 18- GAINESVILLE - Pro Mod Sunday Wrap Up
Mar 18- GAINESVILLE - Sunday Wrap Up
Mar 18- GAINESVILLE - Pro Mod Championship Points
Mar 18- GAINESVILLE - Bonus Points
Mar 18- GAINESVILLE - Championship Points
Mar 18- GAINESVILLE - Mickey Thompson Top Fuel Harley Series Championship Points