Thu, 11 Nov 2004, 01:13 PM



Tommy Stalba Hopes Itís Not Dťjŗ vu All Over Again!!



By Bob Frey


Photo copyright 2004 Auto Imagery, Inc., Bob Johnson Photography & BME Photography.com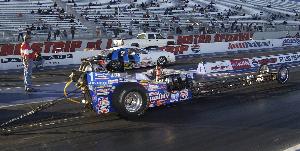 Dean Carter
As the final race of the season gets underway there is a lot of excitement in the sportsman pit area. At least, thereís a lot of excitement in four of the sportsman classes, the ones where the Lucas Oil championships have not yet been decided. Those four would be Top Alcohol Dragster, Stock, Super Gas and Super Comp. The other three sportsman classes, Top Alcohol Funny Car, Competition Eliminator and Super Stock have already been decided with Cy Chesterman, Dean Carter and Larry Stewart Jr. claiming the titles. For Cy and Larry itís their first national championship while Mr. Carter backs up his 2003 title with another impressive performance. Deaní s run through the class is so impressive that itís only the third time in NHRA history that someone has won the Comp title in consecutive years and itís the first time that itís happened since Bill Maropulous turned the trick in 1985 and í86. So those three can relax, even take the weekend off if they want, while the other drivers who are still in contention will have to sweat it out before we can name all of the 2004 sportsman champs.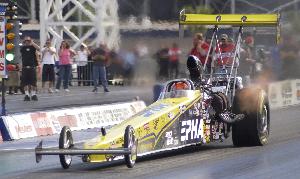 Mitch Meyer
The most intriguing scenario is unfolding in the top class, alky dragster, where three guys all have a shot at being the last man standing. Bill Reichert, Randy Meyer and Mitch Myers can all win the title and they all have different routes that they must take in order to get there. For Bill, the driver of the Barís Leaks car, he canít add any points to his total until he gets to the final round, and if he gets that far I like his chances to be the champion. Randy Meyer, who owned the car that Alan Bradshaw took to the title last year, needs to win the race and hope that Bill isnít there in the final round. He also has to hope that Mitch goes out before the semi-final round in order to keep his slim title hopes alive. Mitch, meanwhile, who beat Reichert in the final at the Las Vegas Division 7 race last weekend, ran up a lot of points early in the season and now hopes to close with a flourish. If Mitch gets to the semis he starts adding points to his current total, and if he and Bill should make it to the final round it will present the most exciting scenario possible, a winner-takes-all, one run for all the marbles race. Now how cool would that be? Good luck to all three and it should be a lot of fun to watch. Of course, with as competitive as the alky dragster class is this year, qualifying itself will be a challenge and so will going rounds let alone winning the championship.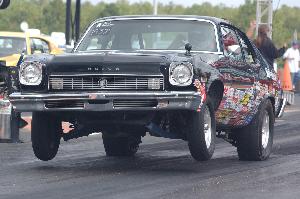 Lee Zane
The Stock Eliminator title features one guy who has done just about everything you could do in the class except win the championship and another guy who has done everything including winning the title. Lee Zane, who drives that little Buick Apollo and who has won national events, divisional events, the MAC Tools U.S. Nationals (twice) and has been leading the points chase for most of the season, now finds himself challenged by one of the best in the sport, Jeff Hefler. Jeff, part of the always tough Hefler family that includes his brother and his father, has come on strong lately and his performance at the D-7 race in Vegas propelled him into title contention. Lee canít add to his total this weekend but he can try to stop ďHef.Ē Jeff, the Lucas Oil Stock Eliminator champ in 1998 is no stranger to the pressures of running for the title as his four previous top ten finishes will attest. Included among those good years were a third place finish in 1999 and a second place showing last year to go with his championship season. But it wonít be easy since Jeff has to go at least six rounds if he wants to overtake Lee and thatís a challenge no matter how good you are or how successful youíve been in the past. But then if anyone can do it, Jeff can, although I wouldnít point that out to Lee if I were you.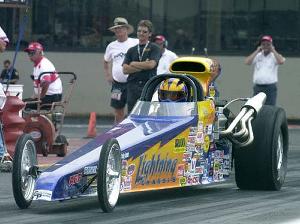 Doug Doll
The two ďSuperĒ categories, Comp and Gas, feature some of the most talented drivers in the sport and I base that on the fact that anytime you have to go eight rounds to win a race you must be doing something right. The 8.90 class has Division 1ís Doug Doll leading the way. Doug, part of the ever expanding crop of really good, young drivers, is out of races to claim so all he can hope to do is line up against one of the other competitors and take them out. Or hope that someone else does it for him. Those ďotherĒ competitors are Lyndon Rutland and Rock Haas and this is the closest that either of them has come to winning a national championship. By my recollection, the best Lyndon has ever finished in the national points is 27th and thatís still better than Rock has ever done. Now donít take that wrong, that doesnít mean that these arenít talented drivers, it just means that they may have taken different approaches to racing in the past. For example, a lot of the ď90Ē racers chose to go bracket racing during the season or they elect to race close to home and not take on the rigors of traveling that often come with running for the national title. Case in point, Doug is from Pennsylvania, Lyndon from Texas and Rock is from Michigan, none of which are exactly around the corner from Las Vegas where they were last week or Pomona this week. Some, of course, decide to chase those big money events during the season and that will keep a racer pretty active on most weekends. Nonetheless, all three are so close to the title that they can taste it. Lyndon needs to at least make it to the quarter-finals while Rock has his sights set on going to the semi-finals. And, as hard as it may be to believe after a full season of racing, there is a scenario that could find Lyndon and Doug tied at the end of the day on Sunday. The tie breakers are pretty complicated but right now they seem to favor Doug.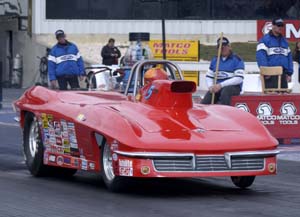 Tom Stalba
One of the more interesting scenarios is in the Super Gas class where Tom Stalba leads the way while Jonathan Womack, who wasnít even on the radar screen a few weeks ago, is the only guy who can catch him. Now stop me if youíve heard this before, but Tom was in the same situation two years ago when he came into Pomona in the lead and only a miracle could keep him from clinching the title. Well, miracles do happen and they did that year. Todd Stewart, who needed to win the eight-round Las Vegas divisional race in order to stay mathematically eligible for the crown did just that, but it still looked like a long shot for the driver from the Hughes Performance stables. Todd still needed to go five rounds in Pomona to complete one of the most stunning come-from-behind wins in history. Well, he not only did that but he beat Tommy in stunning fashion along the way to pass him and win the title. Tom, who like his fellow D-1 racer, Lee Zane, has done just about everything you can in the sport, now finds himself in familiar territory, leading the points with only a miracle shot standing between him and the thing that he covets the most, a Lucas Oil World Championship. However this whole thing shakes out this weekend it will be fun, exciting and dramatic, in other words, it will be another typical finish to a spectacular year of sportsman racing.




NHRA: 10 Most Recent Entries [ top ]

Mar 20- Strong Stable of Contending Pro Stock Racers Vie for Final Starting Position for K&N Horsepower Challenge
Mar 20- GAINESVILLE - Special Awards
Mar 20- GAINESVILLE - Lucas Oil Drag Racing Series Wrap Up
Mar 19- GAINESVILLE - Sunday Video
Mar 18- GAINESVILLE - Pro Mod Sunday Wrap Up
Mar 18- GAINESVILLE - Sunday Wrap Up
Mar 18- GAINESVILLE - Pro Mod Championship Points
Mar 18- GAINESVILLE - Bonus Points
Mar 18- GAINESVILLE - Championship Points
Mar 18- GAINESVILLE - Mickey Thompson Top Fuel Harley Series Championship Points