Fri, 5 Nov 2004, 07:33 PM



CMKXtreme Racing Announces Plans for the 2005 NHRA POWERade Drag Racing Season



Courtesy of Bill Walters


Photo copyright 2004 Bill Walters





LAS VEGAS --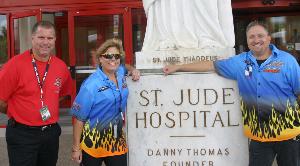 Bartone, Cohen and Arend
CMKXtreme Racing has announced that they will be sponsoring three race teams for the 2005 NHRA POWERade Drag Racing season. Urban Casavant, founder and current Chairman of the Board of CMKM Diamonds, Inc. (formerly known as Casavant Mining and Kimberlite International) confirmed the announcement during the recent Las Vegas NHRA Nationals.
Veteran Funny Car driver, Jeff Arend, will be back behind the wheel of the CMKXtreme Machine in 2005, driving for Paul Smith Racing. Pro Stock Bike rider Connie Cohen will ride the CMKXtreme Suzuki for the full season again next year. And Tony Bartone will return to pilot the Got CMKX?/Lucas Oil Funny Car for Jim Dunn Racing next season.
"We are thrilled to be entering the 2005 NHRA POWERade Drag Racing season with such a great group of race teams under the CMKXtreme Racing banner," said Casavant. "I know that Jeff Arend, Tony Bartone and Connie Cohen will do an outstanding job representing CMKXtreme Racing for all of our shareholders around the world. We will do everything we can to support all three teams as they fight for a POWERade championship in 2005."
Arend, a former NHRA Funny Car national event champion, will be entering his first full season of competition. The 41-year-old driver burst back onto the Funny Car scene by qualifying third at the O'Reilly NHRA Spring Nationals in Houston back in April. Arend has qualified for 16 races in 18 starts this season, which includes qualifying for 14 NHRA national events in a row. Despite the late start to the season, the Canadian native will finish the year just outside the Top 15 in the final point standings. With a new Murf McKinney chassis and Chevy Monte Carlo body on order for the CMKXtreme Machine team, Arend is extremely enthusiastic over the prospects of the 2005 season.
"We're really excited about next year," said Arend from his San Dimas, Calif. home. "Having a new chassis and body style will enable us to be a lot more competitive in 2005 than we were this year. I felt like we did a good job this season, especially when you consider that we qualified for most of the races running an older chassis and body style. With a new chassis and the Monte Carlo body we should instantly be more competitive. We'll go testing before the beginning of the season and our goal is a solid Top 10 finish. We have two months to prepare for next season instead of throwing things together in two weeks like we did this year. You can be sure we'll begin=0the new season with our guns loaded.
Tony Bartone will be back in 2005, driving the Got CMKX?/Lucas Oil Funny Car for Jim Dunn Racing. The California-based team, which ran with associate sponsor support from CMKX for the last half of the 2004 season, will once again be led by drag racing icon, Jim Dunn. Dunn has been involved in drag racing for more than 50 years and was recently named to the NHRA's Top 50 drivers list. He has been a fixture in the Funny Car class for decades, as a driver and as a crew chief and team owner. Always a fan favorite, Dunn will be looking to add to his long list of accomplishments in 2005.
Bartone is a former Alcohol Funny Car standout with 29 career NHRA national event titles. His best season was in 1996 when he won eight races and set a single-season record with 37 consecutive round wins in national and divisional events. Bartone went on to win the Winston Select, the TRW Funny Car All-Star championship, four divisional events and the 1996 NHRA Alcohol Funny Car title. After finishing second in the national point standings in both 1997 and 1999, Bartone made the move to nitro Funny Car. The New York native will finish the 2004 NHRA season in the Top 15 in the Funny Car points battle.
Connie Cohen will be back next season, riding the CMKXtreme Suzuki at every event on the 2005 NHRA Pro Stock Bike schedule for the second consecutive year. "It's really awesome to be able to prepare for the new season knowing that we have such a great sponsor like CMKXtreme on board," said Cohen. "My husband Marc will be building a new bike during the off-season and we plan on testing before the Gatornationals in March."
Cohen will be riding a new state-of-the-art Suzuki GSXR-1000 in 2005. "Thanks to Urban and Ron Casavant and the support of CMKXtreme Racing we've had a chance to get a taste of what it takes to run the full tour this season," Cohen added. "We were able to gain data from some of the tracks we've never competed on before and I'm sure that will help us when we return next season. We're going to do everything we can to try and put the CMKXtreme Suzuki in the winner's circle next year."
Bill Walters will also return in 2005 to handle the media and public relations duties for the CMKXtreme Racing team.




NHRA: 10 Most Recent Entries [ top ]

Jun 23- NORWALK - Super Stock Round 3 Eliminations
Jun 23- NORWALK - Super Comp Round 3 Eliminations
Jun 23- NORWALK - Saturday Schedule
Jun 22- NORWALK - Friday Wrap Up
Jun 22- NORWALK - Funny Car Qualifying, Session #1 Order Revised
Jun 22- NORWALK - Pro Stock Motorcycle Qualifying, Session #1 Order
Jun 22- NORWALK - Done for the Day
Jun 22- NORWALK - Top Fuel Qualifying, Session #1 Bonus Points
Jun 22- NORWALK - Funny Car Qualifying, Session #1 Bonus Points
Jun 22- NORWALK - Top Fuel Qualifying, Session #1 Order